Bolton to praise Bolsonaro, declare "Troika of Tyranny" in Latin America speech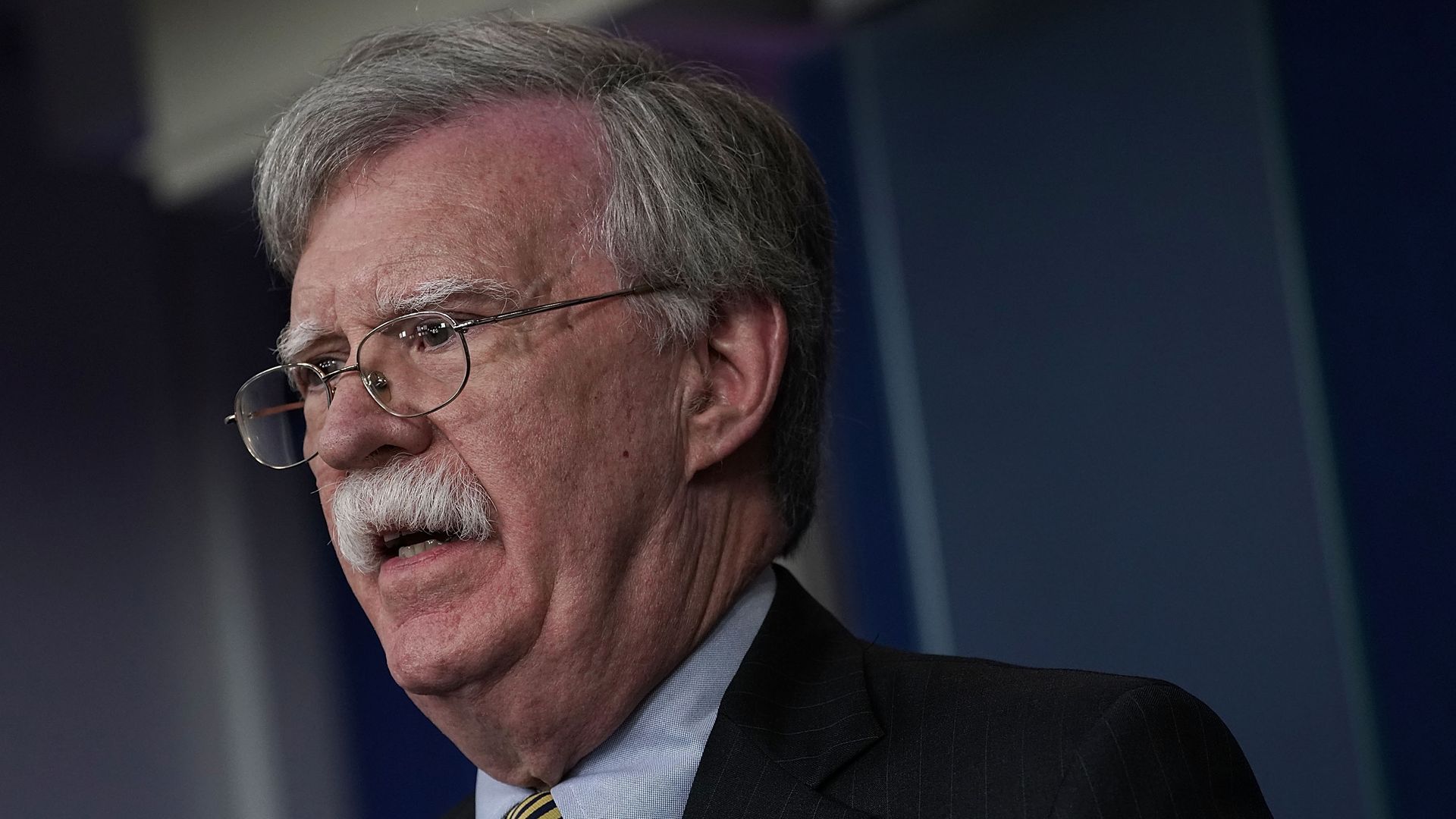 National Security Adviser John Bolton will declare the election of right-wing firebrand Jair Bolsonaro in Brazil as a "positive sign" for Latin America while denouncing Cuba, Venezuela and Nicaragua as a "Troika of Tyranny," according to excerpts seen by Axios of a speech he will give at 1 p.m. ET in Miami.
Why it matters: Bolton's speech is among the clearest statements of the administration's views on Latin America that we've seen so far, and Bolton depicts it almost as a struggle of good versus evil. That he considers Bolsonaro, who has made numerous homophobic and sexist remarks and spoken fondly of military rule, an ally in the fight to "advance the rule of law and increase security and prosperity" is likely to garner attention. So too will his inclusion of Nicaragua, where President Daniel Ortega has brutally suppressed protests calling for his ouster, alongside Venezuela and Cuba in the "troika."
Jason Marczak of the Atlantic Council notes that "there is a high degree of alignment between the Trump administration's key priorities and those of the incoming Bolsonaro administration," most notably when it comes to Venezuela. Like Trump, Bolsonaro also campaigned in direct opposition to the establishment.
Bolton appears to be evoking communism with his use of the word "troika," and there are parallels between his "Troika of Tyranny" and George W. Bush's "Axis of Evil."
Worth noting: Bolton's remarks come in the lead-up to two crucial elections in Florida — for governor and senator —where the Cuban vote could play a significant role.
What he'll say:
"The United States is thrilled to be partnering with nations such as Mexico, Colombia, Brazil, Argentina and many others to advance the rule of law and increase security and prosperity for our people. The recent elections of likeminded leaders in key countries, including Ivan Duque in Colombia, and last weekend Jair Bolsonaro in Brazil, are positive signs for the future of the region, and demonstrate a growing regional commitment to free-market principles, and open, transparent, and accountable governance."   
"Under this administration, we will no longer appease dictators and despots near our shores in this Hemisphere. We will not reward firing squads, torturers, and murderers. We will champion the independence and liberty of our neighbors. And this President, and his entire administration, will stand with the freedom fighters. The Troika of Tyranny in this Hemisphere — Cuba, Venezuela, and Nicaragua — has finally met its match."
"In Cuba, we continue to stand firmly with the Cuban people, and we share their aspirations for real, democratic changes. … Our concern is with sanctions, not selfies."
"The crisis in Venezuela has led to a massive humanitarian disaster and the largest mass migration in the Hemisphere. More than 2 million desperate Venezuelans have fled Maduro's oppressive rule since 2015. Sadly, this human tragedy was entirely preventable. Maduro and his cronies are the singular cause of all of this suffering."
Go deeper:
Go deeper