Bolsonaro could ramp up deforestation, environmentalists warn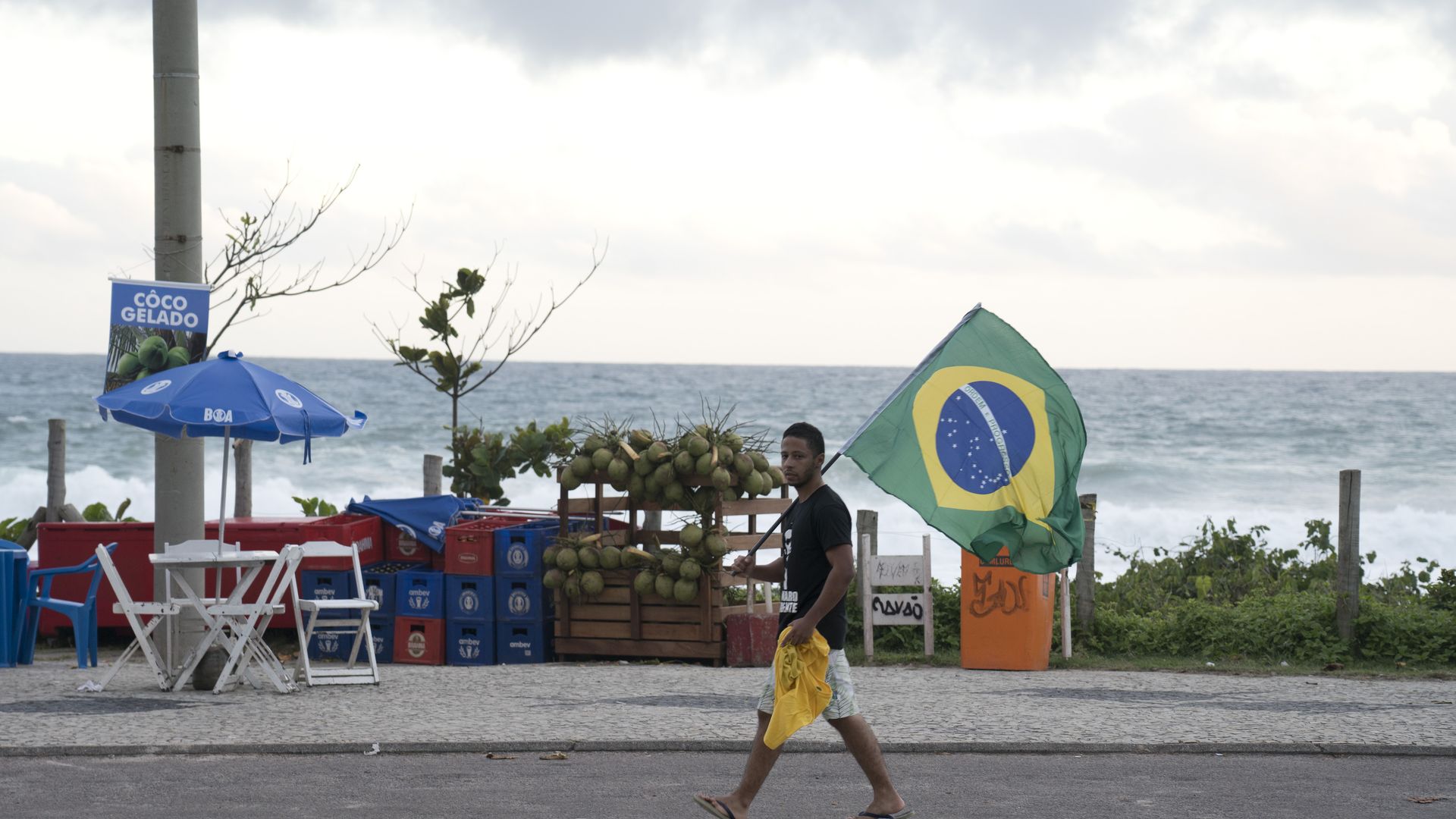 The environmental platform put forward by Jair Bolsonaro, Brazil's right-wing president-elect, could cause a rise in greenhouse gas emissions and a 268% spike in deforestation, according to a simulation from the National Institute of Space Studies in Brazil.
Why it matters: The simulation took into account policies like increased deforestation in Amazonian territory, non-protection of indigenous territory and an eventual exit from the Paris Climate Agreement, among others. Those scenarios worry environmental groups, with Greenpeace Brazil saying Bolsonaro could be "one of the last presidents of Brazil who can act in time to avoid irreversible damage to the planet."
Brazil has made some progress in recent years in reducing deforestation, according to Prodes, a government environmental institution. But that progress is now at risk.
A recent report from Global Forest Watch (GFW) finds that Brazil experienced its second-highest rate of tree cover loss in 2017, a phenomenon related to fires in the region. Although the fires can be related to natural climate factors such as El Niño, research also shows a direct link between them and agricultural expansion.
Christian Poirier, program director of Amazon Watch, told Axios he believes Bolsonaro's controversial rhetoric about minority groups is actually tied to his interest in removing environmental protections
"He attacks indigenous groups, or traditional communities such as 'Quilombolas' because they represent one of the main obstacles to execute his industrial expansionist plan," he says.
Why it matters: Brazil has the world's largest rainforest, and a weakening of environmental protections there can have irreversible consequences that affect people's lives — a recent severe drought in Sao Paulo, for example —and reach well beyond Brazil. Bolsonaro's policies could exacerbate those troubles.
For example, Brazil's hydroelectric power plants generate 63% of the country's energy. Poirier points out that environmental degradation would jeopardize the stable rainfall patterns that make hydroelectric plants feasible, and gas or coal-powered plants would have to fill the gap. Alternatives such as wind or solar energy aren't yet in a position to meet Brazil's energy needs.
If Brazil cuts down more rainforest, it would cause an uptick in greenhouse gas emissions, since healthy forests are a major carbon "sink." Given recent warnings of the urgency of cutting emissions, deforestation could jeopardize the world's global warming goals.
Go deeper