The energy stakes of Brazil's hard-right turn to Jair Bolsonaro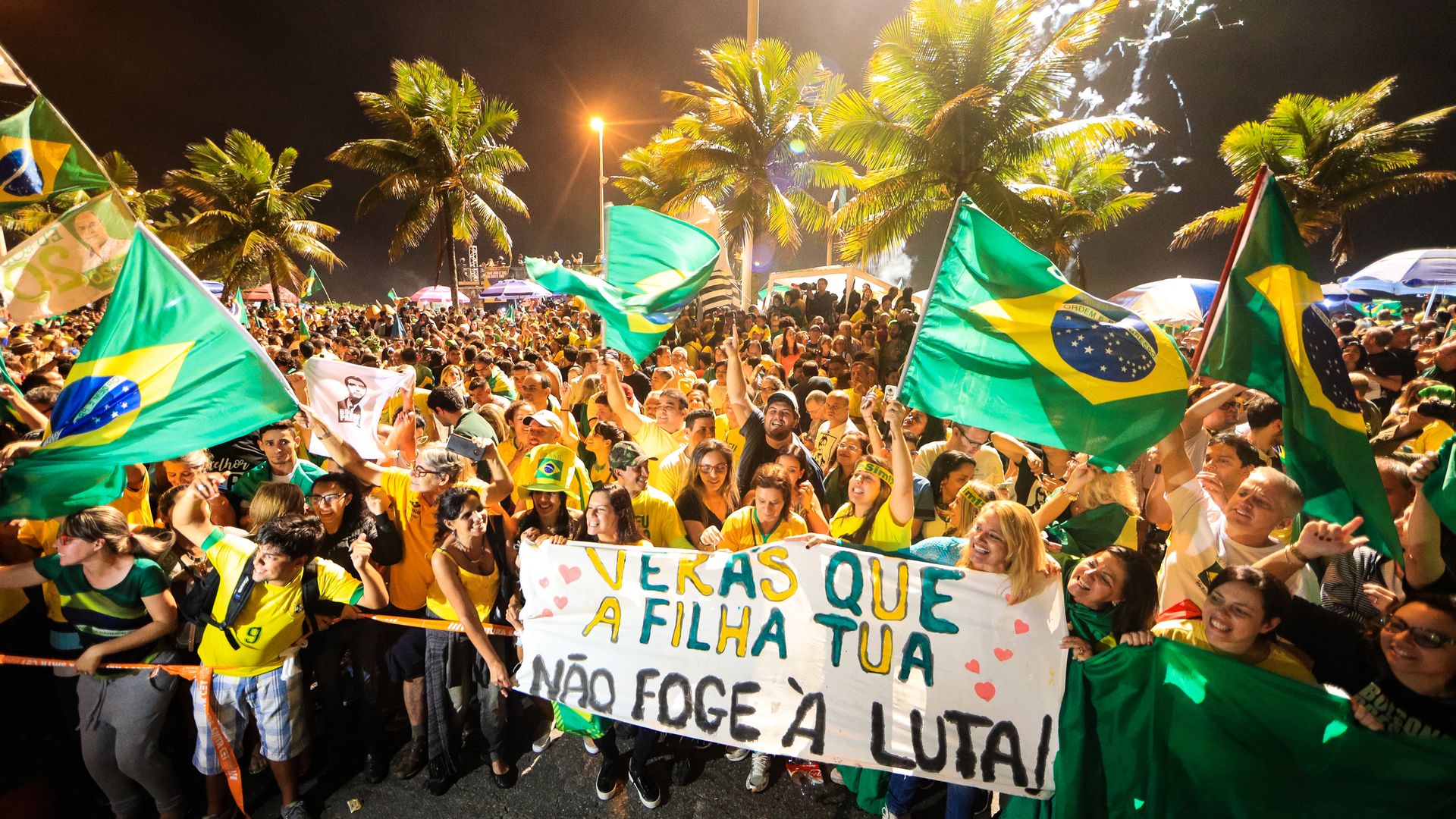 Jair Bolsonaro, a far-right candidate whose misogyny, racism and reverence for military dictators has made him one of Latin America's most polarizing figures, won Brazil's presidency yesterday with over 55% of the vote.
Why it matters: Brazil is already an important oil producer at roughly 3 million barrels per day, and has been auctioning offshore tracts thought to contain huge hydrocarbon resources to some of the world's largest energy companies.
And the Amazon also makes Brazil vital to the world's climate and biodiversity.
What's next: One oil executive told S&P Global Platts recently that "Bolsonaro represents the current, favorable status quo although there could be some hiccups."
They note that a policy plan he floated early this month backed "reinforced expectations Bolsonaro would likely continue reform efforts that lured investment from heavyweights such as BP, Equinor, ExxonMobil, Shell and Total."
Yes, but: Their piece and others note the he could install a military general atop state-energy giant Petrobras who would favor a heavier state grip on hydrocarbons.
On the environment, this Washington Post analysis points out that while he's backed away from plans to abandon the Paris climate deal, "that doesn't mean Bolsonaro has suddenly become the Lorax."
"Bolsonaro is a powerful supporter of agribusiness — one of the pillars of his political platform — and is likely to favor profits over preservation."
"He has called for a new, pro-business approach to exploiting Brazil's natural resources, insisting that overzealous bureaucrats have harassed farmers for simply trying to make a living by carving out patches of jungle."
The views of Paulo Guedes, the University of Chicago-trained economist advising Bolsonaro, were examined in a Reuters piece:
"Guedes is keen to privatize an array of state enterprises, including units of oil company Petroleo Brasileiro SA (Petrobras) and power utility Centrais Eletricas Brasileiras SA (Eletrobras)."
"However, his free-market ideas have clashed with the views of the retired army generals who are helping Bolsonaro flesh out his government program."
Go deeper