Y Combinator's carbon-removal push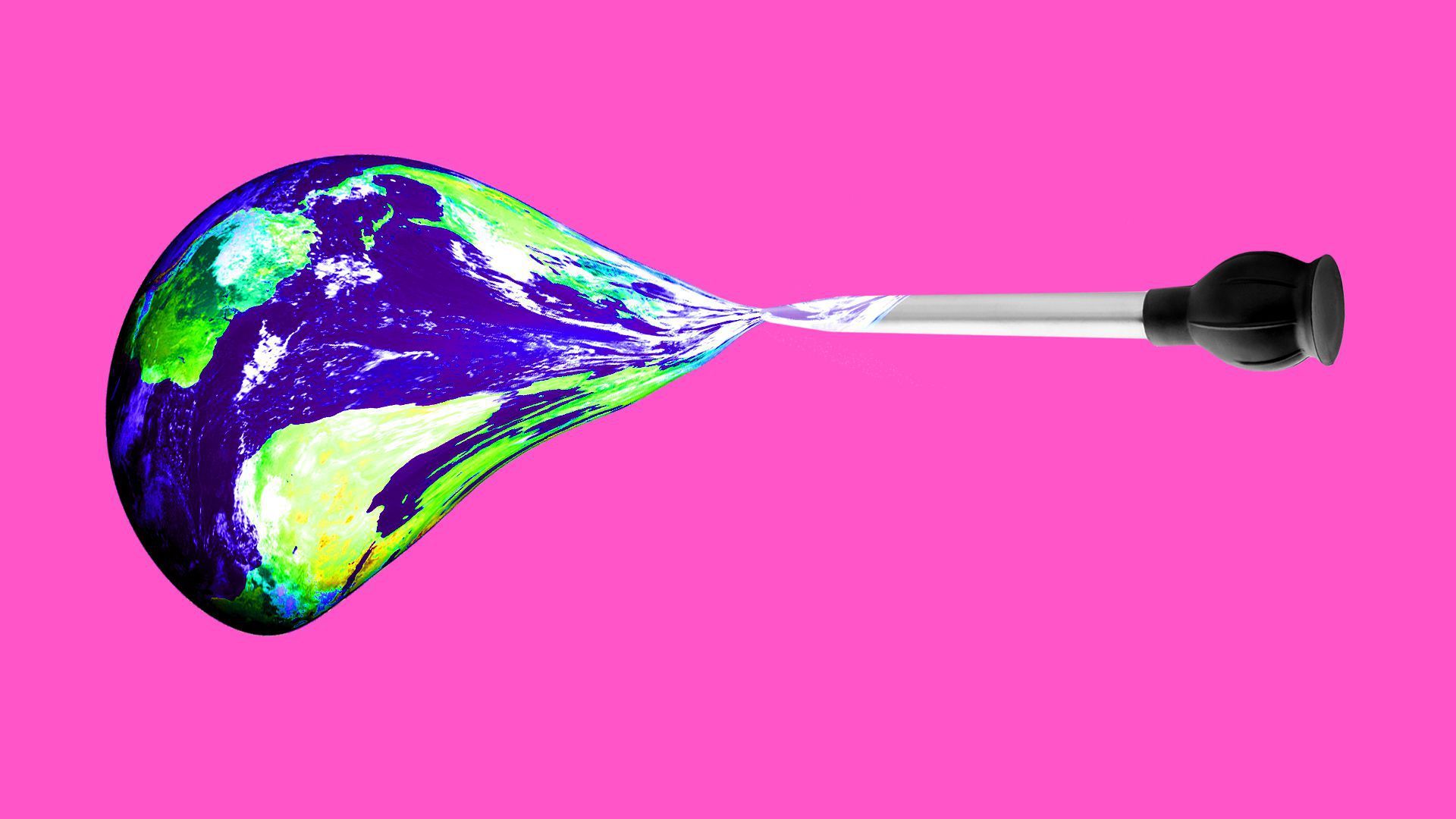 The startup accelerator Y Combinator is looking to fund entrepreneurs and non-profit researchers working on "frontier technologies" for removing carbon dioxide from the atmosphere.
The big picture: Y Combinator is among the most influential organizations in the startup world and has helped launch Dropbox, Airbnb and others. Its new request for applications comes two weeks after a major UN science report concluded that carbon removal — not just a huge expansion of zero-carbon energy — will be needed to prevent the dire consequences of allowing warming beyond 1.5°C above pre-industrial levels.
Per YC's website, "While these approaches are not our Plan A, we think it's time to get Plan B ready."
What they're doing: Among other approaches, YC is looking at four broad areas that they say deserve more attention and potential funding:
The use of genetically engineered ocean phytoplankton that sequesters CO2.
Electro-geochemistry, which would use renewable energy to power an electrochemical process that speeds up the earth's natural CO2 absorption in rock formations while also creating hydrogen.
Cell-free enzyme systems that "could fix carbon in perpetuity."
"Desert flooding" to create shallow reservoirs that could be used to grow carbon-absorbing phytoplankton while providing irrigation and freshwater nearby areas.
What's next: YC president Sam Altman tells me that ideally they would fund a "small handful" of companies next year.
He guesses the number will eventually be between 5 and 20 in order to have a "reasonable chance of success."
Under YC's model, they initially provide $150,000 to startups in return for a 7% equity stake, with additional financing possible.
The odds: Altman acknowledges that the chances of success are low, but while the ideas identified are very difficult, they do not seem "prevented by the laws of physics."
The four approaches identified by YC have generally not gotten as much prior attention as other CO2 removal technologies, such as direct air capture and bio-energy with carbon capture and storage.
What they're saying: Noah Deich, executive director of the group Carbon180 (formerly the Center for Carbon Removal), offers a mix of praise and caution.
"This is very much outside of the mainstream of what carbon removal technologies are currently being developed," says Deich, whose group has focused on direct air capture, forest restoration and planting, and other methods.
He adds that diversity is good when it comes to exploring CO2 removal technologies.
But, but, but: Deich tells Axios that applying the venture capital model to large-scale strategies like those that YC is exploring bring risks of "externalities"" — harms and costs that aren't borne by investors.
This means engagement with a wide group of researchers, communities and other stakeholders is key, he says. "It's important to have their voices heard from the beginning."
I asked Altman about whether the venture model is appropriate here. "I don't think any private company should make the decision about what to deploy," he answers.
Instead, Altman says, the effort is about seeing whether private industry and researchers can find workable solutions, which would be followed by a wider "global debate" about whether to try and implement them.
While there are risks, he notes that "the path of doing nothing is high risk."
Between the lines: In a blog post yesterday, Altman notes that YC has funded clean energy companies and will continue doing so, but cites the UN report to argue that emissions-cutting is not enough.
Go deeper:
Go deeper