What we know about what happened to Jamal Khashoggi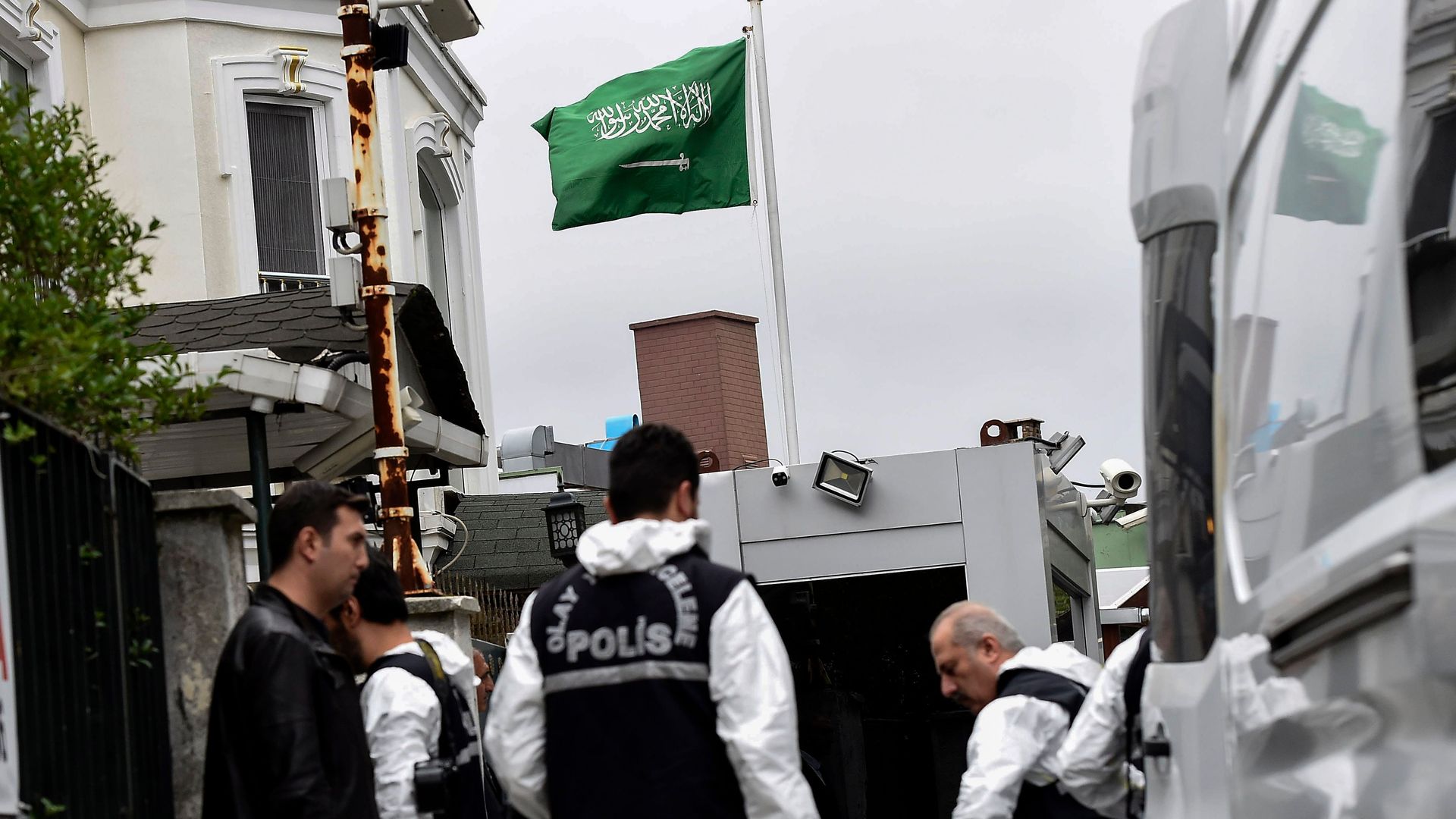 President Trump says the U.S. has requested audio and video relating to the disappearance of Washington Post columnist Jamal Khashoggi, who has not been seen since he entered the Saudi consulate in Istanbul on Oct. 2, per AP.
The backdrop: The WSJ and NY Times have published gruesome reports of Khashoggi's alleged interrogation, based on anonymous Turkish sources who say it was captured on audio. Per the NYT report, Saudi agents "severed his fingers" during an interrogation and "later beheaded and dismembered him." The WSJ report says Khashoggi was "beaten up, drugged and killed." Trump has so far seemed to accept claims from Saudi Arabia's king and crown prince that they don't know what happened to Khashoggi, a Saudi citizen and U.S. resident, and are investigating.
The latest from Turkey
Turkish investigators today entered the Saudi Consul General's residence in Istanbul after being denied access yesterday. The consul general has returned to Saudi Arabia, been fired, and is reportedly the first Saudi official "under investigation."
President Recep Tayyip Erdogan said yesterday that among the evidence being reviewed are "toxic materials" from the consulate that had been painted over.
Meanwhile, a stream of details about the case have come from anonymous Turkish officials. Those include passport scans of seven of the 15 members of the Saudi team reportedly sent to the consulate, and information linking five members of the team directly to Mohammad bin Salman (MBS).
The most grisly details reportedly come from the audio. A senior Turkish official told the NYT it indicates "the agents seized Khashoggi almost immediately and began to beat and torture him, eventually cutting off his fingers" while the consul general fretted he would get "in trouble." It's unclear how Turkey obtained it.
Between the lines: Soner Cagaptay of the Washington Institute says with the leaks, "Turkey is making a case that there's no easy way out of the murder for Saudis. It took place on Turkish soil and targeted a journalist with close ties to Erdogan: There's a price."
The latest from Saudi Arabia
The Saudi position appears to be that, 15 days later, MBS and King Salman still don't know what happened inside their consulate.
Riyadh reacted angrily to threats of sanctions over Khashoggi's disappearance, pledging "greater action" in response.
David Ignatius of the Washington Post writes that MBS "is said to have alternated between dark brooding and rampaging anger as [he] looked for someone to blame."
What to watch: It was widely reported yesterday that the Saudis were crafting a statement admitting Khashoggi was killed in their custody but insisting it happened during an interrogation that was not authorized from the top. That statement hasn't come. MBS originally claimed Khashoggi left the embassy unharmed.
The latest from Washington
From Trump's comments to reporters...
On why he hasn't sent the FBI to help investigate: "Well he wasn't a citizen of this country for one thing. And you don't know whether or not we have... I'm not going to tell you."
On whether he has asked for the audio and video evidence: "We have asked for it, if it exists... I'm not sure yet that it exists — probably does, possibly does."
However, the WSJ reports that "Turkish officials said they shared... the details of an audio recording with both the U.S. and Saudi Arabia."
Secretary of State Mike Pompeo met with Turkey's president and foreign minister today in Ankara, a day after meeting the king and crown prince of Saudi Arabia in Riyadh. In statements, he has emphasized the strength of the U.S.-Saudi relationship and said Saudi Arabia should be given time to conduct an investigation.
Go deeper: Analysis of the latest from Saudi Arabia, on our Pro Rata podcast
Go deeper