India's "honored sister" could become kingmaker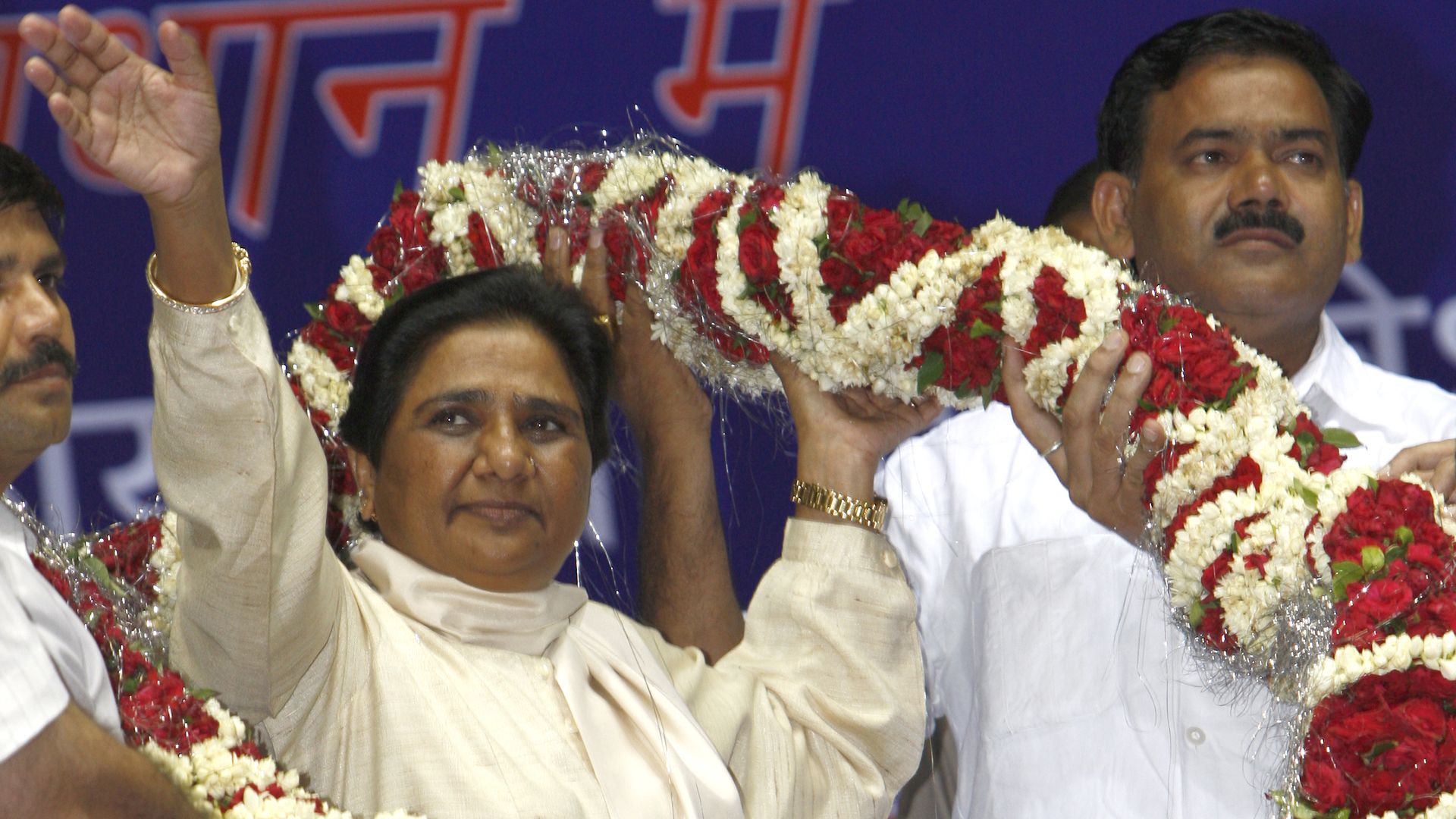 As India heads for national elections next spring, opposition parties hoping to topple powerful Prime Minister Narendra Modi and his ruling Bharatiya Janata Party (BJP) are wooing a controversial politician who has built immense power by representing the powerless.
Why it matters: Dalits, members of low castes in the Hindu system who have suffered discrimination and stigma for hundreds of years, are an increasingly coveted swing vote, in part because of rising tensions between them and ruling BJP-affiliated Hindu nationalists (whose conservative views explicitly stigmatize Dalits). Dalit herdsmen and leather traders have suffered numerous attacks by "cow vigilantes," and earlier this year violent clashes erupted over the 200th anniversary of a colonial-era battle in which Dalits sided with the British against upper-caste Hindus.
While Modi's pledge to expand economic prosperity won him as much as a quarter of the Dalit vote in 2014, that loyalty may now be in question.
Mayawati Das, known as Mayawati, is a former chief minister of Uttar Pradesh, India's most populous state. She is also leader of the influential Bahujan Samaj Party (BSP), which represents the interests of Dalits, once known as "untouchables." Today, there are at least 200 million Dalits spread across the country, many of whom refer to Mayawati — who grew up in poverty and famously traveled by bicycle to visit poor voters in Uttar Pradesh — as behenji, or "honored sister."
For her part, Mayawati is keen to stage a major political comeback.
In the 2014 general elections, the BSP won the third-highest vote tally but failed to secure a single seat in the lower house of the national legislature because it failed to come in first in any individual district.
Now, with an eye on 2019, the BSP is building local alliances in more than a dozen states, leaving open the question of whether Mayawati will yet partner with a national party.
A tie with the Congress Party — which suffered its worst ever defeat in 2014 — could pose a stiff challenge to Modi and even lead to a deadlocked outcome in which Mayawati has the role of kingmaker in choosing the next prime minister. 
Still, even if Mayawati does jump into the mix, the BJP is heading into 2019 in a commanding position.
A broadly popular Modi can now boast of governing the fastest growing major economy in the world.
What's more, Mayawati herself is hardly uncontroversial. Despite her humble origins and strong advocacy for India's poor, she has a personal taste for lavish living and megalomaniacal public works projects (including massive statues of herself) that have prompted accusations of corruption.
The bottom line: As the world's largest democracy heads for elections next spring, the electoral loyalties of India's most stigmatized groups could prove decisive. Keep an eye on Mayawati.
Sign up for Signal, a thrice-weekly newsletter from GZERO Media, a Eurasia Group company, and follow @saosasha on Twitter.
Go deeper