The overlooked climate impact of industrial emissions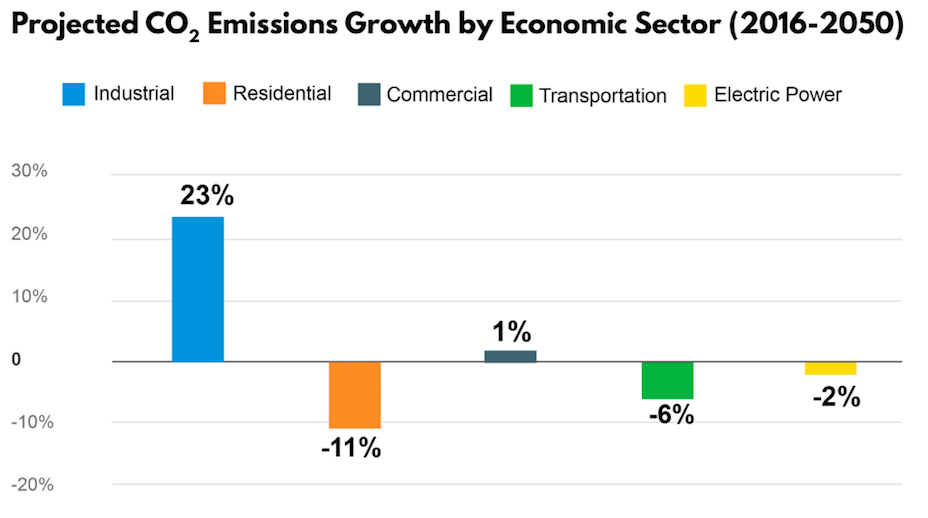 Emissions from manufacturing plants making essential materials like cement and steel are an overlooked problem in addressing climate change, says a new report released Wednesday by centrist think tank Third Way and two other groups.
Why it matters: Carbon dioxide emissions from the U.S. industrial sector are set to rise nearly 25% by 2050, and they are the hardest to turn green because renewable energy can't fill the void and the chemical processes themselves are quite carbon-intensive.
"The lesson here is that transitioning the grid to renewables and other low-carbon power sources is helpful in addressing industrial emissions, but it can only do so much. Successfully cutting carbon in this sector will require significant onsite action at these facilities."
— Report by Third Way, AFL-CIO, Council on Competitiveness
By the numbers:
If America's top five manufacturing sectors were their own country, they'd rank ninth in the world in terms of energy used.
U.S. industrial emissions are set to increase 23% by 2050, while all other sectors — including transportation, electricity, commercial and residential — are set to decrease over that same time period.
What could be next: The report lays out ways emissions can be cut from manufacturing plants — and create jobs while doing it:
Using more energy-efficient technologies, which can range from more efficient light bulbs to installing whole new ways of generating heat to power the chemical processes.
Installing technology that can capture carbon dioxide emissions from facilities, which is technically feasible, but not widely commercial available anywhere in the world.
Yes, but: Any changes to the manufacturing sector as it relates to its carbon footprint are unlikely to come about without action in Washington, which doesn't seem like any time soon.
Go deeper: Read the report.
Go deeper