With new investments, Ethiopian Airlines expands African aviation market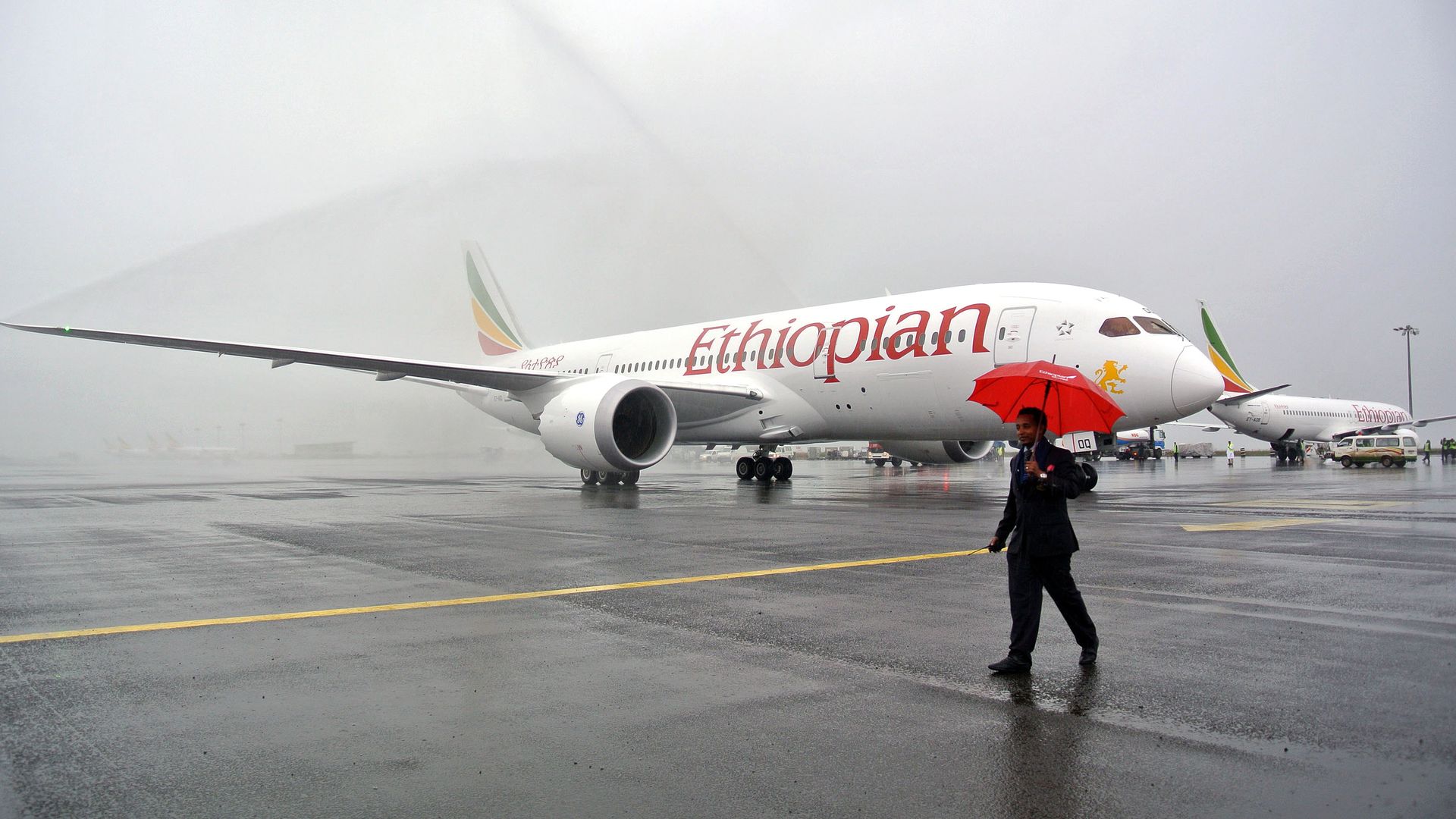 On Oct. 1, Ethiopian Airlines partnered with Chad's government to launch a new national carrier, connecting the country to international markets through routes previously suspended for safety concerns. In addition to Chad's Toumai Air, Ethiopian Airlines will acquire stakes and managing operations in new or existing state-owned flag carriers in Mozambique, Zambia and potentially several other nations.
The big picture: Already Africa's most profitable and fastest-growing airline, Ethiopian Airlines is investing heavily in Africa's airspace, creating new regional connections and increasing access to Western and Eastern markets. On a continent of 54 countries, air travel often requires inefficient routes and costly tickets, but Ethiopian Airlines is looking to change this reality.
The background: Ethiopian Airlines' relationship with Boeing, which extends more than 50 years, has helped it build one of the youngest major fleets in the world, at an average age of less than 6 years. The airline has quadrupled its passenger count over the past decade, putting it on track to surpass 10 million passengers by the end of 2018. The government-owned airline differs from most African flag carriers that suffer from mismanagement and safety issues. While government officials secure landing slots overseas and attract outside infrastructure investment, experienced private-sector experts manage operations and run a leading aviation academy.
There has long been a direct flight from Addis Ababa to Washington, and now Ethiopian Airlines has opened West African markets to the U.S. by also providing nonstop flights from New York to Lomé in Togo and Abidjan in Côte d'Ivoire. It's also the biggest carrier of cargo and passengers between Africa and China. Already flying to five of China's largest cities, the airline recently partnered with CellPoint Mobile to accept payment via Alipay, China's leading alternative payment method.
Reality check: Poor infrastructure, overpriced jet fuel and restrictive flying rights continue to trouble Africa's aviation industry. In January, the African Union (AU) launched the Single African Air Transport Market (SAATM), signed by Ethiopia and 22 other AU members, which will allow aircraft to fly freely between its members states. Ethiopia's ability to expand domestic travel may rely on the successful implementation of SAATM, despite the increased competition it is likely to bring. Ethiopian Airlines also plans to spur future growth by attracting more talent and investment in the wake of the government's recent announcement that it's opening key sectors, including aviation, to outside private-sector involvement.
The bottom line: Ethiopian Airlines is well-positioned to become the unequivocal aviation leader in Africa, advancing regional economic integration and connecting Africa's fast-growing economies to the global market.
Aubrey Hruby is a senior fellow in the Atlantic Council's Africa Center.
Go deeper