Nikki Haley is popular across the political spectrum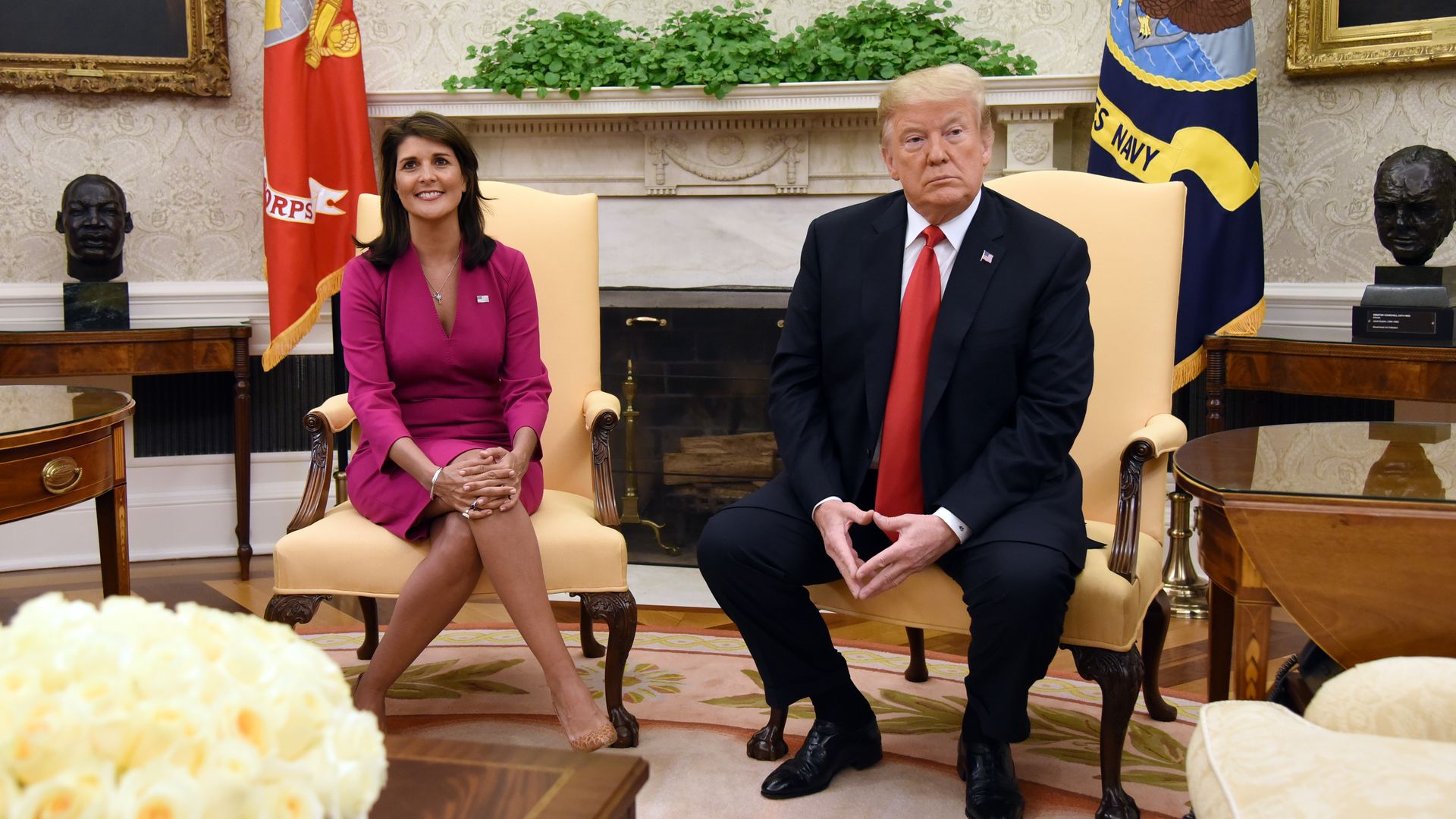 Nikki Haley has resigned as President Trump's UN ambassador, leading to a flurry of speculation about her future political ambitions.
Why it matters: A former Trump critic who won over many of the president's supporters by joining his administration, Haley has avoided most of the political mudslinging in Washington from her perch at the UN. She's not just popular with Republicans — a Quinnipiac poll from April found that 55% of Democrats approve of her. That's unheard of in this political climate.
Her background …
Haley, 46, became South Carolina's first female governor in 2011 and won re-election by a wide margin in 2014.
Following the 2015 massacre at Mother Emanuel Church in Charleston, Haley signed a bill to move the Confederate flag off the grounds of South Carolina's statehouse.
She endorsed Marco Rubio in the 2016 Republican primary, saying she wanted a president with "conscience." Trump later tweeted, "The people of South Carolina are embarrassed by Nikki Haley!"
Before the general election she said that while she was "not a fan" of Trump's, she would be voting for him. One month later, he nominated her to be his UN Ambassador.
Key moments …
Haley began her tenure at the UN by saying she was "taking names" of countries that don't "have our back." However, her rhetoric and approach to foreign policy has often been far more measured than Trump's.
Haley has at times drawn a line between herself and the White House. Last December, for example, she said women who accuse Trump of sexual misconduct "should be heard."
She wrote last month, in response to a NY Times op-ed criticizing the president, that when she disagrees with Trump, she tells him to his face.
Sitting next to Trump as they confirmed her resignation, Haley said the U.S. is now "respected" on the world stage and listed off what she considered her key accomplishments — including responding to Syria's chemical weapons use and fighting "anti-Israel bias" at the UN.
The bottom line: Haley's ambitions for national office will likely have to wait. She said today that she'll campaign for Trump in 2020, rather than run against him.
Go deeper