"Cocaine Mitch" wins over deplorables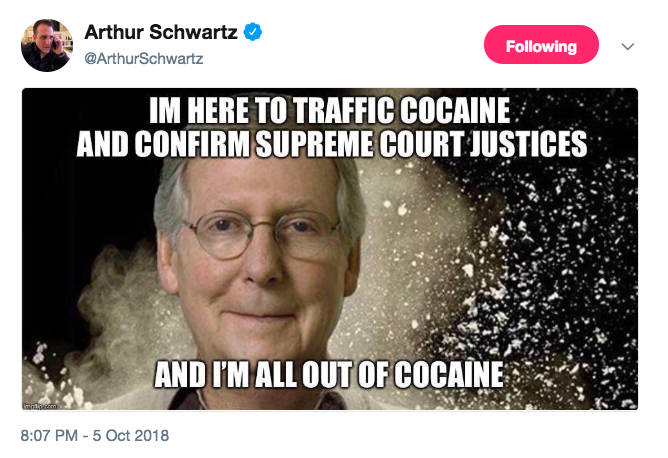 You know something rare has happened in the Republican Party when Steve Bannon is gushing over Mitch McConnell — the man he spent months trying to destroy.
Between the lines: In a text message last night, Bannon told me: "The fight for Judge Kavanaugh became a proxy fight for Trump's presidency. Senator McConnell showed real leadership and the rest of the Senators real spine. This should stand as a lesson for the future — when Republicans band together, stand up for the grassroots and take the fight to the Democrats and the opposition party media, America wins."
Sources in Trumpworld who spent their careers attacking McConnell as a weak and corrupt totem of the "establishment" are now praising him for ramming through Brett Kavanaugh's confirmation without flinching.
"A straight-up gangster," said one source who had previously dedicated a significant amount of time to trying to destroy McConnell.
The source — like many others in Trumpworld — appropriated a (debunked) campaign insult ("Cocaine Mitch") as a mark of newfound respect.
Go deeper