Inside Big Oil's emerging climate strategy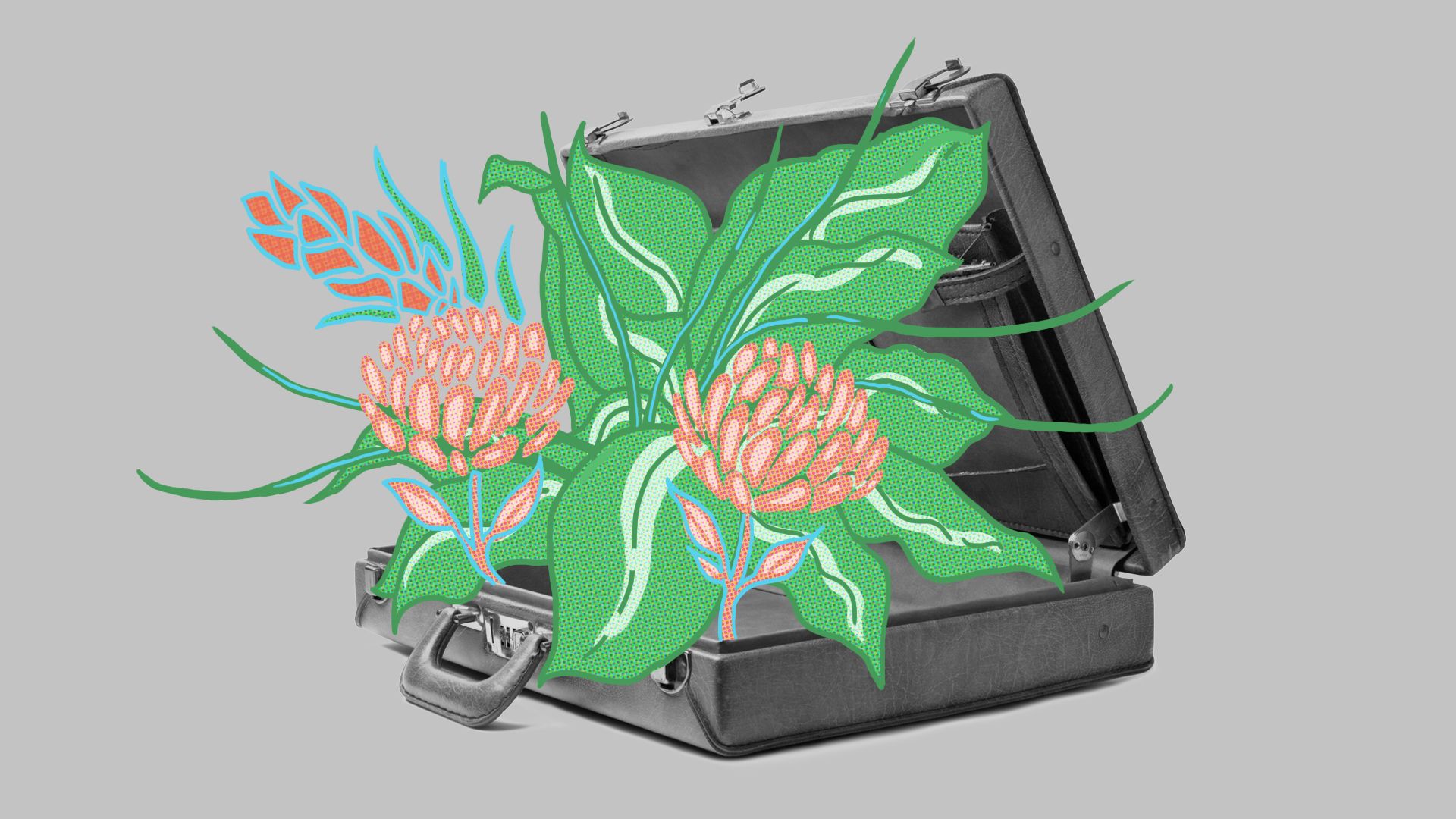 A nascent organization funded by global oil companies to address climate change may seem ironic — but it's a credible effort that could actually have a real impact.
Why it matters: Under pressure from investors and lawsuits, oil companies are starting to acknowledge climate change and slowly shift their business models in response.
The intrigue: Last week at the first-ever U.S. meeting of the group, called the Oil and Gas Climate Initiative, a rare and surprisingly candid discussion took place between CEOs of the world's biggest oil producers and leaders in climate-change action.
At the invite-only event at the Intercontinental Barclay hotel in Manhattan, roughly 150 people asked questions of 11 oil-company CEOs, including from Saudi Aramco, European producers BP and Shell and Houston-based Occidental Petroleum.
The guest list was strict and security officers were everywhere. Leaders of several environmental groups were invited, and as the two-hour discussion wore on, the dialogue got increasingly pointed.
Nigel Topping, CEO of a nonprofit coalition called We Mean Business, noted (accurately) that the companies were still overwhelmingly investing in finding new oil and gas over cleaner energy resources — "lest you suggest you're really betting the farm on the future."
The other side:
Josu Jon Imaz, CEO of Spanish producer Repsol, responded by saying he and other CEOs must balance transitioning to cleaner sources of energy over decades with returning short-term profits for shareholders. "The real dilemma and difficulty of all these jobs is to combine both things," Imaz said.
Patrick Pouyanné, CEO of French producer Total, said cutting oil production too drastically would hurt the economy. "I don't want to be accused in 10 years — because I would have diminished my amount of oil — for hiking the price of oil because the world will continue to need more."
The big picture: The burning of fossil fuels oil and gas companies produce is a big reason Earth's temperature is rising, yet their products are also foundations of the global economy. Whether you love or hate them, the role these companies play is inherent to addressing climate change, particularly in the absence of U.S. presidential leadership on the issue.
The Oil and Gas Climate Initiative was officially founded four years ago, but it's just starting to do things worthy of attention.
The first U.S. member companies — ExxonMobil, Chevron and Occidental Petroleum — joined last week. That brings the total to 13 companies, accounting for roughly a third of the world's oil and gas production.
The companies also pledged last week to cut by one-fifth their emissions of methane, the main ingredient in natural gas that's also a potent greenhouse gas.
Each member contributes $100 million to Climate Investments, a $1.3 billion investment fund the group launched in November 2016. That effort has also had a slow start.
Its CEO, Pratima Rangarajan, joined in June 2017, having previously worked on wind, solar and battery storage technologies.
This time last year, the fund had made three investments. Today, it's at eight, with more to come, particularly on energy efficiency, according to Rhea Hamilton, who leads investment decisions.
The fund's primary goal is to make the use of oil and natural gas as clean as possible, and also to capture carbon dioxide emitted from facilities like cement manufacturers and fossil-fuel plants.
Some environmentalists argue that the fund is just maintaining the status quo rather than transitioning to new sources of energy. To Rangarajan, its goals reflect a focus on the emissions that need to be reduced.
"I came into this job from the renewable sector," Rangarajan said at last week's event. "When I decided I was going to work on climate, I actually came to this side."
The initiative has limitations, driven by its makeup and mission.
Its 13 member companies are a mix of publicly and government-owned companies that are natural competitors of each other. The group employs a lawyer to ensure they abide by antitrust laws.
The group's stated mission excludes advocating for (or against) government policies like carbon prices.
Absent an overarching goal, some environmentalists say the initiative will, by design, fall far short. Fred Krupp, president of the Environmental Defense Fund, who attended last week's event, had cautious praise.
"I think each step has to be evaluated on its own merit. The first thing they started tackling when they were formed four years ago was methane, and they've taken that issue very seriously. We think they are doing good things with the billion-dollar fund. We will keep watching. We will keep encouraging."
— Fred Krupp, Environmental Defense Fund President
Go deeper