Brett Kavanaugh is "too big to fail"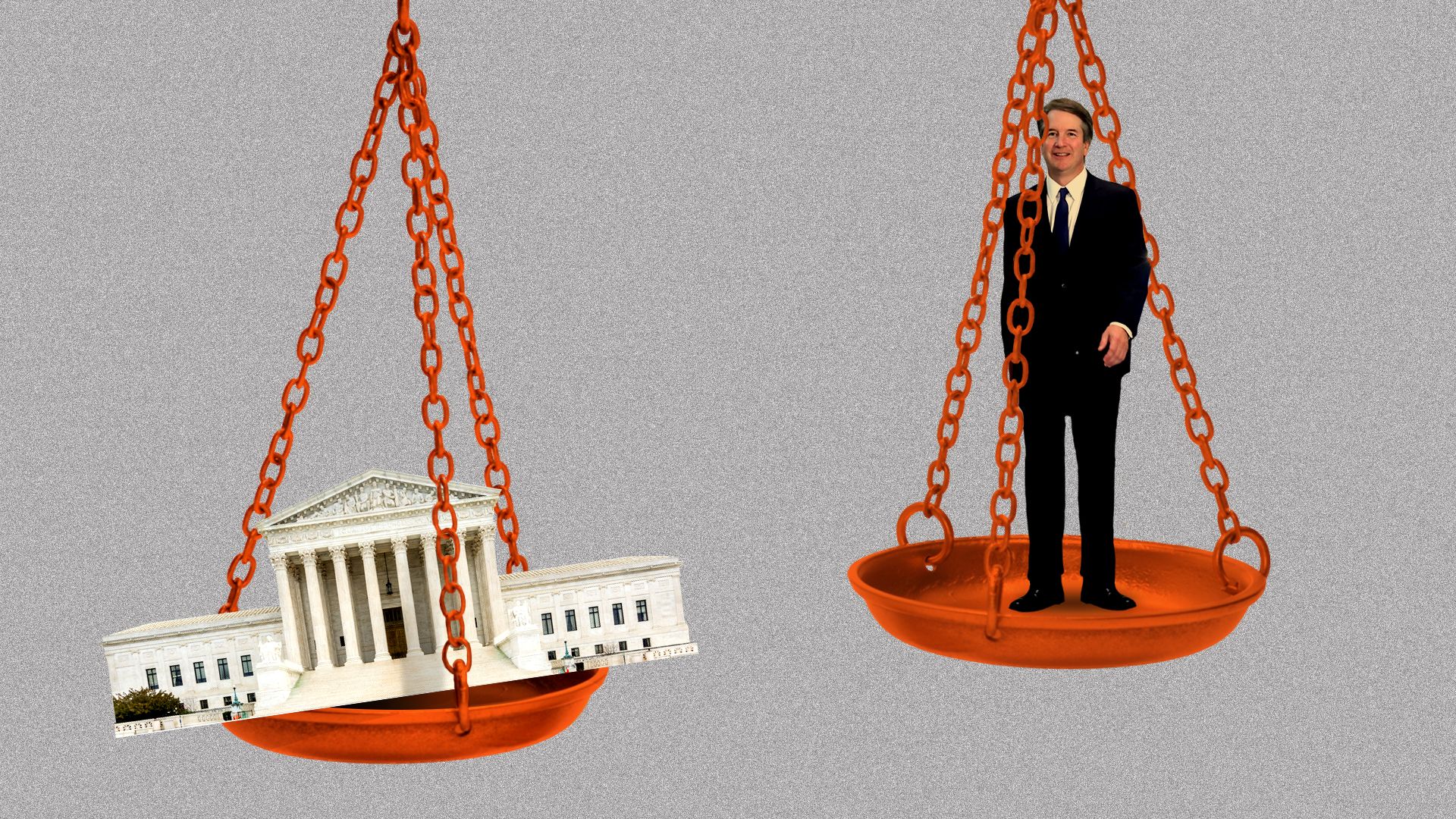 For the White House, it's Brett Kavanaugh or bust. They have no Plan B and there's not even discussion of one, according to five sources with direct knowledge of the sensitive internal White House talks.
What they're saying: "He's too big to fail now," said a senior source involved in the confirmation process. "Our base, our voters, our side, people are so mad," the source continued. "There's nowhere to go. We're gonna make them f---ing vote. [Joe] Manchin in West Virginia, in those red states. Joe Donnelly? He said he's a no? Fine, we'll see how that goes. There will be a vote on him [Kavanaugh]. ... It will be a slugfest of a week."
"There's no time before the [midterm] election to put up a new person," a White House official close to the process told me.
Why this matters: When Trump spoke to reporters on the South Lawn of the White House Saturday afternoon, he told them, "I don't need a backup plan," in case Kavanaugh's nomination collapses.
Between the lines: That's just as well, because the small team working to confirm Kavanaugh has not been looking for a backup candidate, let alone vetting one.
Sources close to the White House legal operation complained that even if they did want to rush through a new nominee, they couldn't be sure any male nominee wouldn't have what one called a "Kavanaugh problem."
"You nominate any man and how do you guarantee ... How do you vet for that?" said that source. "For an accusation that's 36 years old? You can't."
There's been plenty of speculation that, after the elections, Trump could put up a female judge such as Amy Coney Barrett, who was on his shortlist last time. But two sources involved at a senior level in Kavanaugh's confirmation told me they worry Barrett might end up being "too conservative" for the pro-choice Republican senators Susan Collins and Lisa Murkowski.
All that speculation reflects the anger and tension filling the White House.
The bottom line: As of this weekend, sources close to Kavanaugh seemed optimistic the limited weeklong FBI investigation would give the three wavering Republican senators — Jeff Flake, Collins and Murkowski — the confidence they need to vote yes. But a week is an eternity in this political environment. And if Kavanaugh's nomination collapses, there are no easy alternatives.
Go deeper