What they're saying: The 11th hour twist in the Kavanaugh confirmation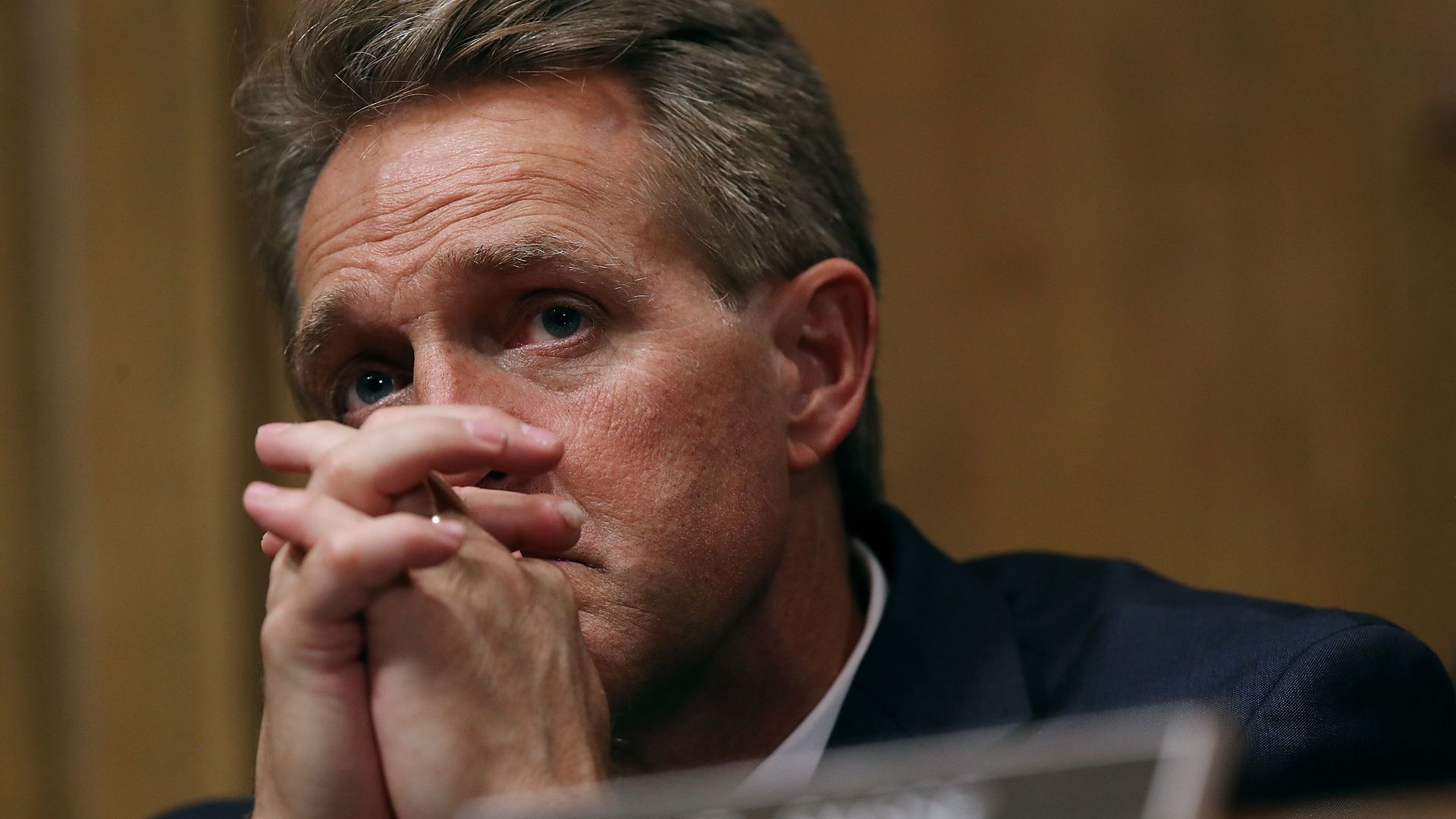 After Sen. Jeff Flake (R-Ariz.) threw an 11th hour curveball in the nomination process of Judge Brett Kavanaugh to the Supreme Court by saying he wouldn't be "comfortable moving on the floor" for a vote without a one-week delay for an FBI investigation, lawmakers went to the cameras and fellow Congressmen to talk out their diplomacies.
The big picture: A lot is still up in the air on whether an investigation will actually happen, or be approved by the president. However, Senate Majority Leader Mitch McConnell can still bring Kavanaugh's nomination to a vote on the Senate floor as early as Saturday.
Sen. Jeff Flake (R-Ariz.): "I think it would be proper to delay the floor vote for up to but not more than one week in order to let the FBI... to do an investigation, limited in time and scope, to the current allegations that are there."
Sen. Lindsey Graham (R-S.C.): "If we ask the FBI to look at what's in front of us ... no longer than a week, and they would say that would be a better process, that would be progress ... Jeff is trying to be fair. I just don't see we're going to benefit from anything."
Sen. Mike Crapo (R-Idaho): "If it can help us get where we need to be, so be it. I felt that the committees' investigation was very thorough, but the FBI can get a double check there."
Senators Lisa Murkowski (R-Alas.) and Joe Manchin (D-W.V.), key swing votes, also support Flake's call for a delay and a FBI investigation.
Sen. Orrin Hatch (R-Utah) said he prefers no delay but also does not have any problem with an FBI investigation. "I think it's overkill. I think it's over utilization but I don't have any problem with that."
Sen. John Kennedy (R-La.): "I don't know what [the delay] means. … Obviously the majority leader controls the floor. … The only thing I'm certain of is Judge Kavanaugh's nomination advance."
Sen. Cory Booker (D-N.J.): "I was encouraged by the good faith discussion with my judiciary colleagues earlier this afternoon. The FBI investigation should also include investigating the other allegations that Ms. Ramirez and Ms. Swetnick have made."
Sen. Patty Murray (D-Wa.) on if the FBI will be more conclusive than the Senate Judiciary Committee: "I certainly think if it is done right and it is done broadly enough and they're asking the right questions that they have more information to base a decision on."
Sen. Amy Klobuchar (D-Minn.): "This was kind of a surprise to all of us. ... We are in a better place than we were at 8 a.m. this morning."
Sen. Chris Coons (D-Del.) "I am deeply grateful to Senator Flake and others who I believe will join him in saying they are not comfortable in proceeding to a final vote on judge Kavanaugh's nomination without a short additional period."
President Trump did not have a specific message for undecided senators on the Kavanaugh vote and said to do whatever makes them comfortable.
Go deeper