An explosive, record-breaking magnetic field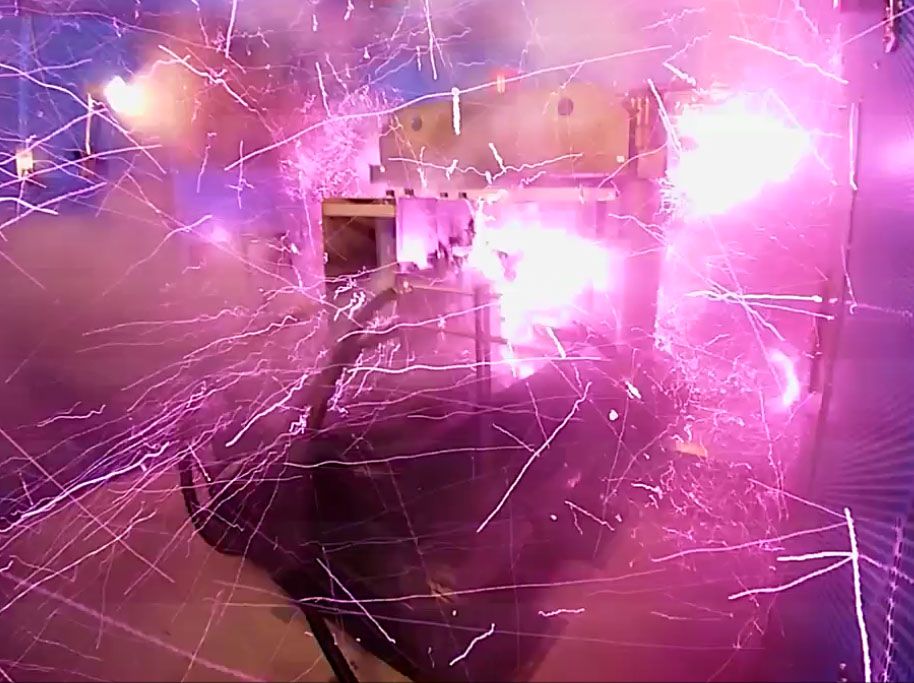 The strongest-ever controlled magnetic field was activated in Tokyo earlier this year, showering a containment room with sparks for its brief lifespan: 1/1,000th of a blink of an eye.
Why it matters: Powerful magnetic fields allow scientists to study the movement of electrons, enabling research into fusion, a future source of clean energy.
The field was measured at 1,200 teslas — a unit of magnetic field strength — which is about 400 times the strength of an MRI, according to IEEE Spectrum.
It was created by compressing a much weaker field into a tiny space at an extremely fast rate.
Shojiro Takeyama, the University of Tokyo professor in charge of the experiment, told IEEE that the iron cupboard that housed the mechanism was built to withstand the effects of a 700-tesla magnetic field — only three-fifths the strength of the field that was actually created.
The cupboard's door was broken, but no one was hurt, he said.
The magnetic field's 100 microseconds of existence may seem fleeting, but it's actually a major record, according to a statement from the University of Tokyo.
Powerful fields generated by lasers typically last for nanoseconds — or 1/1,000th of a microsecond.
A Russian experiment created a stronger magnetic field in 2001, but it couldn't be controlled. The 2,800-tesla field blew up the lab's equipment.
Go deeper: Watch the fireworks as the University of Tokyo field is activated (YouTube)
Go deeper