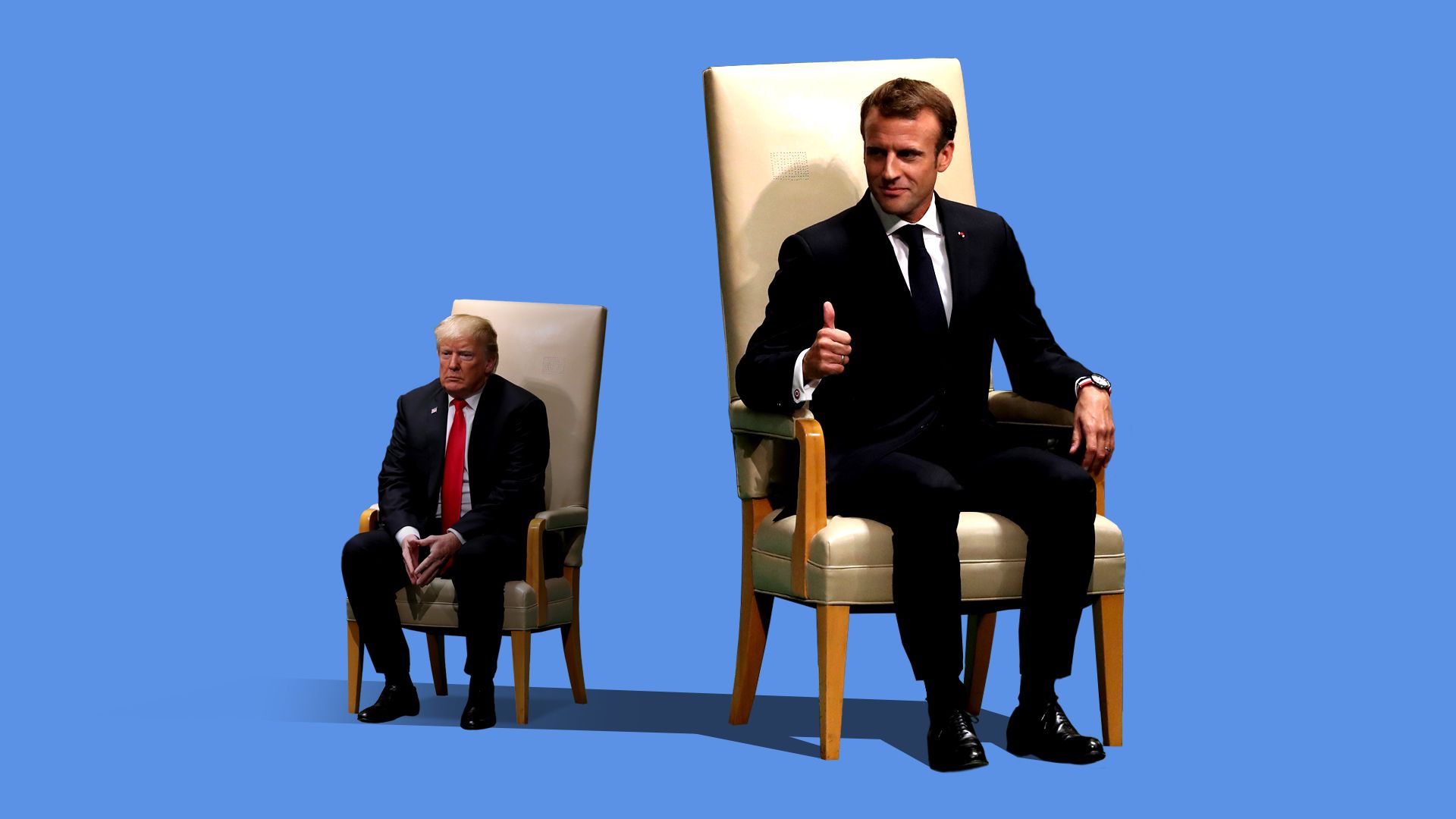 The world was not buying what President Trump was selling this week at the United Nations General Assembly.
Flashback: Trump made waves at the UN last year with his disdainful attitude and threats of nuclear destruction. He continued his nationalist push this year, but the shock factor had largely worn off and a parade of leaders who once attempted to woo him — led by French President Emmanuel Macron — signaled they're preparing to move on without him.
On Iran, the Trump administration went all out in an attempt to unite the world against the regime, with bellicose remarks from Mike Pompeo, John Bolton and Trump himself.
Instead, the Europeans joined with Russia and China to announce a payments system intended to circumvent U.S. sanctions.
When Trump chaired a UN Security Council meeting he had initially hoped would be focused on the Iranian threat, he was instead forced to listen to praise for the 2015 nuclear deal from leader after leader — not to mention a litany of abuse from Bolivia's president.
On migration, Trump slammed a recent UN agreement on the grounds that "migration should not be governed by an international body."
It's moving ahead anyways. In a press conference hailing the accord, Switzerland's president noted that "the whole world" had signed on, "with one or two exceptions." Those are Hungary and the U.S.
On climate change, Trump's isolation was even starker. Macron went so far as to say Europe should not sign a trade deal with any country that doesn't respect the Paris climate agreement. There's only one such country: the United States.
I asked EU Commission Vice President Maroš Šefčovič in an interview yesterday whether it's time for Europe to give up on Trump and go its own way. He stressed America's importance, but said Trump's retreat had actually made it easier to reach consensus in areas like climate change.
"We're now doing a lot more, and paradoxically our big partner on this is China. Of course we would prefer to have Americans at the table … but once you are not at the table, you are not at the table, and you are missing at the table."
In a press conference last night that was (aside from some blistering comments on Canada) dedicated primarily to domestic concerns, Trump was asked about the split over Iran. His remarks were revealing:
"It doesn't matter what world leaders think on Iran. Iran is going to come back to me and they're going to make a great deal — I think."
The bottom line: Trump's message is pretty clear: America doesn't need the world. This week showed that his fellow leaders are weighing how much they truly need him.
Go deeper