Big Oil walks tightrope on methane emissions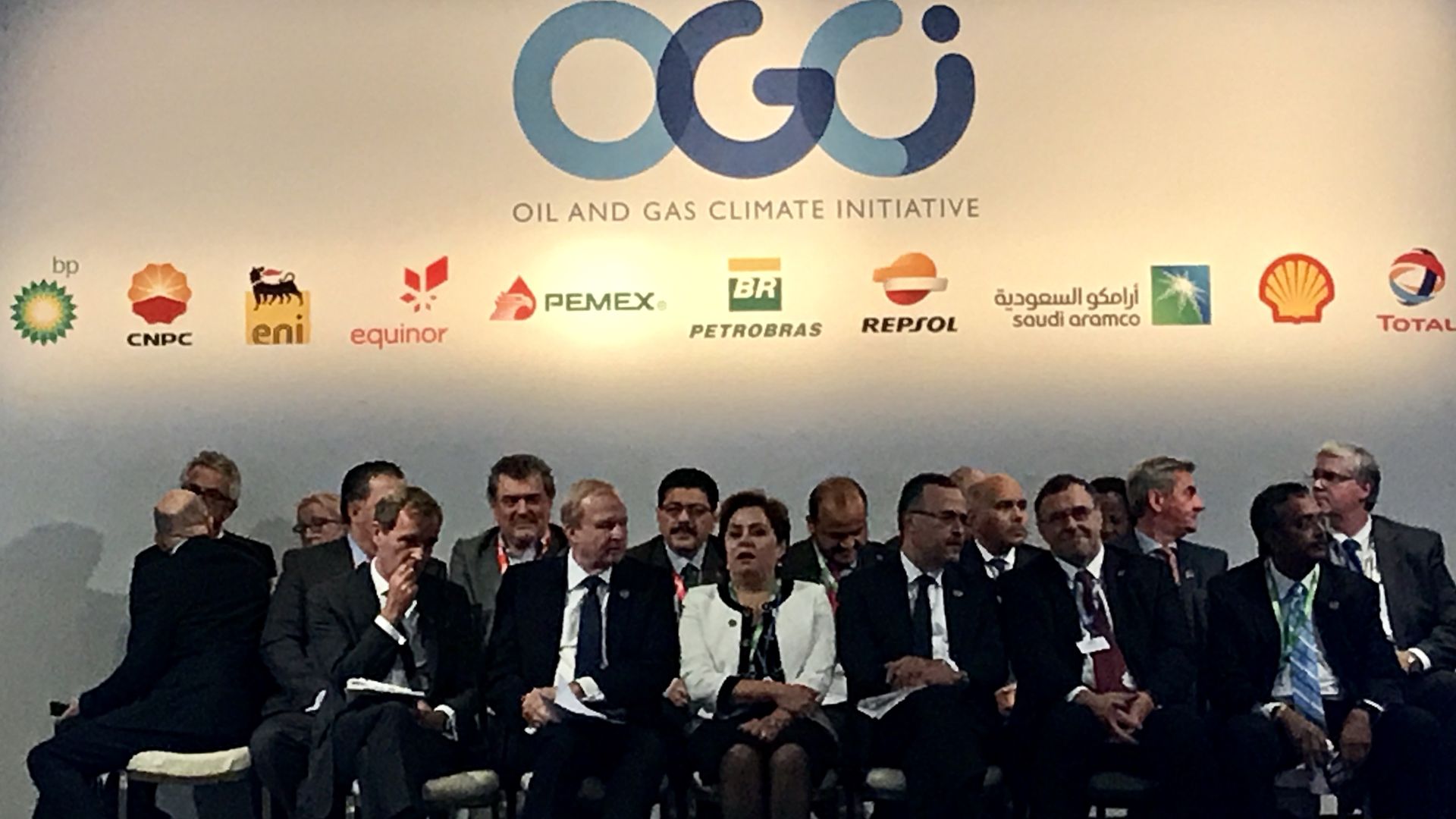 NEW YORK — CEOs of the world's biggest oil and natural gas companies are pledging to cut their emissions of methane, a potent greenhouse gas, by one-fifth despite staying silent on the Trump administration's regulatory rollback on the matter.
Why it matters: The announcement made Monday by the Oil and Gas Climate Initiative, a group of top oil companies that represent nearly a third of the world's oil and gas production, is a significant move given methane's impact in warming the planet is far greater in a shorter time span than carbon dioxide.
The big picture: Cutting methane emissions is one focus of the group, which now includes ExxonMobil, Occidental Petroleum and Chevron. The other pillars include carbon capture technology and cutting emissions in the transportation sector.
Yes, but: In interviews with Axios and during a public event in New York on Monday, several oil executives declined to comment one way or another about the Trump administration's rollback of two parallel regulations — one at the Environmental Protection Agency and another at the Interior Department. At Monday's public event, Ken Alex, a senior advisor to California Gov. Jerry Brown, asked the CEOs if they would state their opposition to Trump's moves to scuttle the regulations? They opted not to do so.
"We're not going to go out and criticize any government around their role. That's not productive."
— Bob Dudley, BP CEO, in an Axios interview
"We are not in politics. We are in business. I need to do the right things for business ... I'm not here to advocate for or against an administration or a particular political development."
— Ben van Beurden, Shell CEO, in an Axios interview
Between the lines: Corporate CEOs are notoriously cautious with political moves, and this case is no exception. But rhetoric aside, the disconnect between the Trump administration and the world's biggest oil companies is growing on climate change.
"The commitment to reduce methane emissions to these low levels and to measure it and record it is a big step forward and I think it proves that OGCI is not just talk but action," said Fred Krupp, president of the Environmental Defense Fund.
Krupp, whose centrist environmental group works with oil companies to cut emissions, added though that he thinks regulations are needed to compel other companies toward similar action because the group's companies "themselves only represent a minority of emissions so we need the other companies."
Go deeper