The White House roadmap for intervening in Venezuela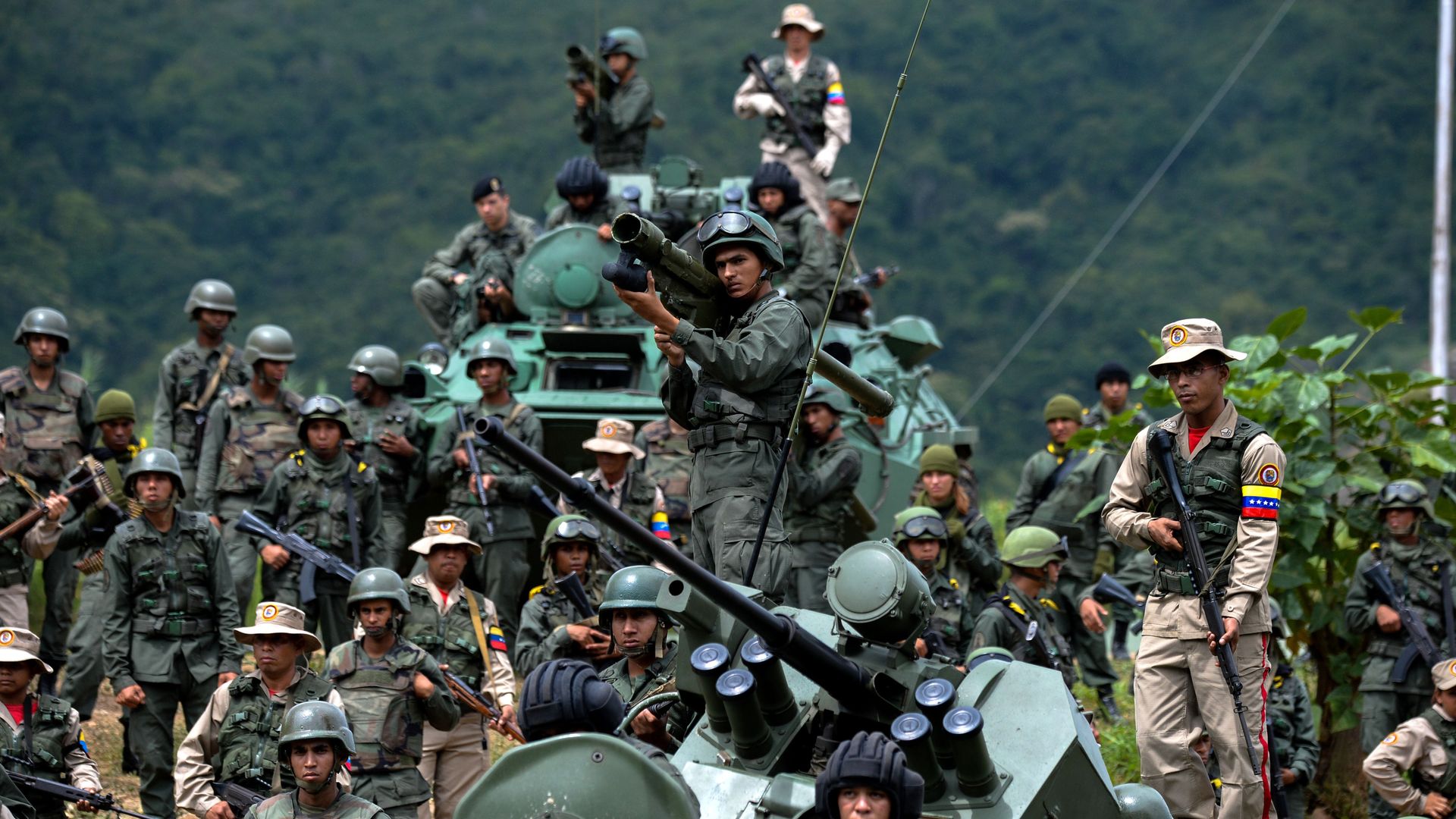 The White House National Security Council drafted a step-by-step "program of escalation" for Venezuela after President Trump took office, including the grounds for military intervention, a former senior official said today.
Why it matters: Fernando Cutz, who served as a close adviser to former National Security Adviser H.R. McMaster and the top National Security Council official on South America, offered a rare insider account of how the administration has prepared to respond to the massive political and humanitarian crisis. He said at a Wilson Center event in Washington that specific responses were drawn up to anticipated events on the ground.
Cutz cited a Venezuelan takeover of the U.S. Embassy or the massacring of 1,000 Venezuelan civilians by the government as events that could trigger U.S. military action.
He said other steps the White House "had ready" included a full oil embargo, which would severely restrict Venezuela's cashflow but presented the question: "If we destroy Venezuela, and we make the situation worse for the people of Venezuela, what comes next?" They didn't have a satisfactory answer.
The backdrop: The New York Times reported earlier this month that the White House held a series of meetings over the last year with "rebellious military officers from Venezuela" who were hoping to depose President Nicolas Maduro. Trump himself said a year ago that there was a "military option" in Venezuela. Such rumblings provoke anxiety in a region with well-grounded suspicions of U.S. intervention.
Cutz was asked about the meetings and said the White House "never debated supporting a coup" or offered support or tacit approval to coup plotters, but was "open to listening" to "any significant players." He also said he had "no idea" why Trump had mentioned military action, adding that it "wasn't in the script."
However, Cutz, who also served in the Obama administration and left the White House in April, made the case that a multilateral military intervention could ultimately be the right move.
His argument ...
The economic disaster is deepening, and the refugee crisis is approaching Syria's scale. "Can Colombia sustain 3 million refugees? 5 million? Those are realistic numbers. So what do we do? [Close the borders and] let Venezuelans die in the streets of Caracas?"
Maduro is not going to leave on his own accord, and the crisis won't end as long as he's in power. That leaves a coup, uprising from the people or a foreign military intervention, and "the least bloody of those is probably going to be a foreign military intervention."
His bottom line: "We made policy decisions in Rwanda and Syria, essentially to do nothing" and those failures became the biggest regrets for presidents Clinton and Obama. Not intervening in Venezuela would be a policy choice.
Where things stand: I asked Cutz whether the White House had discussed the possibility of an intervention with countries or international organizations that could be called upon to support it. He said he doesn't believe it has been discussed through diplomatic channels, but "the president would certainly muse on things" with other world leaders.
Go deeper