Earth's climate-change liposuction: Sucking carbon from the air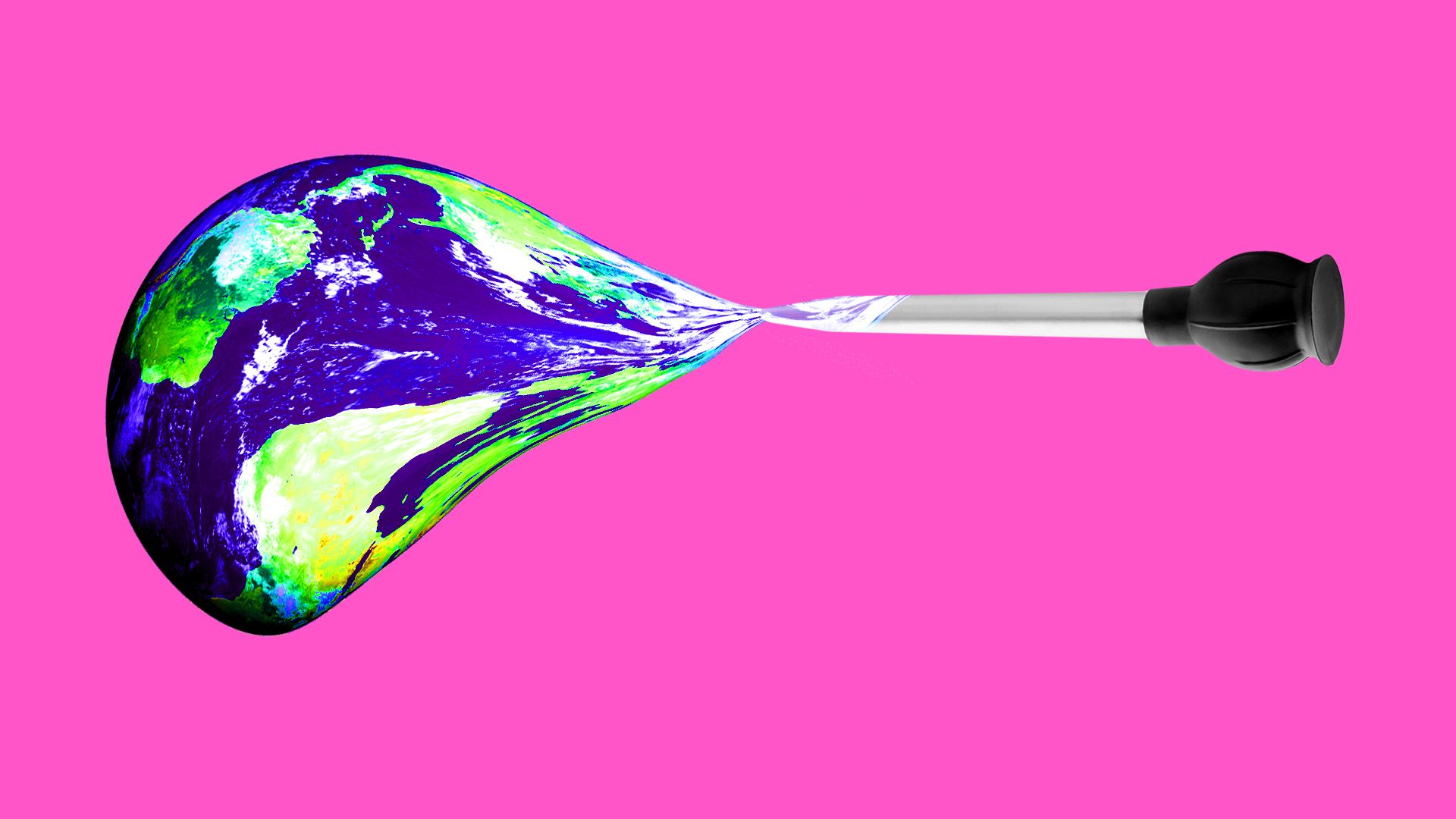 Addressing climate change isn't just about moving to cleaner forms of energy anymore. It's about literally taking out some of the heat-trapping gases already in our skies.
Why it matters: There is so much buildup of carbon dioxide in the atmosphere, scientists say we've reached a point that some needs to be removed to limit Earth's temperature rise and avoid the worst impacts of a warmer world. Technology exists to do it, but it's costly, zany-sounding and not well known. That's starting to change now.
"The big story is you can't get there simply by lowering carbon emissions. I think that window has closed. That's a pretty revolutionary concept."
— Andrew Steer, World Resources Institute President
Driving the news: A seminal report to be released Oct. 8 by a United Nations scientific body is expected to underscore the need for transformative technologies in order to keep global temperatures from rising more than 1.5 degrees Celsius relative to more than a century ago.
The report is expected to include an emphasis on removing carbon dioxide already emitted into the atmosphere, according to multiple people familiar with it. The National Academy of Sciences is also set to release influential reports in this area in the weeks after.
Momentum among foundations, universities and other experts in this space is growing rather suddenly. That's notable, given that it's addressing what is a centuries-long problem.
Among the stakeholders ramping up work in the past several months:
Energy Futures Initiative, the think tank led by Ernest Moniz, President Obama's energy secretary
The World Resources Institute, environmental think tank
Rhodium Group, consulting and analysis firm
Bipartisan Policy Center, centrist think tank
Carbon180, a newly rebranded nonprofit
The Linden Trust, a foundation
ClimateWorks Foundation
"If you're not tackling carbon, you're not actually tackling the problem. Everything else we've done so far has been a bank shot. Now is the time to step up."
— Julio Friedmann, former Obama official and lead of Columbia University's new initiative
Removing CO2 from the air can be done a few different ways, including planting trees that naturally soak up carbon dioxide. A leading line of research is backing technology capturing far more CO2 faster than trees ever could. A small handful of companies around the world are pursuing this. Two examples:
Last year, Switzerland-based Climeworks opened its first commercial-scale plant that captures CO2 from the air.
Canada-based Carbon Engineering, whose investors include Bill Gates, is planning to build its first commercial plant by early next year. Its CEO Steve Oldham told me recently to stay tuned for potential news soon on new partnerships, including possibly with oil and gas companies, though he wouldn't disclose any more details.
Two of the biggest considerations with capturing carbon are the cost to do it, and then what to do with it once you've caught it.
On the capture cost:
The current cost to capture a ton of CO2 anywhere between $600 and $800, according to Climeworks. But estimates by that company and Carbon Engineering project that cost could drop to below $100 for commercial scale projects in the next several years.
On what to do with it:
In theory, captured carbon dioxide can be turned into almost anything, including building material like carbon fiber and cement, shoes, transportation fuel and even beer.
Carbon Engineering is focusing on making fuel, which it says is is currently 25% more expensive to produce than a comparative gallon of diesel.
Climeworks says its CO2 can be adapted for various uses, and it's in the process of making beverage-grade CO2 available to sell in the coming months for things like beer.
If only tackling climate change could be as easy as drinking a pint. The problem with putting CO2 to use as a product is that the sheer volume of carbon the world needs to capture far outweighs the world's appetite for beer--and a lot of other products.
That's why storing it underground — sometimes after using it to (ironically) extract oil — and even underwater are likely to be necessary parts of the equation.
What's next: There needs to be a business case for capturing CO2. That means turning what has long been seen as a waste product — carbon dioxide — into a product that can make money.
Putting a price on carbon emissions, such as through a tax, is the simplest way to do that. But absent comprehensive policy on that front either nationally or even globally, a patchwork is emerging. Two things to watch:
To what degree California's recently adopted aggressive clean-energy law provides economic incentives for companies like Carbon Engineering. The new law mandates that 100% of its electricity come from carbon-free sources by 2045. An executive order calls on its entire economy to become carbon-neutral in that same time frame.
Whether Congress passes bipartisan legislation encouraging government investment and coordination for technologies sucking CO2 from the sky and related efforts.
Go deeper