Cruz, O'Rourke battle it out in first of three Texas debates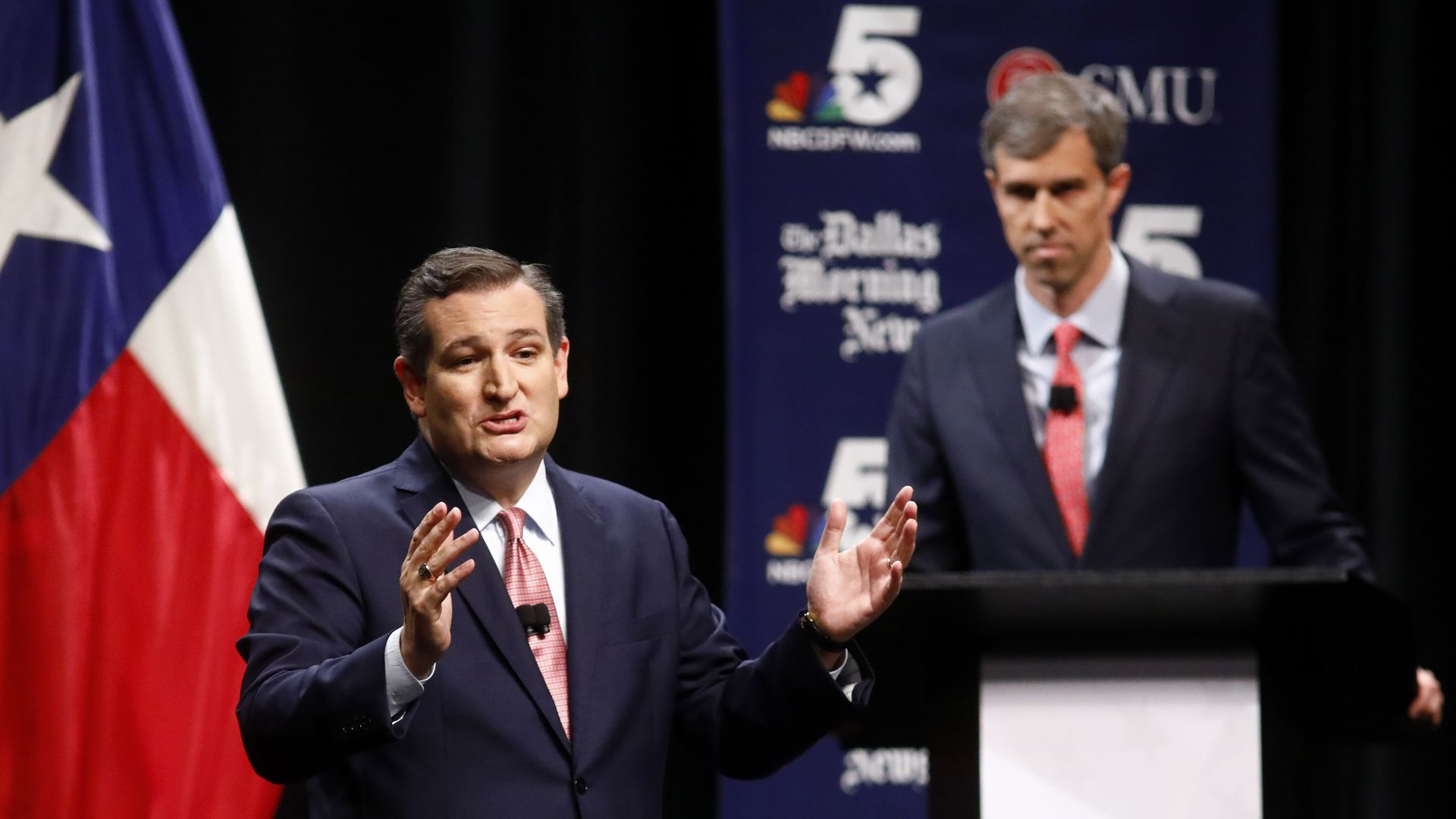 Senator Ted Cruz (R-Texas) and his Democratic challenger Beto O'Rourke held their first debate on Friday, both calling each other out for being "out of step" with Texas, reports the New York Times.
Why it matters: The first debate came at a crucial point in the race with political analyst Charlie Cook labeling the state a toss up on Friday. Cruz, the more experienced debate candidate, had more screen time, and may see a boost as these debates continue if O'Rourke continues to struggle to dominate the forum.
The details: O'Rourke and Cruz debated on hot-button issues over the course of an hour, including immigration, the NFL's anthem protests and police brutality, gun control and school shootings.
The bottom line: Cruz showed his mettle as the more aggressive candidate and remained in control throughout the debate, potentially giving him an edge moving forward.
Toward the end, when both were asked to say something nice about their opponent, Cruz applauded O'Rourke for being genuine in his beliefs, but then compared O'Rouke to Sen. Bernie Sanders for his goals of "expanding government and higher taxes."
O'Rourke shot back: "True to form," suggesting Cruz can't be nice even when trying.
On defense: O'Rourke spent a majority of his time accusing Cruz of misrepresenting statements he made and defending his values, but never truly got the opportunity to speak on exactly what his values were.
At one point, Cruz accused O'Rourke of spreading anti-police rhetoric and O'Rourke hit back, saying Cruz's tactics are why "people don't like Washington, D.C." He added that Cruz speaks to fear and not truth.
It's not over: The two sides will have two more one-hour debates: One at the University of Houston on Sept. 30 and another on Oct. 16 in San Antonio.
Correction: An earlier version of this story incorrectly stated that Cruz made the "True to form" remark. It has been updated to reflect that O'Rouke made that comment.
Go deeper