Chamath Palihapitiya burns down what he built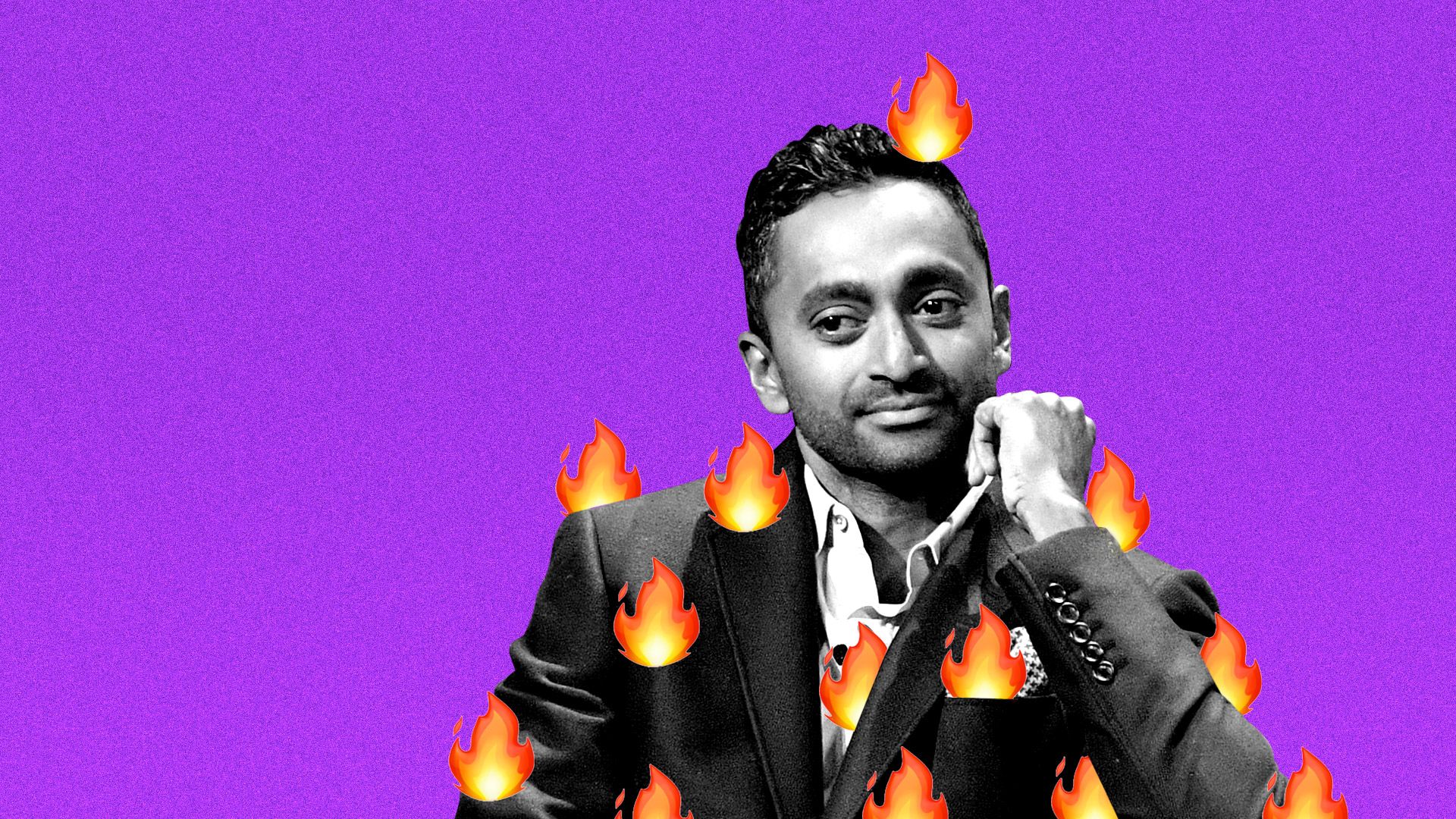 Two weeks ago today, we detailed the ego-fueled collapse of Social Capital, a Silicon Valley venture capital firm known for early investments in companies like Slack.
What's new: Social Capital no longer will raise outside capital, and instead convert itself into "technology holding company" that mostly invests CEO Chamath Palihapitiya's own money.
Palihapitiya yesterday confirmed much of our previous reporting — via both a Medium post and interview with The Information — while simultaneously calling it "fake news."
What he announced: Social Capital will no longer raise traditional venture capital funds from outside investors, known as "limited partners," and even more staffers are expected to depart. Beginning next year it will invest off its "balance sheet," with new portfolio companies receiving checks of between $50 million and $250 million.
Palihapitiya is basically turning Social Capital into a family office. Limited partner sources say there are still fund reserves for follow-on investments, the funds might recycle some profits, and any additional needs could be offered to LPs as direct investments on a no fee/no carry basis.
He also told select LPs on a conference call that he will focus most on a sub-group of Social Capital's strongest portfolio companies.
The conference call was a regularly-scheduled LP advisory committee meeting, and it only lasted around 30 minutes.
"He kept dodging questions," one LP on the call says. "There would be a question about things like organizational structure — who is actually managing our investments? — and he wouldn't give direct answers."
Another LP says things might have been more contentious had everyone first read The Information article, which came out shortly before the call began. Namely because he said the following of LPs and their complaints of being uninformed of major firm changes:
"It doesn't matter."
"They probably felt maybe not listened to as much as they should have been by me. Tough."
"I would rather spend time with the people that are 100% aligned with what I want to do and the person that's most aligned with what I want to do is me."
Probably worth recalling that "Partnership" was part of Social Capital's original name, but it was dropped somewhere along the way.
Four more notes on this fiasco:
Palihapitiya continues to serve as CEO of a publicly-traded blank check company called Social Capital Hedosophia (NYSE: IPOA). If it doesn't acquire a company by the middle of next September, then investors get their cash back and it's a heavily-hyped wash. But if it does acquire a company, how will shareholders feel about Palihapitiya's involvement, given his stated contempt for investor interests?
There does not appear to be any LP appetite for firing the general partner. Or at least not yet. One big reason, as voiced by an investor, is that spearheading such an effort could get his firm blackballed by Palihapitiya's influential Silicon Valley friends. Too much risk for too little reward and too much effort.
Reminder that Social Capital once discussed a "takeover" by Kleiner Perkins, but the deal collapsed after Palihapitiya insisted on being named CEO (or the managerial equivalent) of the combined firm.
Social Capital has not responded to any of our requests for comment for the past three weeks (including yesterday). Same goes for direct inquiries to Palihapitiya.
Go deeper