A new way of thinking about deep decarbonization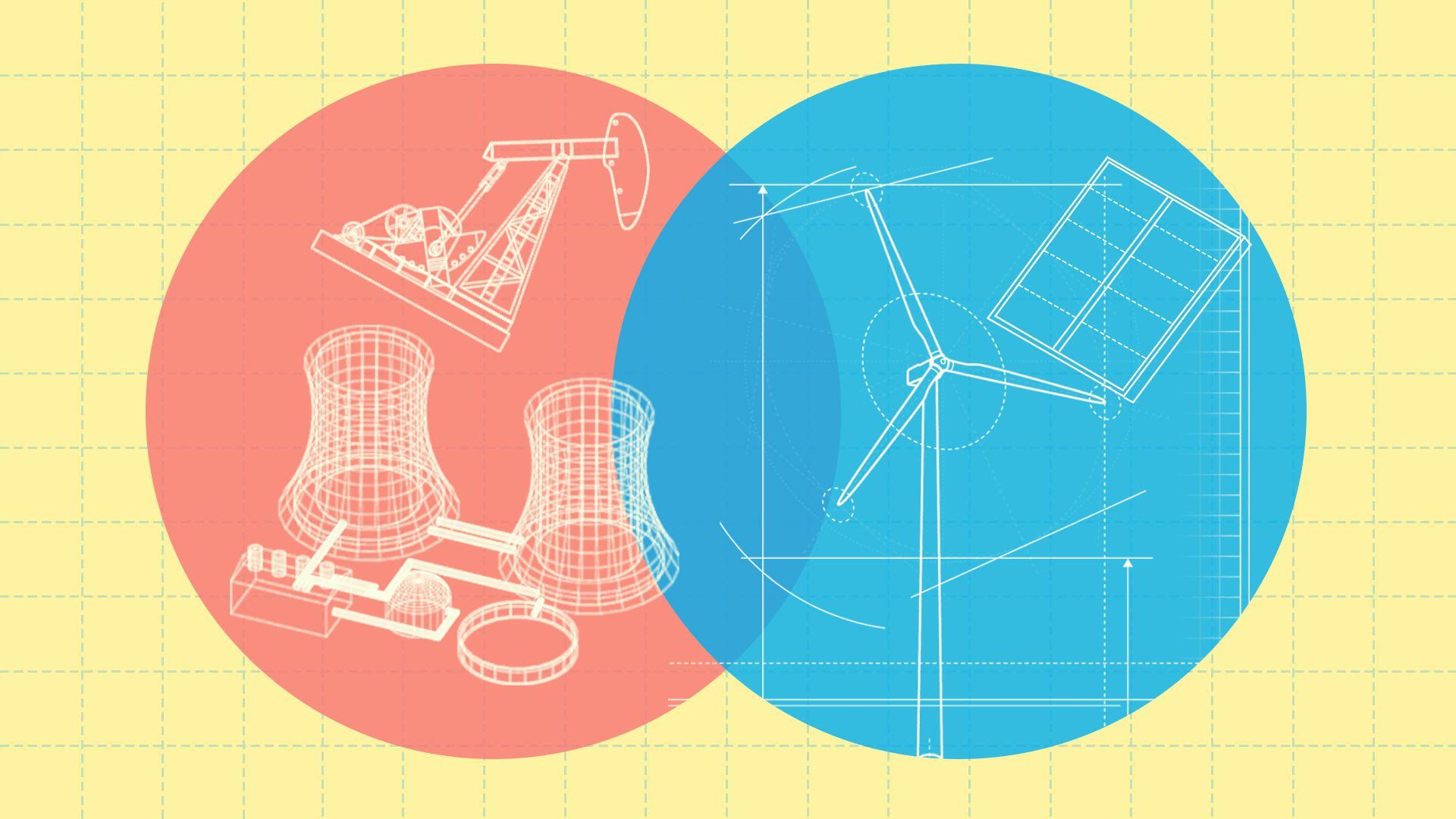 What's the best way to cost-effectively wring almost all carbon emissions out of power generation?
Renewables are part of the answer, but it will also take other low-carbon tech options, and policymakers should not close the door on any of them, a new paper by MIT researchers finds.
Why it matters: So-called "deep decarbonization" of electricity systems by mid-century is an important part of preventing runaway global warming.
What they did: The study in the peer-reviewed journal Joule offers a new taxonomy for how to think about a decarbonized power mix.
The study explored almost 1,000 scenarios based on various emissions limits, regional differences, technology uncertainties and more. It's the latest entry on the "no" side of a dispute among some academics and activists over whether renewables and storage alone can decarbonize energy systems.
The details: Longstanding ways of categorizing power sources — including "baseload" for large fossil fuel and nuclear plants; "load following"; and "peaking" resources to meet demand spikes — no longer make sense in a world where renewables are already in more widespread use, the study argues.
It instead breaks down climate-friendly energy technologies into three basic categories...
Variable renewable resources, like wind and solar.
"Fast-burst" resources, including batteries and pricing changes, that can provide quick adjustments to supply or demand.
"Firm" low-carbon resources including nuclear, natural gas with carbon capture and hydro-dams with large reservoirs.
What they found: We're going to need to rely on that last category — "firm" low carbon resources, in order to affordably get power sector emissions down to zero, the study concludes.
"Across all cases, the least-cost strategy to decarbonize electricity includes one or more firm low-carbon resources. Without these resources, electricity costs rise rapidly as CO2 limits approach zero," the study states.
The availability of these firm resources could cut the cost of fully decarbonizing power by as much as 62%.
"It's not about specific technologies. It's about those key roles that we need filled on the low-carbon team," co-author Jesse Jenkins tells Axios.
The big picture: The study arrives as California is on the cusp of enacting legislation that requires a zero-carbon power mix by 2045.
More broadly, it can inform a debate over whether state-based renewables mandates should be expanded into broader policies that credit a wider set of technologies and have more ambitious goals.
But it's not just about electricity.
Jenkins, in a statement alongside the paper, notes that decarbonizing power needs to be done inexpensively enough to make electricity an attractive substitute for fossil fuels in transportation, heating buildings and industry.
What they're saying: Energy experts who were not involved in the study tell Axios it makes valuable contributions.
Varun Sivaram of the Council on Foreign Relations called it a "superb and groundbreaking" paper that provides a useful breakdown of the complimentary resource categories needed to fully decarbonize power.
"What's remarkable from the paper is how expensive it is to fully decarbonize the grid without firm zero-carbon resources, especially in areas with poor renewable resources (e.g., the Northern region they modeled)," he tells Axios in an email.
Costa Samaras of Carnegie Mellon University said it helps to show that even steep cost declines in renewables and batteries aren't enough.
"What the authors have shown in this paper, is that getting to a zero carbon energy system is considerably more costly without firm low-carbon resources even when considering that variable renewables and fast-burst balancing resources could get really cheap," he said via email.
Go deeper