Where Trump's bet on India comes up short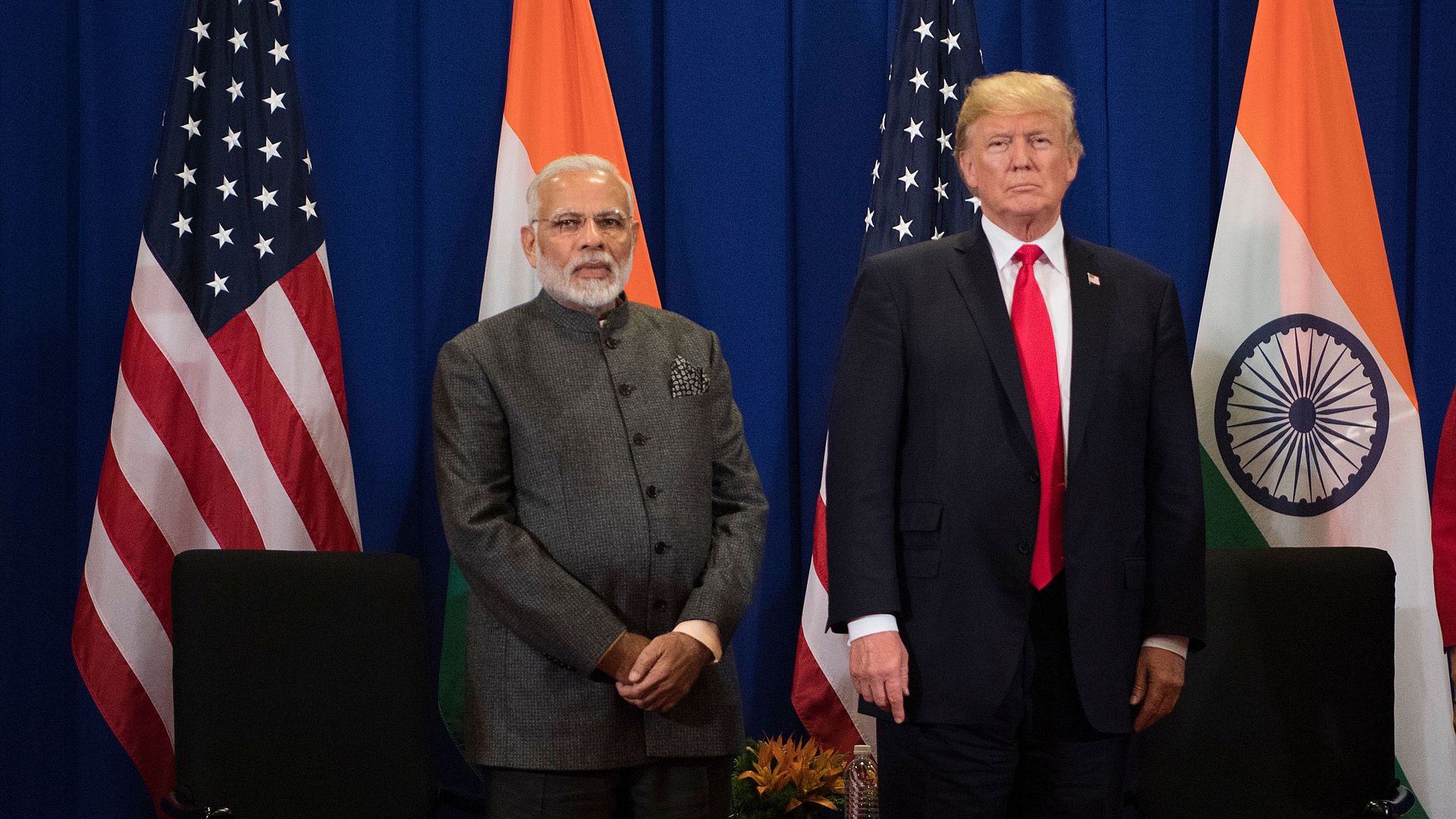 In the most important geopolitical region in the world, the Asia Pacific, the Trump administration has its bets placed squarely on India.
The big picture: The U.S. strategy depends on closer relations between the U.S. and India, and India playing a larger role throughout Asia. So as Secretary of State Mike Pompeo and Defense Secretary Jim Mattis arrive in New Delhi tomorrow for the so-called 2+2 dialogue, one of the highest-level dialogues between the two countries since Trump took office, it bears asking: how are things going? 
On many fronts, relations between the U.S. and India are on an upward trajectory.
Perhaps the strongest area of cooperation is on arms sales—where India went from importing zero U.S.-made equipment in 2008 to around $15 billion in the decade since.
Secretaries Pompeo and Mattis are looking to use their trip this week to sign a long-stalled defense pact that would enable billions more in weapons deals and expand military ties, including the sharing of encrypted communications and communications systems.
The recent U.S. decision to cut off military aid to Pakistan should certainly help boost trust.
But there remain points of friction, particularly on economic issues, that could ultimately limit the deeper cooperation envisioned by U.S. strategy.
India has a large trade surplus with the U.S., a particular bone of contention for President Trump, and was hit by US steel and aluminum tariffs earlier in the year—which though not yet economically damaging have proven to be an irritant.
In addition, the U.S. is currently considering two different sanctions packages against India — one for its planned purchase of a Russian-made air defense system, the other because of its continued reliance on Iranian oil imports.
Trump's tendency to mimic his Indian counterpart, Prime Minister Narendra Modi, is certainly not helping his administration's efforts to cozy up to a man who oversees one-sixth of the world's population. 
Even if they can get along, there's a broader question: Could India ever provide the U.S. the reliable foothold it wants in Asia? Here, the U.S. faces two problems. 
First, India remains a reluctant power that will struggle to challenge China strategically in the region.
Second, deeper ties with India will do little to combat China's growing economic clout — of which India is, and will continue to be, a willing beneficiary. For the U.S., it will take more than 2+2 to tango in Asia.
Sign up for Signal, a thrice-weekly newsletter from GZERO Media, a Eurasia Group company.
Go deeper