What they're saying: Lawmakers debate renaming Senate building after McCain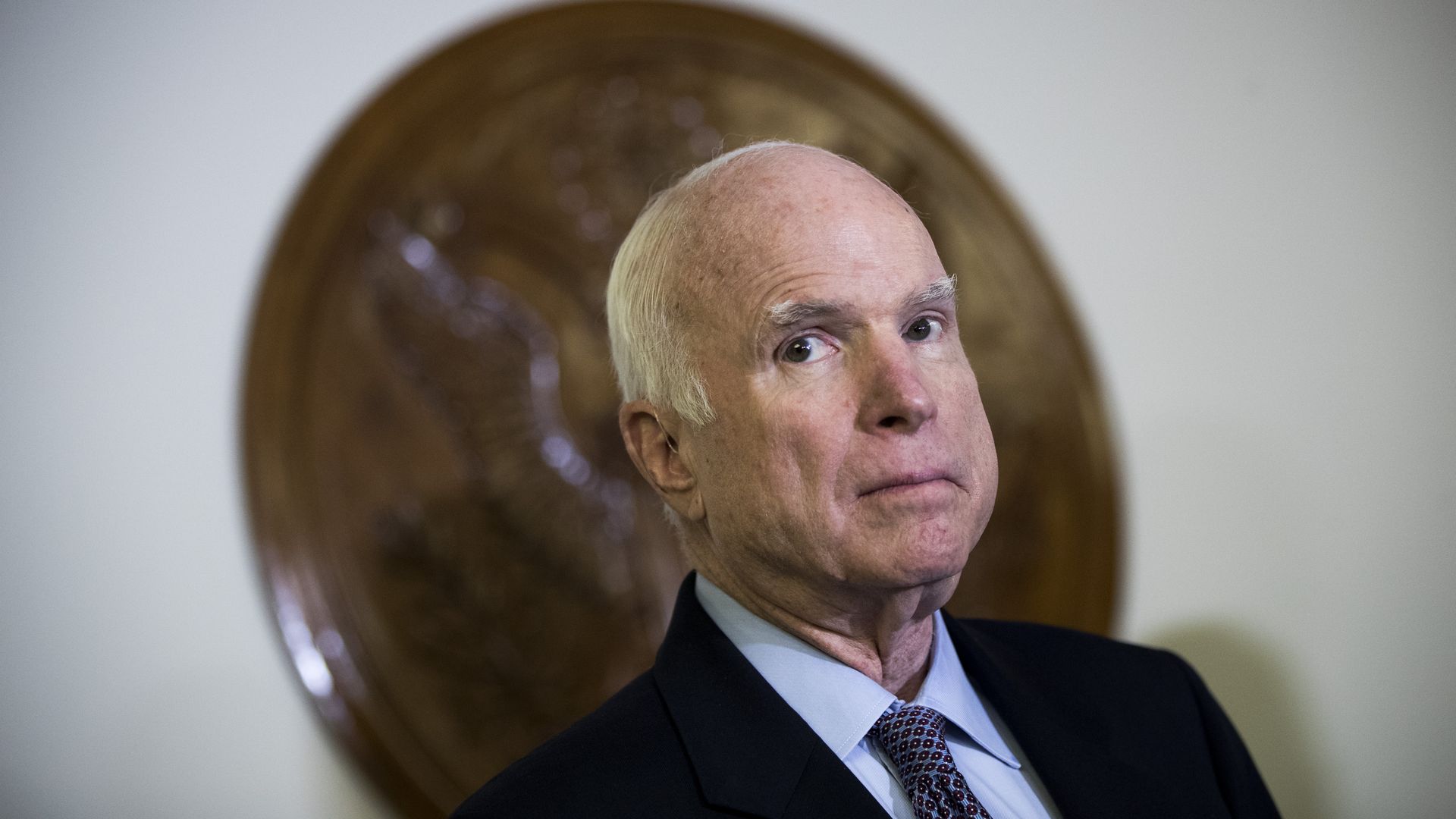 Senate Minority Leader Chuck Schumer (D-N.Y.) is making a push to rename the Russell Senate Office building after late senator John McCain, but is facing pushback from Republican lawmakers, the Washington Post reports.
The big picture: The office is currently named after Senator Richard Russell, a segregationist, who passed in 1971. Some Republicans argue that his legacy and accomplishments outweigh his racist past, but Schumer and other democrats believe renaming the building is a fitting way to honor McCain's legacy.
What they're saying
Sen. Majority Leader Mitch McConnell (R-Ky.) pushed back against the idea, instead telling reporters that creating a task force to find the "proper recognition in a calmer environment" would be a better play.
Sen. David Perdue (R-Ga.) said the Senate needs to "take a deep breath" before they decide what to do. "Rushing to judgement and making it political...is not the appropriate thing."
Sen. Susan Collins (R-Me.) told reporters her issue was Schumer announced the idea without "speaking to a single Republican." She said a decision such as this one should be made with bipartisanship in mind.
The other side
Schumer said "as times change, so do our heroes," and that honoring McCain would be more appropriate than honoring Russell at this time. However, he said "I don't know yet" when asked if he expected it to be passed.
Sen. Jeff Flake (R-Az.) was the first Republican to sign on in support of renaming the building after McCain. "I think that would be a fitting tribute," he said on CBS' "Face the Nation."
Sen. Sherrod Brown (D-Oh.) said renaming the building after McCain is "a great idea" and said he is "troubled by the name" currently on the building because of Russell's past as a segregationist. "I don't think we should have a building named after the man who led the charge against civil rights laws for 20 years."
Sen. Lindsey Graham (R.-S.C.), who was a close friend of McCain's, said he doesn't know what the right way to honor McCain is. Something should be named after him, Graham said, but he also suggested senators "be more like him."
Go deeper