What we're reading: Wildfires fuel energy debate in Spokane, WA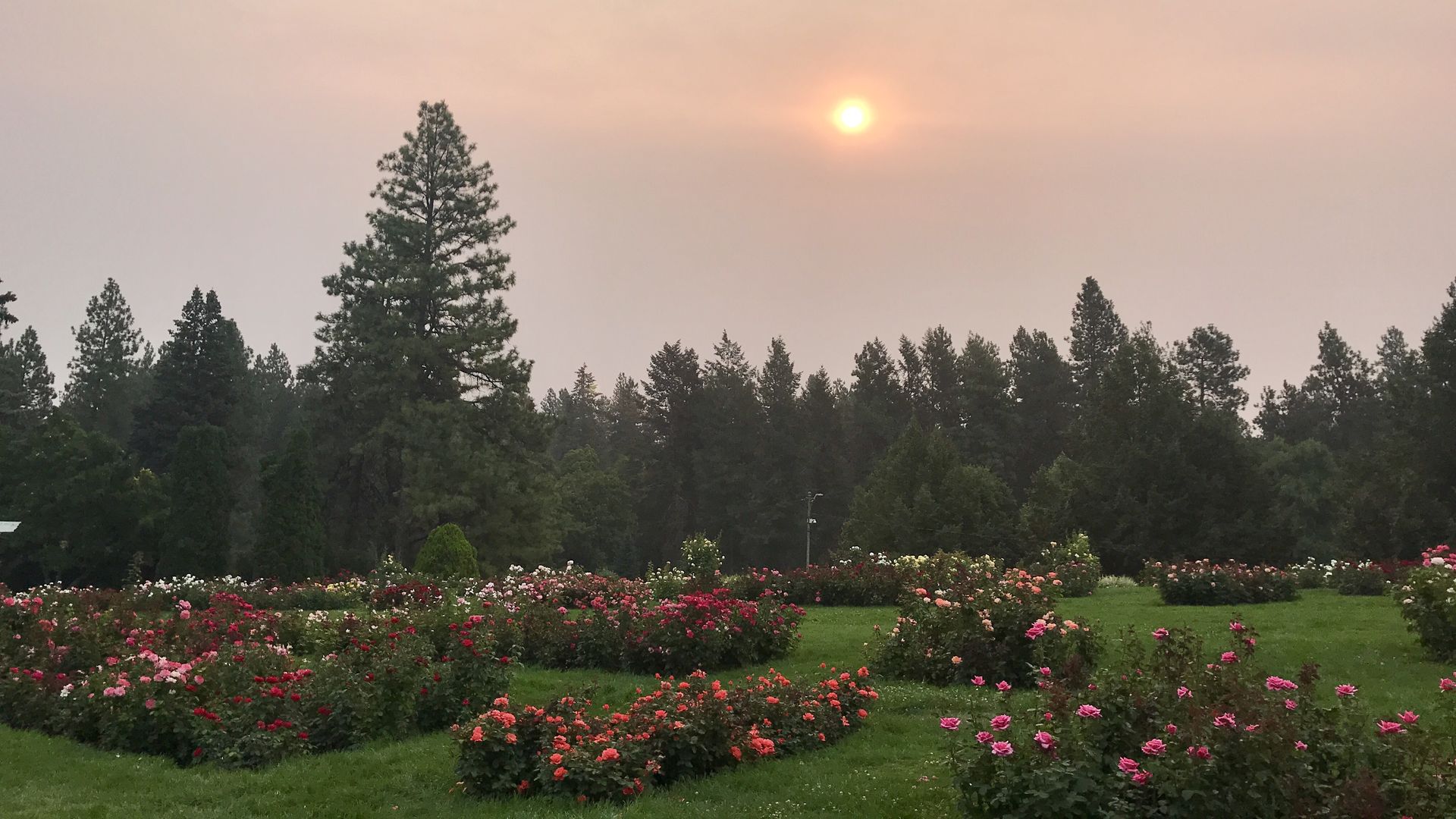 A window into how a warmer world affects local energy debates just unfolded in Spokane, a city in Eastern Washington state that has had unprecedented bad air quality on par with Asia's polluted cities because of wildfire smoke in the region.
Driving the news: The Spokane City Council last week approved an ordinance setting a goal to get 100% renewable electricity by 2030, according to The Spokesman Review. It's one of dozens of American cities pledging more renewable energy.
Quoted: "Not normal," City Council President Ben Stuckart, a Democrat, tweeted before last week's meeting, per The Inlander, another local publication. "Unsustainable. Patios sit empty. Trail systems unhiked. Need masks just to get to work. Public pools closed. We need to take responsibility for our climate future or watch our future burn up."
The details:
The council approved the measure, 6-1, a veto-proof level of support if the mayor opposes it.
The city had been mulling such an ordinance since at least April, partly at the encouragement of 350 Spokane, a local chapter of the activist group 350.org.
Spokane, population of a little more than 200,000, is the biggest city in Eastern Washington, a conservative part of an otherwise progressive state.
Washington gets much of its power already from a renewable energy: hydropower.
One level deeper: Multiple factors, including forest mismanagement, make wildfires worse. Warmer temperatures and droughts, which climate change is worsening, are also making wildfires more intense in some regions, including western U.S., scientists say.
Spokane's smokey air this summer is coming from wildfires in Oregon, California and Canada, depending on which way the wind is blowing.
Spokane's wildfire-fueled smoke has gotten worse since 2015, locals say. To the extent this becomes a long-term norm, it could gradually change minds on climate change, according to experts who have studied how people connect weather events and climate change.
What's next: After weeks of smokey white skies and smoke-scented air, a couple days of rain washed the smoke away Monday, and forecasts predict clearer skies for now.
Go deeper