The list of speakers, pallbearers for John McCain's funeral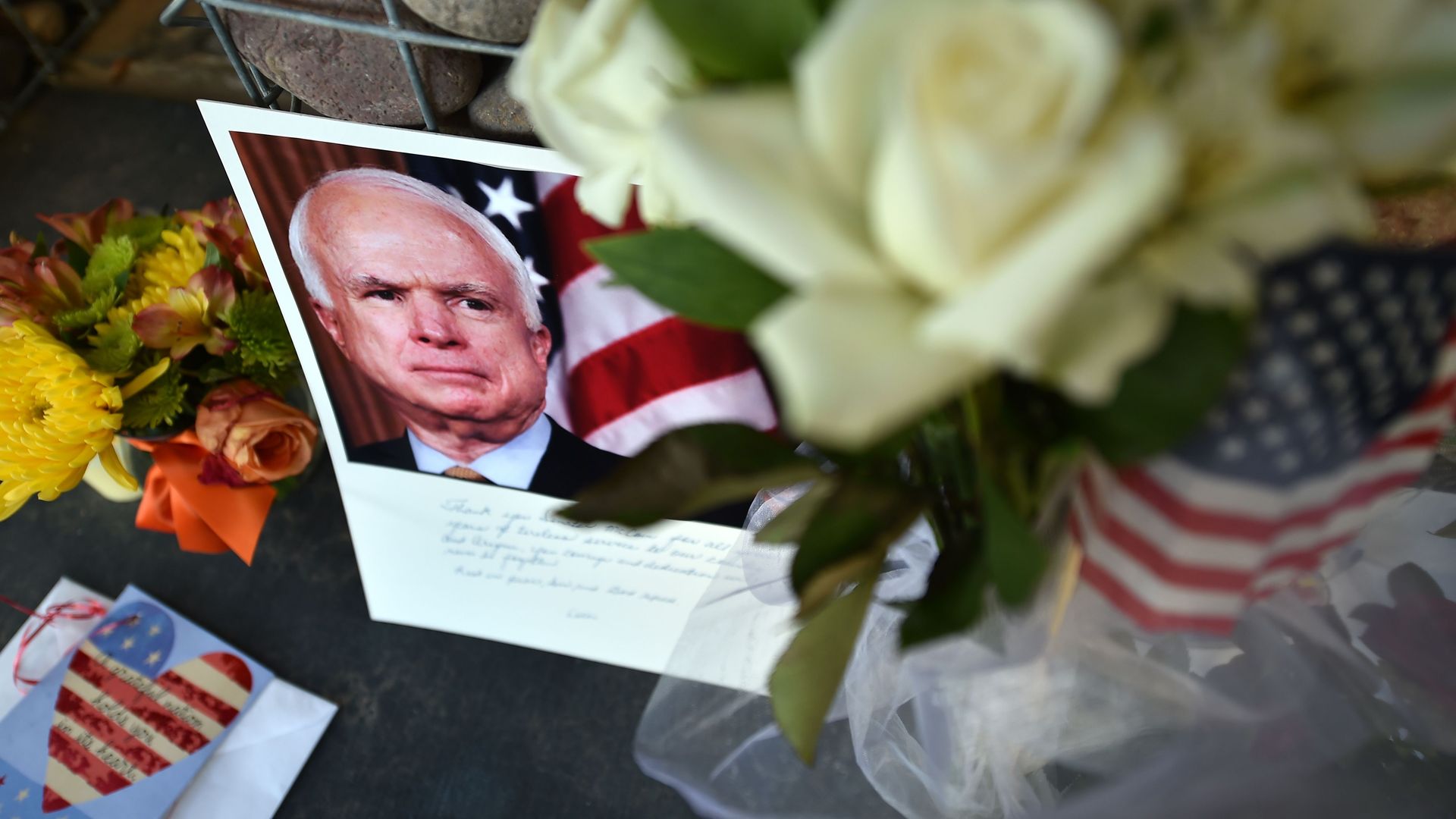 The pallbearers and speakers who will participate in Sen. John McCain's memorial service this week have been announced. The names, all listed as "friends" of McCain's in a schedule of events shared by the senator's office, include former Presidents Barack Obama and George W. Bush, Vice President Joe Biden, Sen. Lindsey Graham, former Mayor Michael Bloomberg and actor Warren Beatty, among several others.
One big thing: McCain will become the 31st person to lie in state in the U.S. Capitol Rotunda since 1852 — one of the greatest honors available to an American statesman. Vice President Mike Pence will offer an address at the ceremony at the U.S. Capitol on Friday.
Speakers
Arizona Republicans, including Sen. Jeff Flake, Gov. Doug Ducey, former Sen. John Kyl will speak at services in Phoenix, per the AP.
Biden will speak at a Thursday service at North Phoenix Baptist Church.
Bush and Obama will speak at a memorial service at Washington National Cathedral on Saturday. McCain's daughter, Meghan will also speak at this service.
Sen. Lindsey Graham (R-S.C.), former Secretary of State Henry Kissinger, former Sen. Joseph Lieberman (D-Conn.) and former Sen. Kelly Ayotte (R-N.H.) are also expected to speak during a Sunday service, per Bloomberg's Laura Litvan.
The pallbearers
The pallbearers will carry McCain's coffin at the Washington National Cathedral memorial service on Saturday.
Biden, Beatty, Bloomberg, former Secretary of Defense William Cohen, former Sen. Russ Feingold (D-Wisc.), former Sen. Gary Hart (D-Colo.), former Pennsylvania Gov. Tom Ridge (R), McCain's former chief of staff Mark Salter, Sen. Sheldon Whitehouse (D-R.I.), Vice Chairman of Open Russia Vladimir Kara-Murza, fundraiser Carla Eudy, businessman Stephen Dart and former McCain presidential campaign manager, Richard Davis, per The Hill.
The backdrop: President Trump is not scheduled to speak at any of the memorial events.
Go deeper