Elon Musk's Tesla takeover headaches are far from finished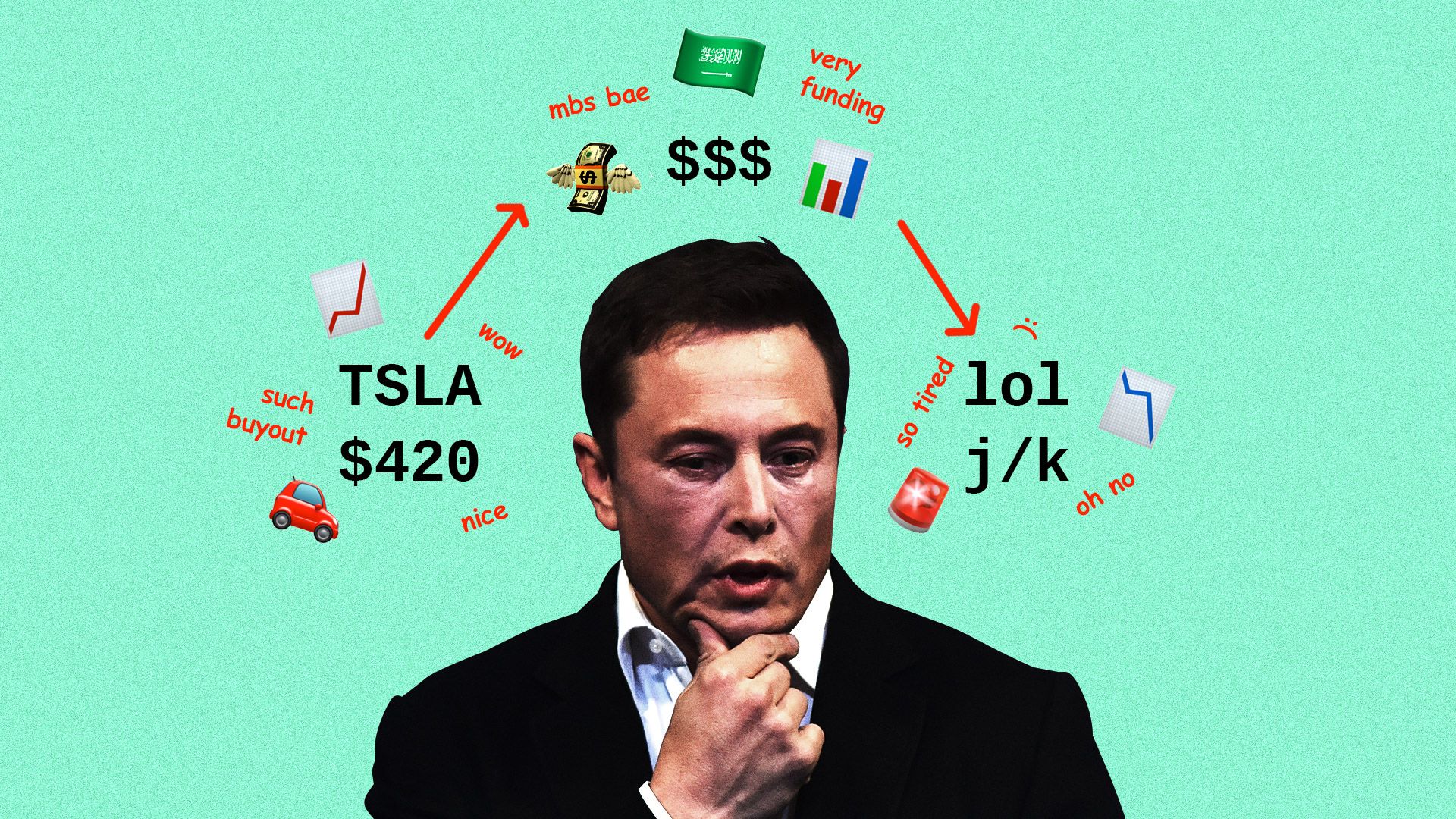 When Elon Musk on Friday night ended his Tesla buyout pursuit, it was the most predictable part of this slapdash saga. And, like with some of Musk's earlier moves, it created new questions for securities regulators.
The big picture: There should no longer be doubt that Musk lied when he claimed to have "funding secured."
He's not a naif when it comes to either social media or running a public company, and arguing that he misunderstood Saudi intent is a shaky hill to die on. Particularly when it took him nearly a week to publicly clarify the Saudi conversations, thus letting investor speculation run wild.
Musk's new regulatory problem can be found near the end of his "Staying Public" blog post, which was released late Friday night:
"I met with Tesla's Board of Directors yesterday and let them know that I believe the better path is for Tesla to remain public. The Board indicated that they agree."
— Musk
Did you catch that timing? Musk and Tesla's board met on Thursday, but his decision wasn't publicly disclosed until after market close on Friday. We all know Musk is into tunneling, but this was the moment to stop digging.
No one seems to know if the SEC will throw the book at Musk or just slap his wrist. Either way, there will be cultural consequences that go well beyond this situation (yes, more shades of Trump's Twitter habit).
Both Musk and Tesla still have tons of potential liability via shareholder lawsuits, no matter what the SEC does. Not just from the shorts who got squeezed by his original tweet, but also the longs who now being pressured on the other side.
Tesla shares opened down more than 2% this morning, or just below $316 per share.
They hit an all-time high of $389.61 after Musk's initial take-private tweet, in which he proffered a $420 purchase price.
I recommend you read this tic-toc from WSJ's Liz Hoffman and Tim Higgins, which includes a nugget about how Silver Lake and Volkswagen had both agreed to invest before Musk pulled the plug.
It also details how Musk discovered many take-private complications that should have been obvious to him before the initial tweet (or at least ones that would have been explained to him, had he first retained financial advisors), such as how big private shareholders would want a say in company operations, and that certain mutual funds had structural limits on how much they could invest in a privately-held Tesla.
The bottom line: The deal died, but that didn't cure the headaches.
Go deeper:
Go deeper