Behind the scenes: Inside Lighthizer's thinking on NAFTA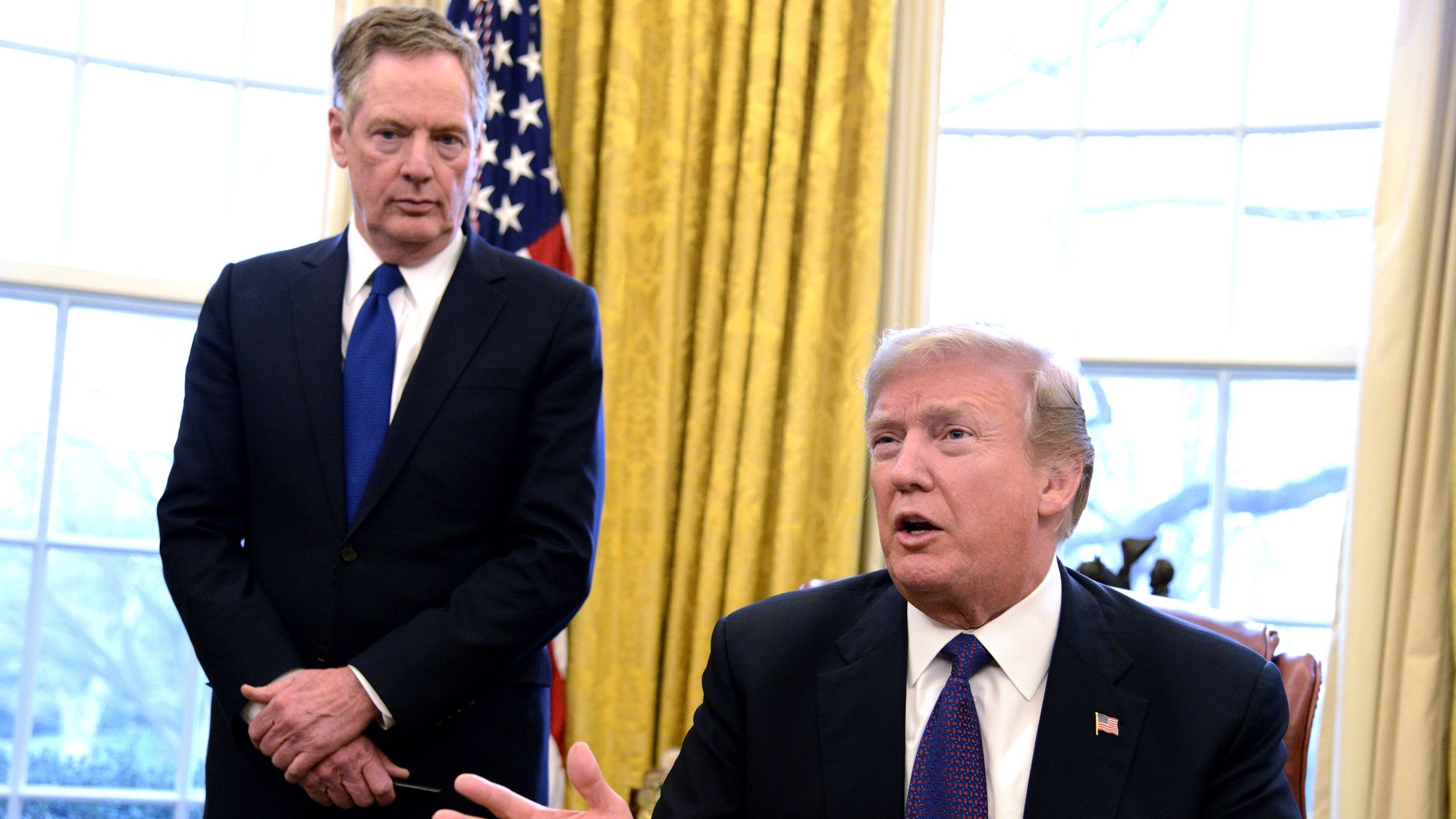 Senior Trump administration officials have spent the weekend holed up with their Mexican counterparts, haggling over the final details of a new NAFTA deal. Sources briefed on the negotiations tell us the negotiators are on the brink of a handshake deal, and Mexico's Economy Minister told reporters today the two countries were in the "final hours of this negotiation."
But, but, but: We're skeptical. Remember, there's a third party to these NAFTA talks: Canada.
The Canadians have sat on the sidelines while the Trump team has ironed out its bilateral issues with Mexico — but they must be party to any deal.
Canadian Prime Minister Justin Trudeau will be loath to appear to capitulate to demands from Trump, who is widely detested in his country.
The three countries want to sign the deal by the end of August to stop the ultra-left wing Mexican leader Andrés Manuel López Obrador from throwing a wrench in the talks.
U.S. trade law requires a 90-day waiting period after nations reach an agreement before they can sign a pact. Therefore, if the U.S., Canada and Mexico can't reach an agreement by the end of August, the negotiations would be transferred to Obrador, who gets inaugurated on December 1.
Behind the scenes: Only a tiny circle of administration officials, including Robert Lighthizer and Jared Kushner, have full visibility of the NAFTA negotiations. They've been almost entirely leakproof. That said, two trusted sources who've spoken to Lighthizer outlined for me how he is privately angling to get a new NAFTA deal through Congress:
The most important point: Trump is hugely popular with the Republican base, so just giving the new NAFTA his imprimatur will move a ton of Republican members of Congress — at least 180 votes in the House, by Lighthizer's count.
For the rest, you grind it out. The coalition Lighthizer has privately discussed is "energy plus labor," according to two additional sources with direct knowledge of his thinking. He's looking to give the energy sector a better deal than some other industries on the investor-state dispute settlement to protect their investments in Mexico in particular, and to safeguard them from nationalization by AMLO. If the oil and natural gas industries are happy, it will be tough for members from energy states like Texas to oppose a deal.  
Lighthizer's bet on labor unions has generated significant skepticism among sources close to the talks, inside and outside the White House. "He and Navarro think if the labor unions like the deal they will push Democrats to vote for it," a source with knowledge of Lighthizer's thinking told Axios. "I think that's crazy."
The Trump administration response: After I shared this reporting with the administration, Emily Davis, a spokeswoman for Lighthizer, replied: "USTR declines to confirm or comment on this."
Go deeper