Go deeper: What Trump got wrong about South African land seizures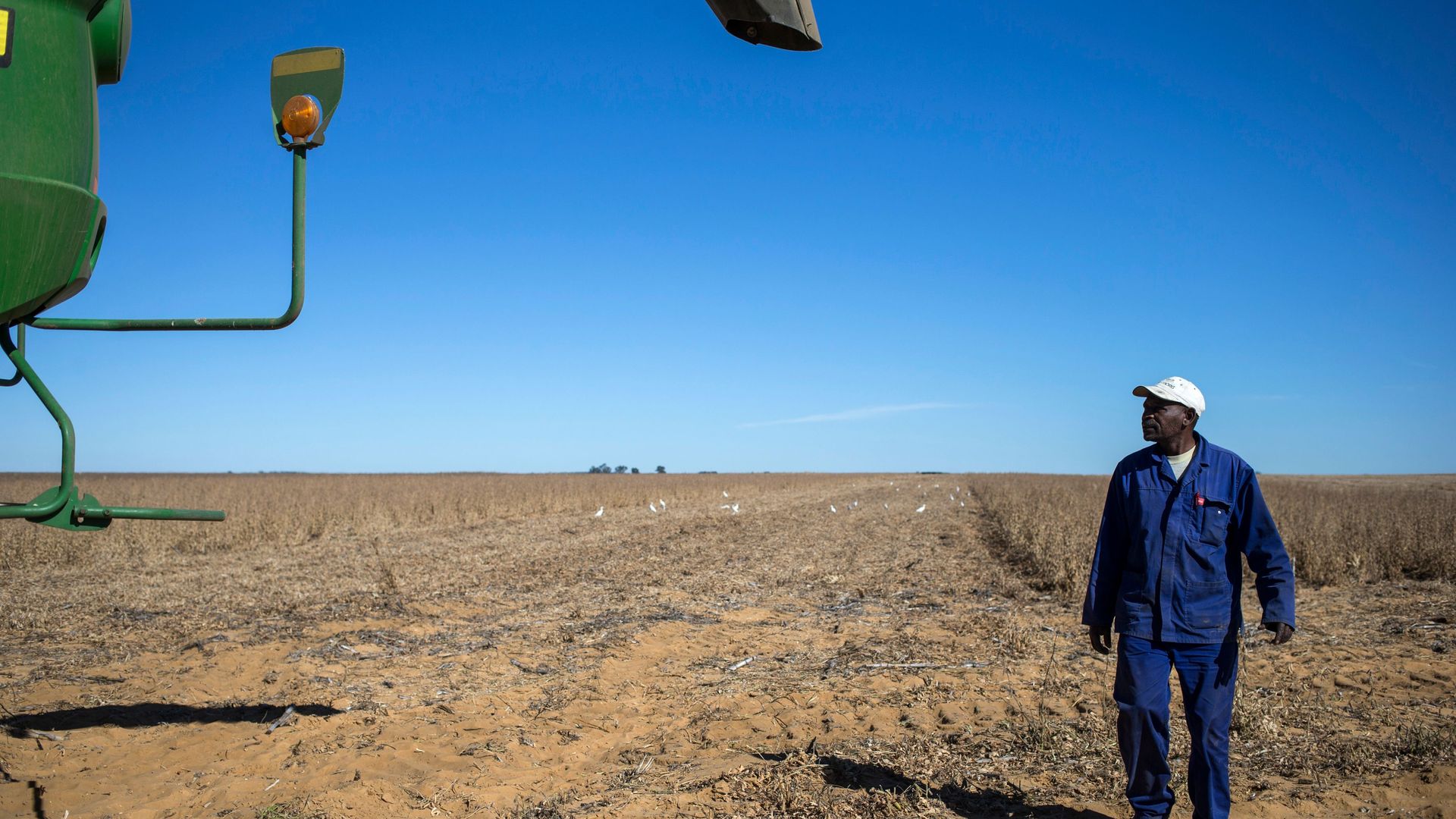 President Trump weighed in on a surprising new issue in a tweet on Wednesday night, speaking out against the South African government seizing land "from white farmers."
The big picture: His tweet was spurred by Fox News host Tucker Carlson's criticism of the State Department's failure to address the situation. While South Africa's government is moving to expropriate land without compensation — a highly controversial move against the country's colonial, apartheid past — there is no evidence to support a "large scale killing of farmers," as Trump claimed in his tweet.
The backdrop
In 1913, the Natives Land Act kept black Africans from purchasing or renting land in "white South Africa," the BBC reports. In 1994, with the end of apartheid, the African National Congress said it would return 30% of land to its previous owners by 2014.
White South Africans make up 8% of the population, per the WSJ, but own 73% of agricultural land.
What's happening now
The ANC plans to change the constitution to "allow the expropriation of land without compensation in an effort to overcome deep inequalities in land ownership," the Wall Street Journal reports.
South African President Cyril Ramaphosa "urged consideration of expropriation without compensation, so long...as the government's actions didn't threaten the economy or food security," the Washington Post reports.
Reform has so far "been led by voluntary sales by white farmers...at market prices," per the Journal. There have not yet been land seizures, according to CBS News.
Ramaphosa says he is aiming to "undo a grave historical injustice" against black South Africans during "colonialism and the apartheid era," per CBS.
Be smart: Land owners have the right to challenge government actions in court.
What to watch
Crimes like robbery and rape on farms have increased in the last two years, though the number of attacks (561) is "still far off" from the 2001/02 high (1,069), according to the WSJ.
There have been reports of violence against white South African farmers, though the number of farmers killed in the last 20 years has "declined...and reached a low of 47 people killed in 2017/18."
CBS' Debora Patta reported that the issue of crime against farmers, and land expropriation, are two separate issues. "There is no such thing" as a white genocide in South Africa — "[a] high murder rate has nothing to do with land seizures or anti-white sentiment."
Out of the 19,016 murders in the country between April 2016 and March 2017, 66 of those occurred on farms, the New York Times reports. Between 2001 and 2002, there were 140 recorded murders on farms.
What they're saying
Fox News' Tucker Carlson criticized Secretary of State Mike Pompeo on Wednesday night for not addressing what's happening in South Africa, which he said "should be getting worldwide attention."
President Trump tweeted afterwards, quoting Carlson:
"I have asked Secretary of State @

SecPompeo

to closely study the South Africa land and farm seizures and expropriations and the large scale killing of farmers. 'South African Government is now seizing land from white farmers.' @

TuckerCarlson

@

FoxNews"
The South African government responded:
"

South Africa totally rejects this narrow perception which only seeks to divide our nation and reminds us of our colonial past.

#

landexpropriation @realDonaldTrump @PresidencyZA"
Go deeper