Zuckerberg and his co-founder pour millions into midterm initiatives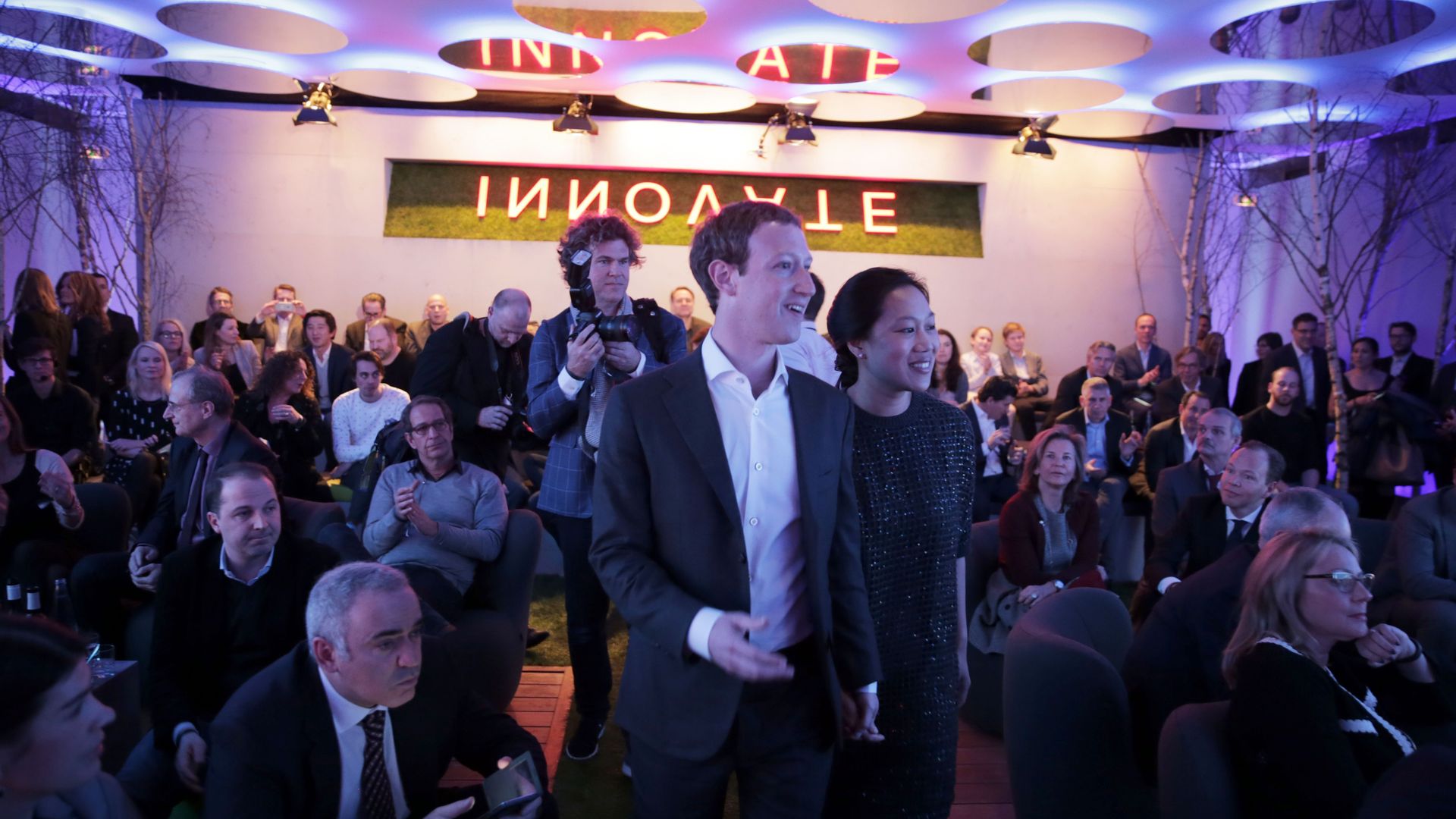 Facebook co-founders Mark Zuckerberg and Dustin Moskovitz are mounting campaigns to get voters to approve housing and criminal justice reforms at the ballot box in November.
Why it matters: Silicon Valley's newer philanthropists are melding charity, advocacy and private sector investment — and have the potential to be hugely influential for decades.
How it works: The Chan Zuckerberg Initiative, founded by Zuckerberg and his wife, physician Priscilla Chan, and the Open Philanthropy Project, primarily funded by Moskovitz and his wife, former reporter Cari Tuna, have already poured millions this election cycle into different ballot initiatives that align with their organizations' focus areas.
According to campaign finance records from multiple states:
Both organizations have given $1 million each to a group supporting an Ohio ballot initiative that would institute criminal justice reforms, including reclassifying drug possession crimes from felonies to misdemeanors.
The Chan Zuckerberg Initiative gave $250,000 to support a ballot measure in California that would fund affordable housing projects.
What they're saying: David Plouffe, the former Obama campaign manager who is now the head of policy and advocacy for the Chan Zuckerberg Initiative, said it "will take all tools available to break through on some of the big, complex issues that will dictate what the future looks like for so many people."
Those tools include:
Supporting grassroots movements.
Making new technologies available to front-line advocates.
Supporting ballot measures where voters can directly weigh in.
"We believe voters deserve the opportunity to decide whether there are smarter, better ways to improve public safety and the criminal justice systems in their communities, and we empower local community organizations who work to promote effective alternatives."
— Chloe Cockburn, Open Philanthropy Project's program officer for criminal justice reform
Why you'll hear about this again: Both organizations are already putting money into other ballot initiatives for 2020.
The Chan Zuckerberg Initiative gave $300,000 to a coalition working to get an initiative on the 2020 general election ballot that would fund education and local services by closing a commercial property tax loophole. It gave an additional $200,000 to another organization supporting that group with outreach to voters. A CZI spokesperson said the donations were not made with an eye to a single election cycle.
The Open Philanthropy Project coordinated a combined $800,000 in donations to an organization working to get a jail reform initiative for Los Angeles on the ballot in 2020.
The big picture: Philanthropy has grown political in recent decades. Left-leaning organizations like the Ford Foundation and right-leaning groups like the Sarah Scaife Foundation have attempted to indirectly influence policy outcomes.
But traditional private foundations are prohibited from engaging in many direct political activities.
Several major philanthropic funders — including the Ford Foundation, the Moore Foundation and the Robert Wood Johnson Foundation — said they had never donated to a ballot measure campaign, either directly or through an affiliate.
So some of Silicon Valley's philanthropists have built their efforts to avoid some of the traditional limitations of a nonprofit foundation.
The Chan Zuckerberg Initiative is a limited liability company, and the 2018 ballot measure donations were made through an affiliated "social welfare" organization.
The Emerson Collective, the organization run by Laurene Powell Jobs, is primarily a limited liability company and has given extensively to California ballot measures in recent years. (Full disclosure: It is also an investor in Axios.)
Moskovitz and Tuna conduct their charitable work through a network of entities including the Open Philanthropy Project LLC —whose Open Philanthropy Action Fund made the donations to the ballot measures — and a charity called Good Ventures, which has an associated foundation and limited liability company.
eBay founder Pierre Omidyar makes both philanthropic impact investments through an LLC and operates an affiliated nonprofit.
The bottom line: Zuckerberg, Moskovitz and many others who grew wealthy in recent tech booms want to advance their policy and social goals through whatever means they can.
Philanthropists employing political strategies "may not be new in any absolute sense," said Leslie Lenkowsky, senior counselor to the dean of the Lilly Family School of Philanthropy at Indiana University, "but these folks are doing it with a lot more intentionality, with a lot more money, and maybe with a more visible profile."
Go deeper