Report: Bomb that killed children on bus in Yemen was U.S.-made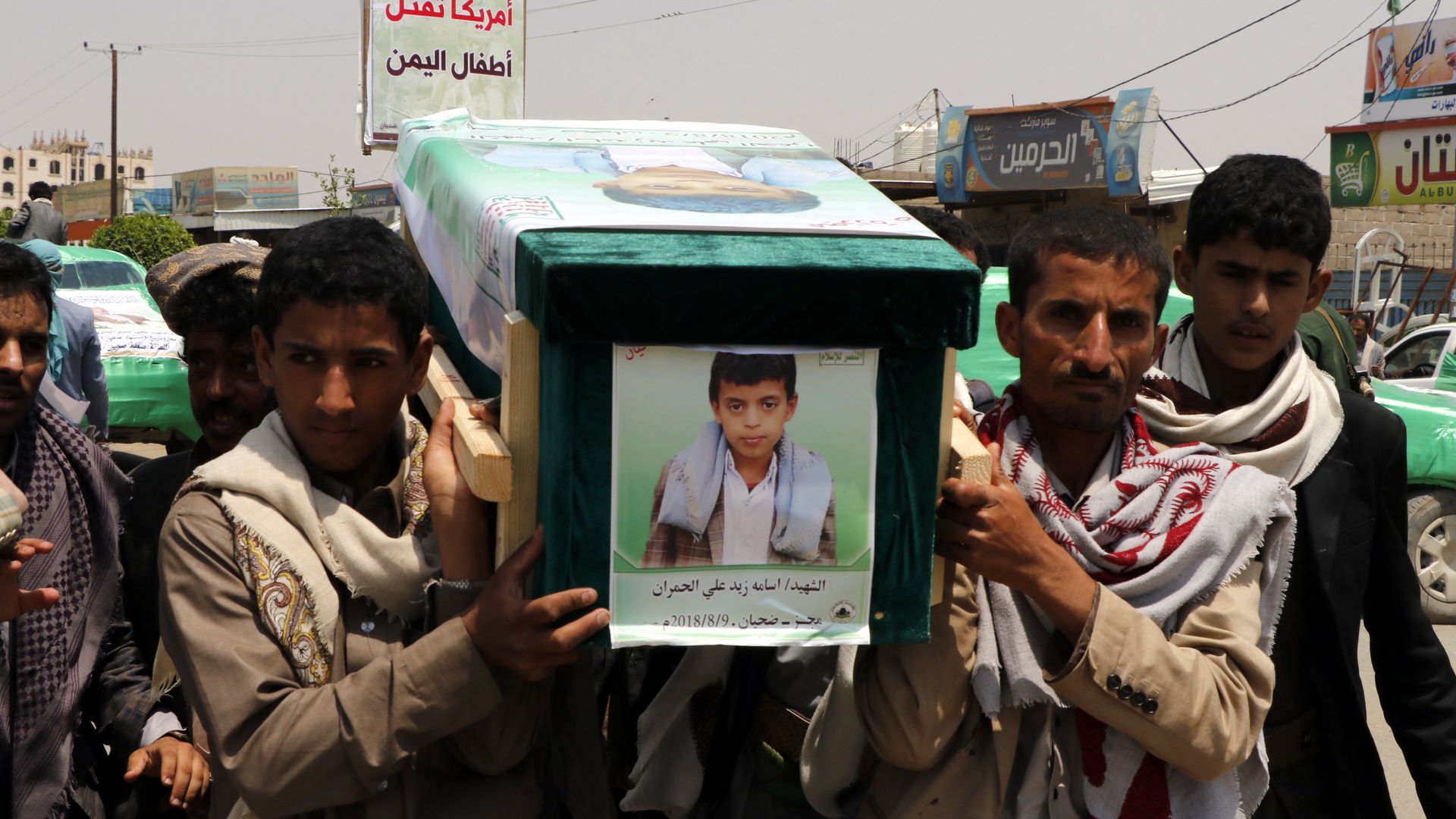 The bomb responsible for hitting a bus and killing dozens in Yemen last week, including children, was made by U.S.-based Lockheed Martin and sold to Saudi Arabia through a State Department-sanctioned arms deal, according to CNN.
Why it matters: The attack that left a reported 40 children dead and dozens injured gripped the international community, leading the UN to call for an investigation. The U.S. has maintained that its involvement in the war between the Saudi coalition and the Houthi rebels in Yemen is to the extent of information sharing and refueling of aircrafts. But CNN says the latest strike has led to growing questions "about whether the U.S. bears any moral culpability."
The details: CNN came to its conclusion by working "with local Yemeni journalists and munition experts." The bomb that was used was found to be a "500-pound...laser-guided MK 82 bomb" from Lockheed Martin.
Pentagon spokesperson Lt. Cmdr. Rebecca Rebarich declined to confirm CNN's report, saying the U.S. "has worked with the Saudi-led coalition to help them improve procedures and oversight mechanisms to reduce civilian casualties."
A State Department official told Axios: "We cannot independently verify what may have been found on site, and we refer to the Saudis for the details of their procurement and stockpile management. The United States has called upon all parties to take appropriate measures to mitigate the risk of civilian casualties and damage to civilian infrastructure."
Flashback: President Barack Obama banned the sale of precision-guided military technology to the Saudis in 2016 after the coalition hit a funeral hall and killed 155 people. Per CNN, that ban "was overturned by...then-Secretary of State Rex Tillerson in March 2017."
Behind the scenes, U.S. officials have been bringing up last week's strike with Saudi officials, CNN reports. Defense Secretary James Mattis said: "Wars are always tragic, but we've got to find a way to protect the innocent in the midst of this one."
Go deeper: Read America's role in Yemen's disaster.
Go deeper