Elon Musk admits "excruciating" year of Ambien-fueled 120-hour-weeks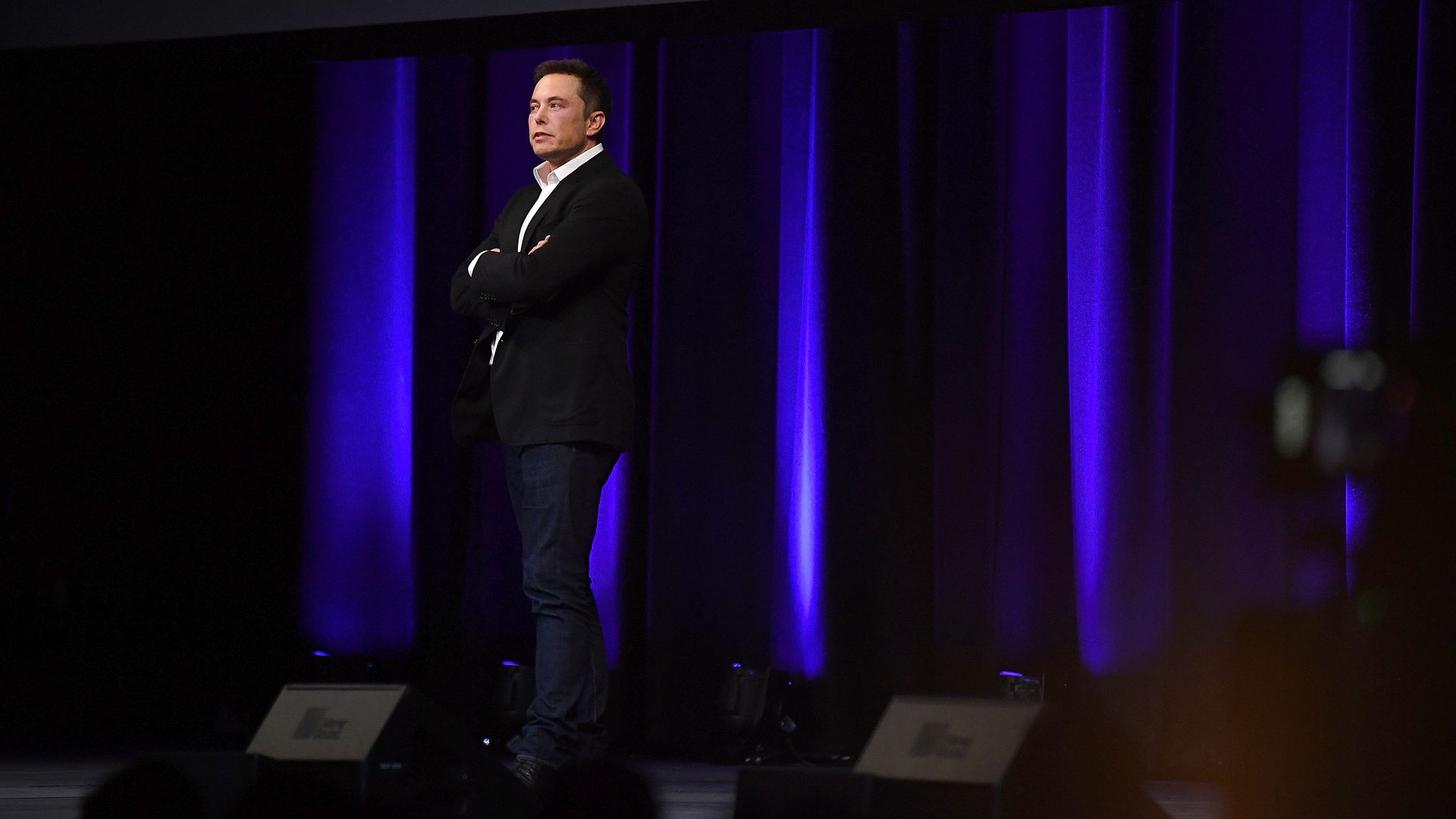 Elon Musk, in his first interview since the tumult exploded around his plans to take Tesla private, tells the The New York Times that the past year "has been the most difficult and painful year of my career. It was excruciating."
Why it matters: Beyond providing a window onto Musk's state of mind, the Times' reporting provides updates into Tesla's inner workings and the take-private announcement that's under investigation by securities regulators.
A few takeaways . . .
One plan under consideration is to have another Musk company, SpaceX, help finance the take-private plan and take an ownership stake in Tesla.
Tesla board members and Musk could meet with Securities and Exchange Commission officials as soon as next week.
"Efforts are underway" to find a number 2 executive to ease pressure on Musk, the paper reports, citing sources briefed in the search.
However, Musk tells the paper that while the company approached Facebook's Sheryl Sandberg a couple years ago, he says that "to the best of my knowledge," there is "no active search right now."
Elsewhere, the piece provides some new details about Musk's August 7 Twitter claim that he had "funding secured" for the transaction, which sent Tesla's shares upward. Musk confirms that it was not seen or reviewed by anyone before he sent it.
It's a claim that Musk later acknowledged was a reference to interest from Saudi Arabia's sovereign wealth fund but not a financing commitment, and is now reportedly under investigation by the SEC.
The big picture: Musk opens up about his emotional state and exhaustion during what has been a tumultuous time for Tesla as the company has raced to scale-up output of the Model 3 sedan, a car that's vital to its future but has been beset with production delays.
"At multiple points in an hourlong interview with The New York Times, he choked up, noting that he nearly missed his brother's wedding this summer and spent his birthday holed up in Tesla's offices as the company raced to meet elusive production targets on a crucial new model," they report.
Asked if the exhaustion was taking a toll on his physical health, Musk said: "It's not been great, actually. I've had friends come by who are really concerned."
The Times, citing two people familiar with Tesla's board, report that "Some board members have expressed concern not only about Mr. Musk's workload but also about his use of Ambien."
Musk himself said he uses Ambien to help sleep: "It is often a choice of no sleep or Ambiem."
Go deeper: The USA vs. Elon Musk; Musk's latest tweets are causing Tesla havoc
Go deeper