Go deeper: USA vs. Elon Musk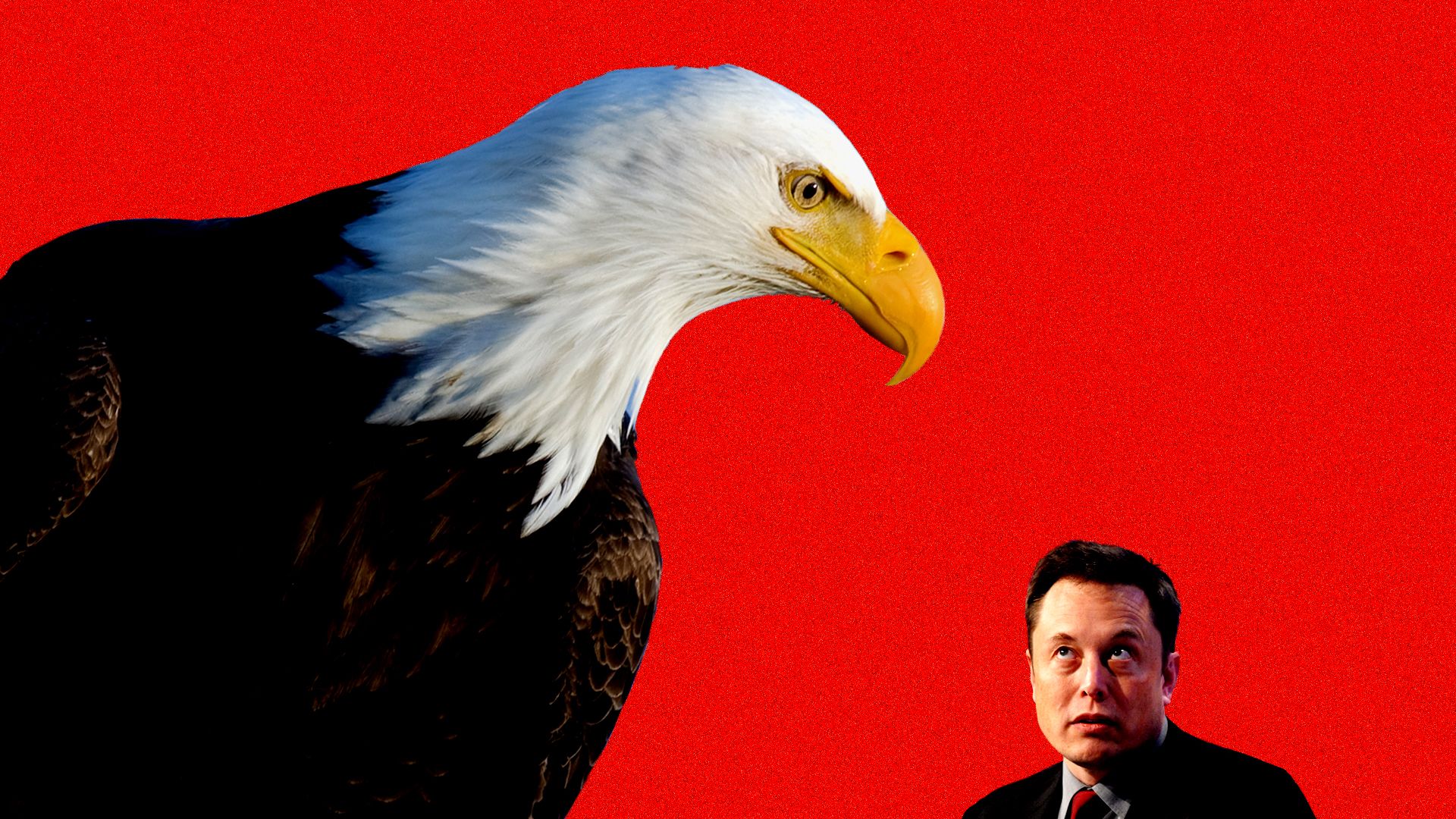 Tesla Motors has been subpoenaed by U.S. securities regulators, related to Tesla CEO Elon Musk's efforts to take the company private.
Why it matters: Musk is one of America's most consequential tech executives. Not only because of his unparalleled audacity and futuristic vision, but also because he has no clear successor at his largest company, Tesla. Now, both Musk's and Tesla's futures are at risk.
What happened
Musk has long been frustrated with some of the trappings of public company life, such as short-sellers, with it boiling over during a May earnings call during which he complained about "boring, bonehead questions" from bank analysts.
He apologized during a subsequent earnings call on August 1st, but the die had already been cast. One day later, per his account, he notified Tesla's board that he wanted to take the company private at $420 per share.
That was around a 20% stock price premium, and would value Tesla at around $72 billion (not including $13 billion in debt).
Musk held a 19.78% equity stake in Tesla through the end of June.
Tesla's board says it had several follow-up conversations, but it appears that directors were not aware Musk was about to tweet the following on August 7:
Tesla stock immediately spiked, reaching an all-time high within hours (after which it was briefly halted).
The company scrambled, eventually confirming that Musk's account hadn't been hacked.
Later that evening it would post on its blog a letter Musk had sent to employees about his plan, which would allow existing shareholders (including employees) to maintain their positions in a privately-held Tesla.
Companies have been allowed for several years to disclose material information via social media, although this was an unusual case in that it was unclear if Musk was tweeting as an individual or as a corporate officer. He later clarified that it was the former.
The aftermath
Reporters immediately began calling around to find out who had agreed to bankroll Musk's takeover.
But there were no affirmative replies: Not Wall Street banks, not private equity firms, not sovereign wealth funds.
This was a big problem. Musk had tweeted "funding secured," which had helped increase the stock price. If it wasn't true, that could possibly be viewed as stock manipulation — and from the company's CEO, no less.
Musk cast further doubt with an August 13 blog post in which he mistakenly equated an expression of interest from a Saudi Arabian sovereign wealth fund with an actual funding commitment.
Then Musk returned to Twitter to share what proved to be more misinformation:
Silver Lake, a private equity firm that helped Michael Dell take his eponymous company private, was indeed providing advice to Musk, but "financial advisor" is a technical term that the markets take to mean Silver Lake was acting as a broker-dealer. It wasn't. In fact, Silver Lake wasn't even being paid. Instead, it was basically kicking the tires on Tesla, to see if it would want to participate alongside him.
Goldman Sachs also does not appear to have reached terms with Musk as of the time of his tweet, although it subsequently has.
Tesla stock, meanwhile, continued to sink. It closed trading yesterday at nearly $339 per share, or a full $80 per share less than what Musk says he wants to pay.
What now
The Securities and Exchange Commission wants answers from Tesla. And from Musk, who argues his tweets were an attempt to be transparent with all Tesla shareholders, rather than only sharing his intentions with a small group of large investors.
Former SEC enforcement attorney John Reed Stark believes that the SEC has a high hill to prove market manipulation, because such charges typically require the actor to both make ironclad false statements and attempt to profit from those statements.
He adds that it's not technically a two-pronged test, so much as " indicators which shed light on the suspect's actual intent."
On the other hand, ex-SEC chair Laura Unger, on the other hand, said on Cheddar of Musk's initial tweet: "It was not true and accurate.... [it] was quite a big overstatement, that he had financing secured, and one that was clearly misleading to the marketplace."
The SEC doesn't really have a recent enforcement record on take-private transactions, but it would have wide latitude were it to find malfeasance. It could try to fine Musk and/or Tesla, while Musk also could be banned from serving as an executive or director of Tesla or any other public company.
Tesla and Musk also are facing possible class-action lawsuits from disgruntled securities holders, with potential damages there likely outweighing what would be sought by the government.
Bottom line
Elon Musk's lack of Twitter discipline has created, at the very least, a giant distraction and has raised serious questions for future investors in his many companies. At worst, it could cost him his job and his company millions of dollars.
Go deeper