What Saudi Arabia's interest in Tesla says about its long-term plans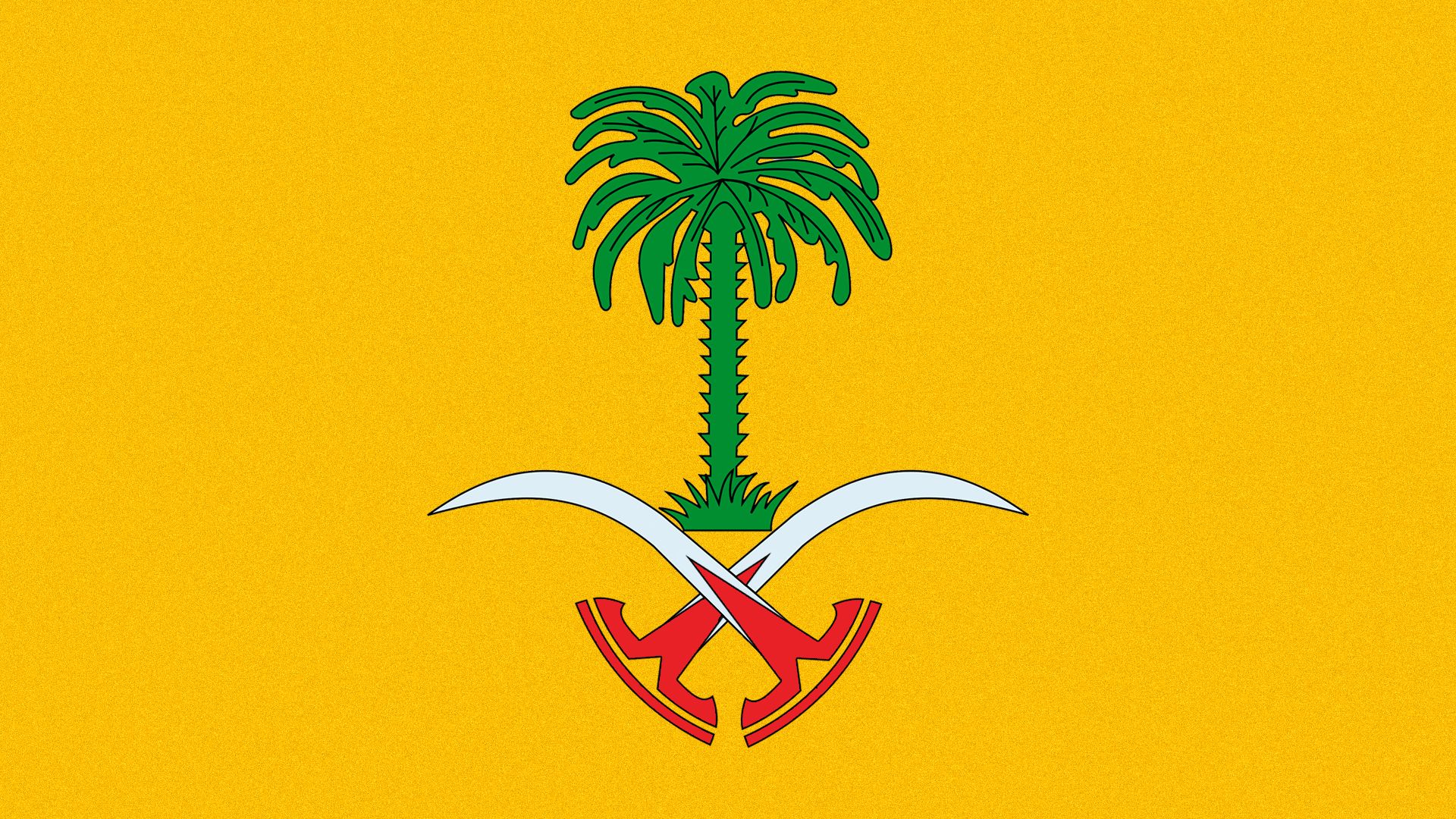 The prospect of Saudi Arabia backing Tesla provides a glimpse into the kingdom's oil and economic strategy, and it's not as simple as a hedge against crude's long-term decline.
Why it matters: Saudi Arabia is OPEC's dominant producer and holds massive reserves, but the kingdom wants to diversify its economy away from crude oil at a time when some analysts see a global demand peak beginning to appear over the long-term horizon.
Driving the news: Tesla CEO Elon Musk offered new details Monday about his discussions with Saudi Arabia's sovereign wealth fund, called the Public Investment Fund (PIF), about bankrolling his take-private plan.
And that follows recent revelations that the PIF has already acquired a nearly 5% stake in the Silicon Valley electric automaker.
Between the lines: While EVs remain a niche market today (less than 2% of global sales), the Saudis are keen to invest in growing tech sectors — even one that will help erode oil's dominance in transportation.
But that doesn't mean they're envisioning the end of the oil age. They're also pouring massive resources into expanding state-owned petrochemicals giant SABIC, signaling deepening interest in oil's use beyond transportation fuels.
SABIC last year announced plans with state oil giant Aramco for a massive $20 billion crude-to-chemicals plant that could process 400,000 barrels-per-day in Saudi Arabia.
Petrochemicals, used for plastics and other materials, are projected to be a major growth sector for oil use in coming decades, even as greater efficiency and electric cars eventually sap oil demand for transportation.
What they're saying: Randy Bell, who heads the Atlantic Council's Global Energy Center, tells Axios he sees a connection between Saudi Arabia's Tesla investment and SABIC's expansion.
"It's probably better thought of as a set of diversification strategies when it seems increasingly hard for the Saudis, over the medium term, to be a price setter."
— Randy Bell
Tesla investment could be a hedge against oil's peak in transportation, or...
"There is a scenario where it becomes a win-win, where electric vehicles grow but transportation fuel demand doesn't peak," Bell says.
He sees the prospect of a "bifurcated" scenario where there's widespread electrification in China, the U.S. and elsewhere, but oil's use in transportation keeps growing thanks to fossil fuel-powered vehicles remaining dominant in fast-growing India and Africa.
The intrigue: A separate question is why cash-burning, still-unprofitable Tesla in particular is interesting to Saudi officials. Bell says it's consistent with other PIF investments in companies like Uber and the SoftBank group.
"It's technology investment writ large with an emphasis on learning and human capital development and advancing their ability to innovate."
— Bell, noting this is a goal of Crown Prince Mohammed bin Salman
The big picture: Sarah Ladislaw, an energy and geopolitics expert with the Center for Strategic and International Studies, sees a three-pronged Saudi approach:
Growing investments outside the oil sector entirely.
Going "deeper down the value chain" with petrochemicals.
Wider investments in the automotive sector.
"I think this is a risk mitigation strategy against a world in which oil demand growth slows and plateaus," Ladislaw says. "They want to be competitively positioned no matter what."
The big question: Nobody really knows when worldwide oil demand will peak. Competing analyst and industry projections range from as soon as the late 2020s to beyond 2040.
Go deeper: Elon Musk confirms Saudi interest in Tesla.
Go deeper