Prosecutors wrap up arguments in Manafort trial focused on bank loans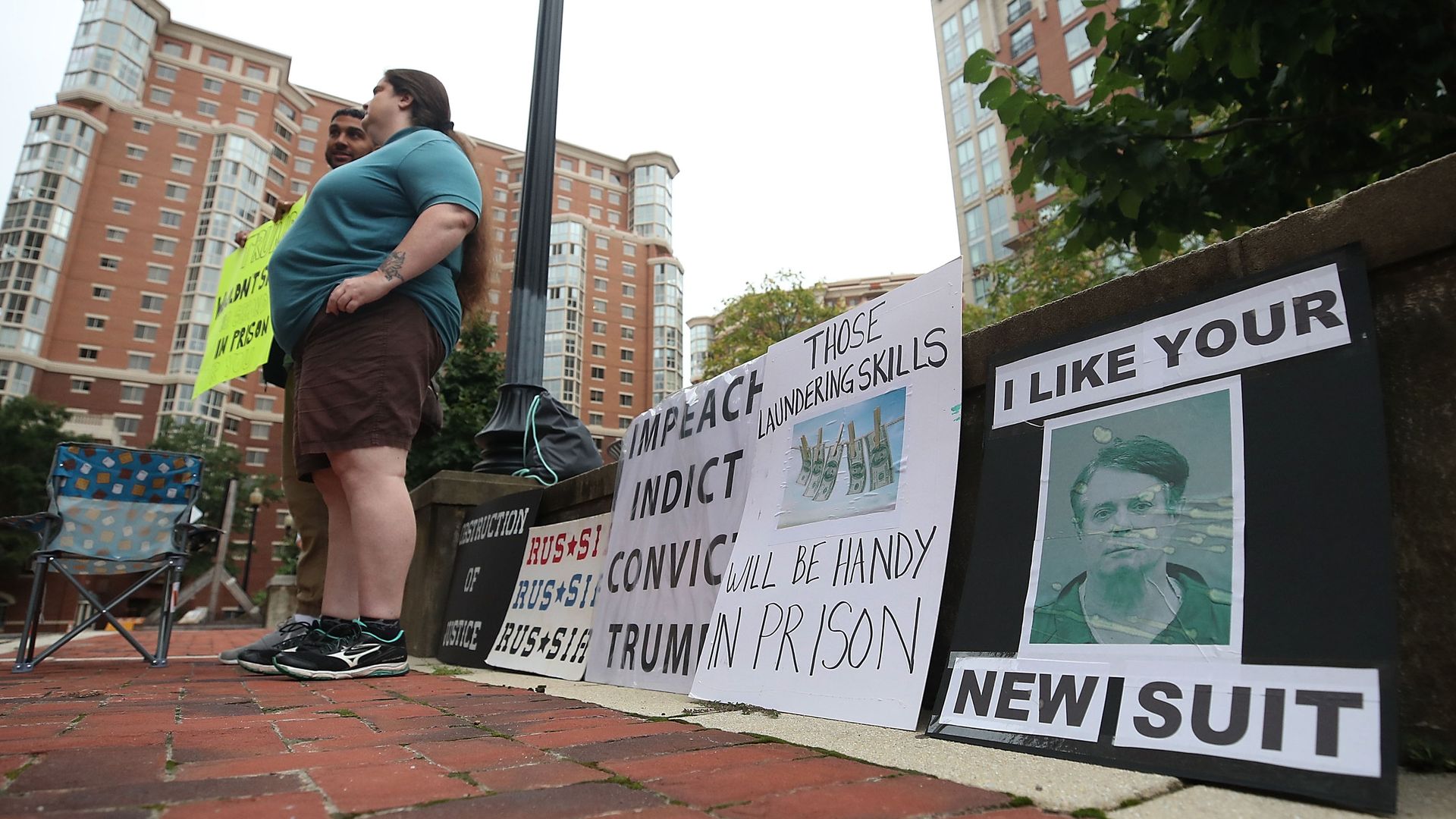 Jurors in Paul Manafort's trial were dismissed on Friday by Judge T.S. Ellis until Monday — he told them, per the Washington Post, not to "look it up on Google or anywhere else. Put it completely out of your mind until Monday; that's what I plan to do."
The big picture: Prosecutors say they'll be resting their case on Monday, the Post reports. Their last witness is expected to be Jim Brennan, a Federal Savings Bank employee who has immunity.
What happened on Friday
Two Federal Savings Bank executives testified on Friday — the ninth day of the trial — accusing Manafort of "defrauding the bank of $16 million," CNN reports.
Senior Vice President of the bank, Dennis Raico, told the court he helped enable two loans for Manafort, CBS reports: one for $9.5 million, used to fund construction on property in the Hamptons, and another for $6.5 million, used on construction on property in Brooklyn.
Raico also spoke about the "unusual involvement" in the loan process from the bank's CEO Steve Calk, who wanted a job in the Trump administration.
COO Andrew Chojnowski told the court on Friday Manafort signed documentation "saying he had disclosed all outstanding debts and that he understood it was illegal to make false statements during the application process," the Post reports.
Senior director of the New York Yankees, Irfan Kirimca, testified about Manafort's history as a season ticket holder.
Why it matters: Per the Post, this "links to the $16 million in loans Manafort received."
During the application process, Federal Savings Bank employees flagged "hundreds in thousands of dollars in debt on Manafort's American Express credit card." This would have made it difficult for Manafort to get the loans he was applying for.
Manafort told bank employees that his associate, Rick Gates, had purchased the season tickets after Manafort loaned him the card.
The prosecution revealed an email between Manafort and a Yankees employee which disproved Manafort's argument as he was confirming the renewal of his tickets, priced at $226,800.
The judge was asked to correct a statement he made on Thursday, that attorneys "might want to spend time on a loan that was granted," according to CNN.
Prosecutors say that the comment "misrepresents the law regarding bank fraud conspiracy, improperly conveys the court's opinion of the facts, and is likely to confuse and mislead the jury." There was not a response to the request by the end of the day, per CNN.
Go deeper: The prosecution in Manafort's trial has left no stone unturned
Go deeper