You only think you're eating Indian food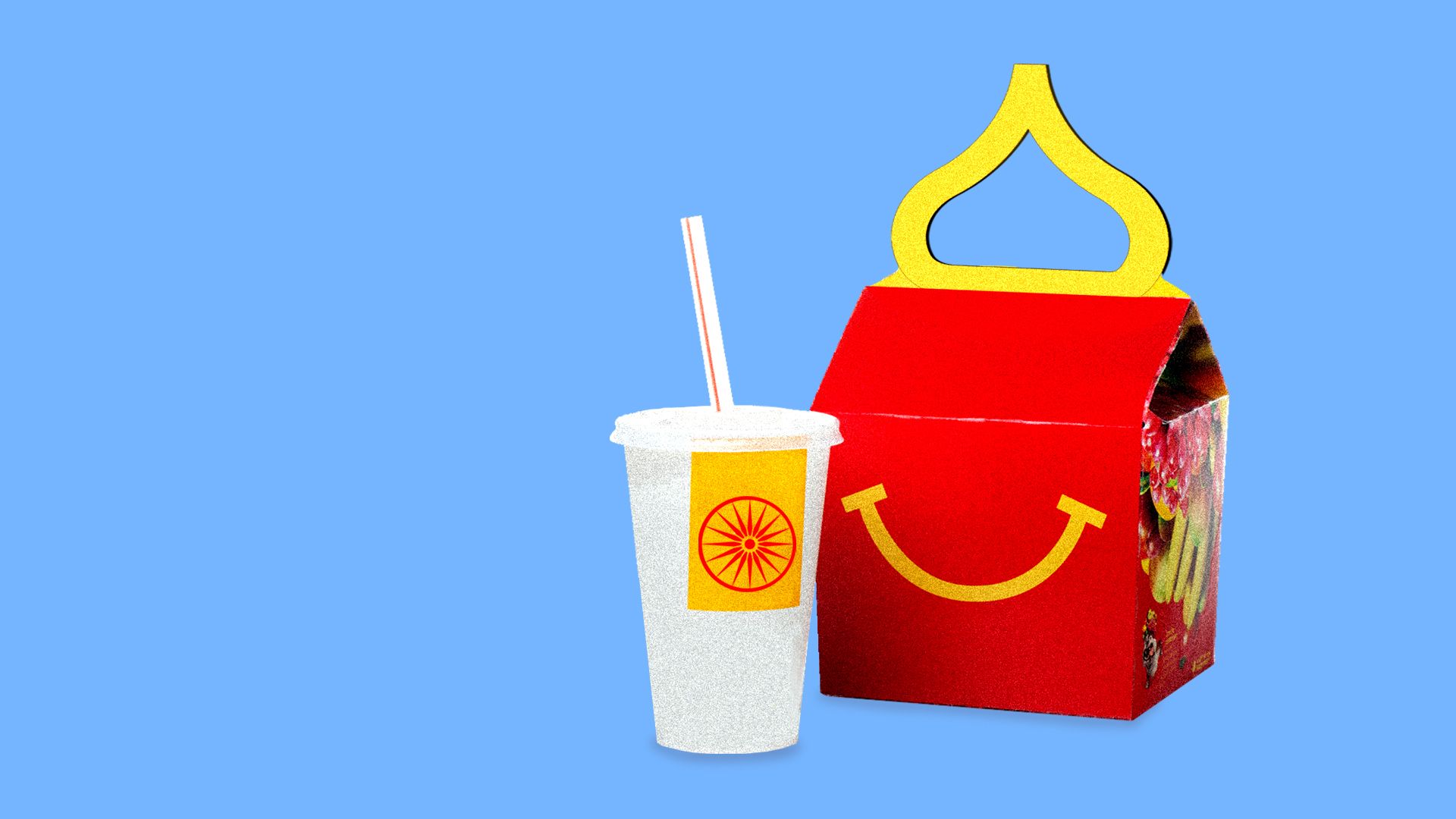 It turns out that the Indian fare you've come to love — curry, tandoori chicken, chicken tikka masala — often isn't very Indian after all. Instead, they and many other "Indian" dishes, served at restaurants in the U.S. and around the world, are more British and Portuguese, either modified to suit foreign palates and stomachs, or invented entirely from whole-cloth.
What's going on: In a growing trend, people in India are returning to more purist cuisine, using millets, vegetables and spices that had disappeared from kitchen tables.
A history lesson
Chilies arrived in India with the Portuguese in the 15th century.
Cream and yogurt sauces showed up with the British starting in the 16th century.
Then there is the problem with curry.
"Curry isn't even an Indian word. There aren't many curries in India," historian Lizzie Collingham tells Axios.
Instead, the British began to call dishes served over rice "curry," and insisted on the addition of more coriander and ginger to suit their tastes.
"The issue is that Indian food had British influence."
— Floyd Cordoz, an Indian chef and restaurateur in New York City.
Tandoori chicken, butter chicken and tandoori roti — staples of Indian restaurants — are also not originally Indian, but creations of the British under their rule, Colleen Sen author of Feasts and Fasts: A History of Food in India, tells Axios.
More food shenanigans happened when Britons moved back home from India. They created curry powder for convenience and replaced mangoes with apples or turmeric with lemon juice, said Collingham, author of Curry: A Tale of Cooks and Conquerors.
Chicken tikka masala — traditional fare on U.S. and U.K. menus — is said to be the result of recipes jotted down by Britons once living in India.
But where in the U.K. and by whom are another matter: Glasgow, Birmingham, Manchester and Leicester all claim to have originated the dish.
"The British had their own idea of what Indian food was," Cordoz said.
What's happening now
Middle-class India is seeing huge social mobility, with large numbers going out to eat more, but not to American fast-food chains like KFC, McDonald's, Pizza Hut and Ben & Jerry's ice cream, that popped up on the streets of Delhi and Mumbai 20 years ago.
Instead, for the first time, Indians are out eating authentic Indian cuisines, with the original spices and ingredients, Sen said.
"There's a proliferation of regional Indian restaurants. Not a western version — its own authentic cuisine. It's quite a dramatic change," Sen said.
India's wealthy 1% now have organic farm houses to satisfy this new demand for authentic ingredients, such as fresh produce.
Go deeper