Iraq's farmers hit hard by water shortages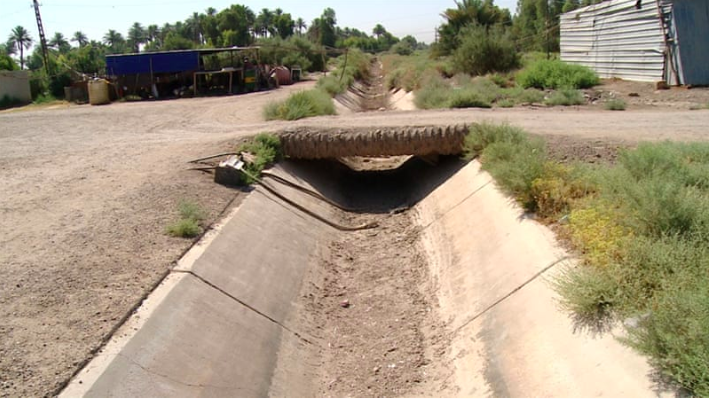 Radwaniya, Iraq — The Tigris today is far shallower than it was a year ago, and for farmers in Iraq, that's a catastrophe. 
Why it matters: Increasingly erratic rainfall across the region, along with the construction of dams in upstream Turkey and Iran, have all reduced the amount of water flowing in the key rivers of the Tigris and Euphrates by at least 50% in recent decades, according to Iraqi government officials. Abdel Rahman al-Mashhadani, an economic expert, says a large number of people have migrated from rural areas to the cities as a result of the water shortages. "Our urban areas are imploding and unemployment is on the rise," he says.
The prolonged reduction of water levels in rivers slashes electricity generation from hydroelectric dams, which, in turn, affects the water supply for agriculture and eventually forces the country to import more food than it already does. The increasingly dry seasons have not only resulted in reduced rainfall, but also made the water that is available salty and unsuitable for farming. 
According to Zafer Abdullah, an adviser to Iraq's Ministry of Water Resources, Iraq has "only enough water to irrigate half of its farmland this summer." Consequently, the government has now banned the plantation of summer crops, including corn and paddy rice cultivation.
Abdelrahman Mansour, 23, says he was left with no choice but to abandon farming and become a construction worker. "We tried to keep our farms alive and well, but the salt water has killed everything," he says.
Omar Di'ibil, 35, has been a farmer in Radwaniya, on the outskirts of Baghdad, all his life — just like his father and grandfather before him. Like many others across the country, this year's crippling water shortage has left him able to grow just a few hectares of wheat and barley. Soon, he says, there won't be enough water to grow anything on his once-fertile lands.
What to watch: Turkey and Iran are already holding back water from the Tigris and Euphrates to feed their growing population in a warming climate. Unless new deals are reached, this situation will only get worse, especially after Turkey began holding back water behind its Ilisu Dam on July 1, say officials.
Go deeper