Kobach refuses to recuse himself from election recount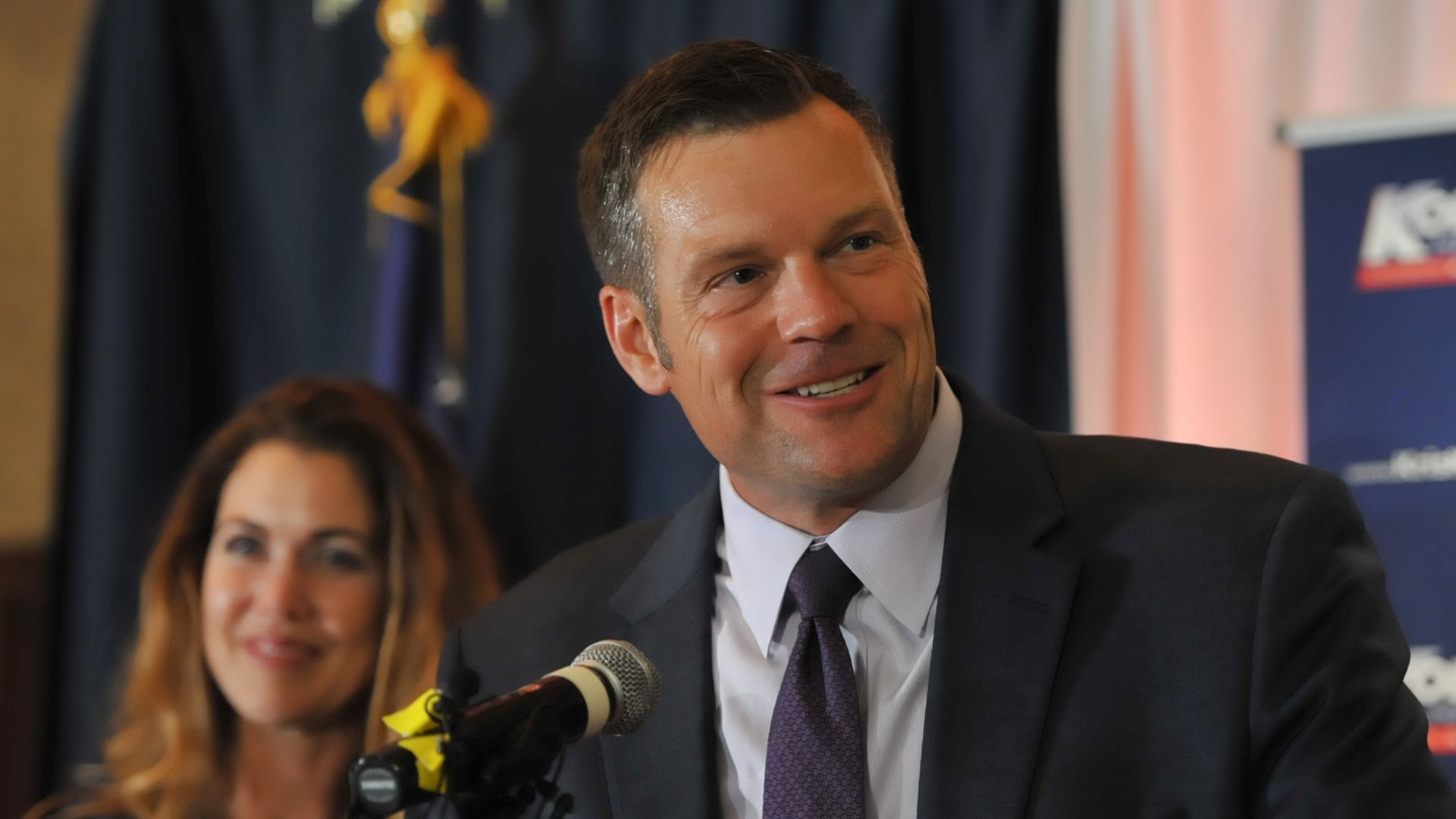 Kansas Secretary of State Kris Kobach, who holds a razor-thin lead over incumbent Jeff Colyer in Kansas' Republican gubernatorial primary dubbed too close to call, said Wednesday that he will not recuse himself from a recount process.
Why it matters: Kobach's position as the state's top election official and a staunch ally of President Trump conflicts with concerns that have been raised about the integrity of his involvement in past U.S. elections. However, local reports explain there's no law mandating him to recuse himself from a recount.
"The recount thing is done on a county level, so the secretary of state does not actually participate directly in the recount," Kobach said at a campaign event, per The Kansas City Star. "The secretary of state's office merely serves as a coordinating entity overseeing it all but not actually counting the votes."
Kansas does not have a policy for an automatic recount, and Kobach and Colyer did not rule out the possibility of one they would have to request. However, candidates may request a recount if the margin is less than 0.5%.
The details: As of Wednesday, Kobach was leading by less than 200 votes as remaining ballots continue to be counted. He said Republicans cannot wait until the race is resolved next week to start campaigning, so he will begin immediately as the presumptive winner. "I'm carrying the baton for the first week with the full knowledge I may hand the baton to Jeff," Kobach said.
At a news conference Wednesday afternoon, Colyer expressed optimism that the outstanding provisional and mail-in ballots will go in his favor. He said he won't make a decision on a recount until those ballots are counted.
It can "clearly change the course of this outcome. … They will go our way," he told reporters. Colyer explained the need for unity among Republicans despite the outcome, saying: "It's important that a Republican governor is elected in November."
The other side: The Democratic nominee for governor is veteran state Senator Laura Kelly. The Associated Press notes that she has been appealing to moderate Republican voters. Some Republicans are reportedly worried that Kobach, who led Trump's now-disbanded voter fraud commission, would be too polarizing — a benefit for Democrats.
Go deeper