Trump's call to retrain workers a chance for business to step up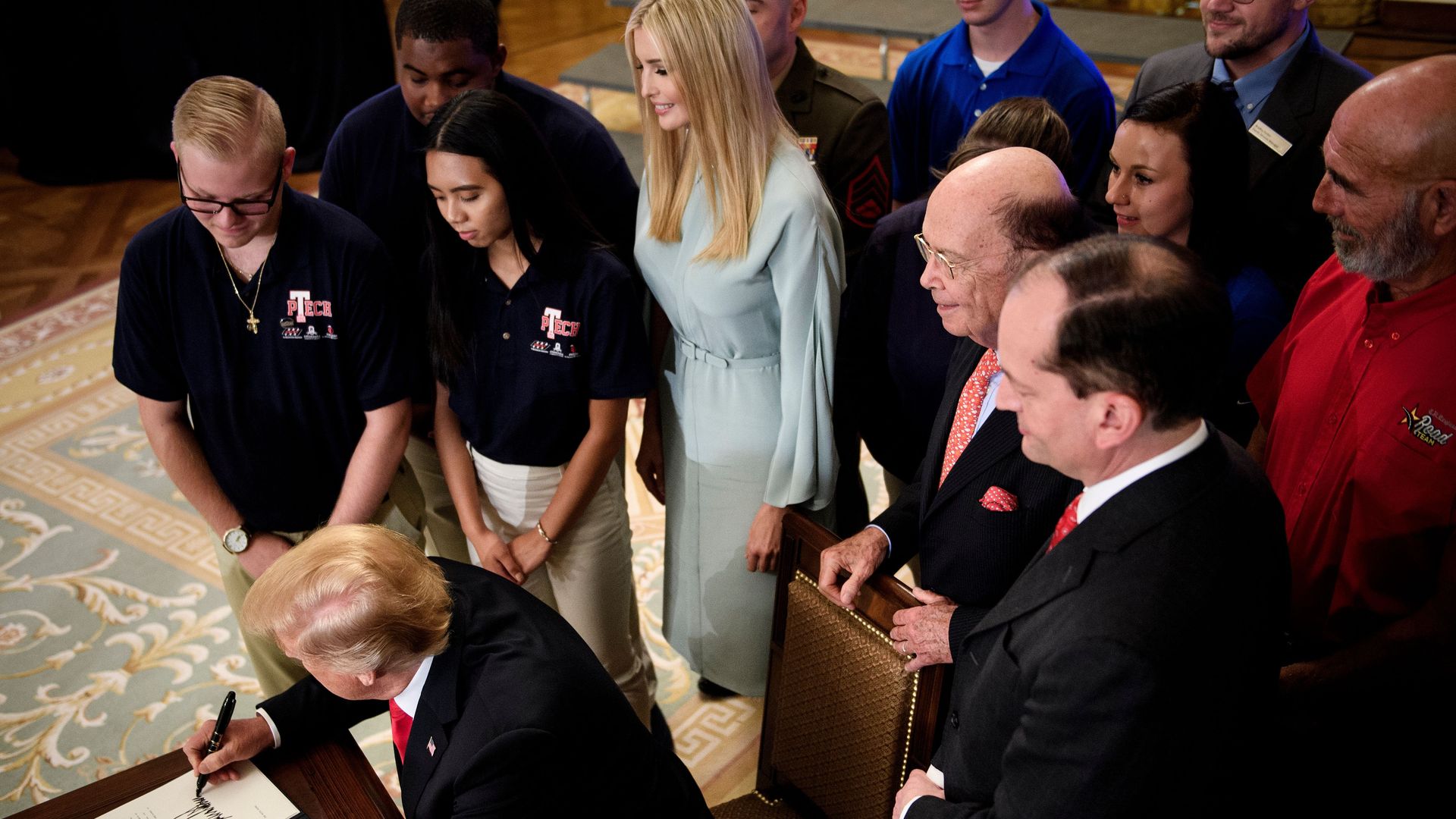 The White House recently announced an effort to promote high-tech worker retraining for the workplaces of the future.
Why it matters: The U.S. does not have a talent development system for "middle skills" jobs — those that require more education and training than a high school diploma but less than a 4-year college degree — which is no small problem, since only one-third of Americans over age 25 are college graduates.
The details: The administration's plan takes two important steps toward filling the skills gap:
Fostering industry-led apprenticeships: Staffing more occupations through apprenticeships would alleviate the growing talent shortage and create attractive opportunities for hundreds of thousands of workers annually. The administration's proposed class of apprenticeships — created for and by industries rather than following existing federal guidelines that do not apply across sectors — could produce workers trained for long-term success.
Closing the information gap: Students and the unemployed need to be able to count on accurate information about job requirements. Too often, they squander federal grants or loans on programs that either aren't related to available jobs or don't develop the skills employers actually require. While the administration hasn't specified an implementation program, its instinct to improve the quality and accessibility of information is right.
Yes, but: The administration's focus on federal programs and policy presumes a central role for the government in restoring America's skills base. Yet companies have shown a willingness to invest in training outside of their own workforces and should be allowed to play a leading role.
JPMorgan Chase launched a program in 2013 to close the middle skills gap in nine U.S. cities. It has worked with businesses, education and training institutions, and community organizations to create a financial services careers website focused in New York and career-oriented tracks in New Orleans' charter schools.
Walmart has developed industry-wide credentials that would be recognized by employers nationwide, enabling workers to transition between retail companies to more advanced roles.
The Center for Energy Workforce Development, a consortium of power utilities and their associations, identified upcoming skills shortages and the competencies required to fill them, ensuring the utility linesmen, technicians and operators of the future have the training and education they need.
What's next: The formation of this council and vague commitments by employers to "create" 500,000 jobs amount to, at best, a call to action. If the council can formulate concrete next steps — particularly in disseminating current, curated information on the labor market — that help the private sector advance these shared goals, this initiative will be an important step.
Joe Fuller is Professor of Management Practice at Harvard Business School, where he co-leads Managing the Future of Work and hosts the program's podcast.
Go deeper: "Room to Grow" and "Bridge the Gap" reports at HBS
Go deeper