Displaced Rohingya lament life in no-man's land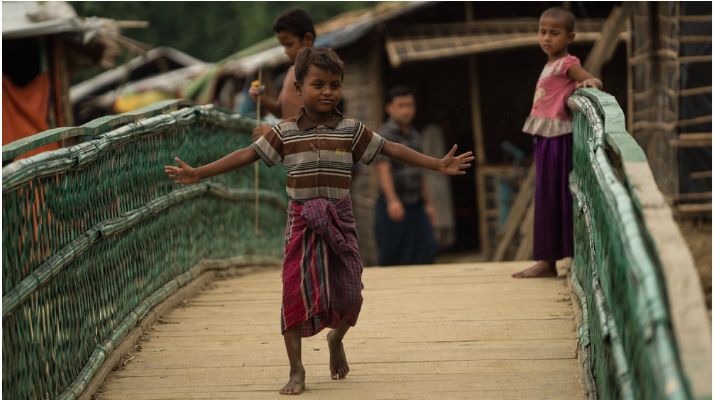 Cox's Bazar, Bangladesh — Of the more than 700,000 Rohingya forced from their homes in Myanmar, 4,600 are stranded in bleak conditions at a camp in no-man's land on the Myanmar-Bangladesh border, known to locals as Zero Point.
The bigger picture: Many Rohingya, a majority-Muslim ethnic group often described as "the world's most persecuted minority," now live in limbo. Residents of Zero Point have not been given refugee status, as the area in which they have been sheltering for almost a year now is officially under Myanmar control — but a fortified border fence rigged with landmines makes a return to their villages in Rakhine state an impossible mission.
Twice a month, a team from the International Committee for the Red Cross arrives here with provisions. Under the watchful eye of the Bangladesh Border Guards (BGB), the Rohingya are allowed to cross a newly-built wooden bridge to pick up the aid items and carry out their frugal shopping, before returning to the camp on the other side.
This is the third time Nur al-Amin, who used to own paddy fields in Myanmar, has experienced displacement. The first was in 1978, when he was still a child and had to spent a year at a refugee camp in Bangladesh after escaping anti-Rohingya violence by Myanmar's authorities. Then in 1992, he was forced to flee for a second time and ended up living as a refugee for eight years.
"There is no work here and nothing to do," he says of life in the camp. "I wake up at dawn to pray, I read Quran, I take naps, I wait for the aid agencies to come."
The bottom line: "When we first arrived, we thought that after a few days we would return back to our homeland," says Dil Muhammad, the Rohingya camp leader. "One year has passed, and there has been no solution. The UN has failed us."
Go deeper: Read the full Al Jazeera report.
Go deeper