Between the lines: Saudi men are harassing women drivers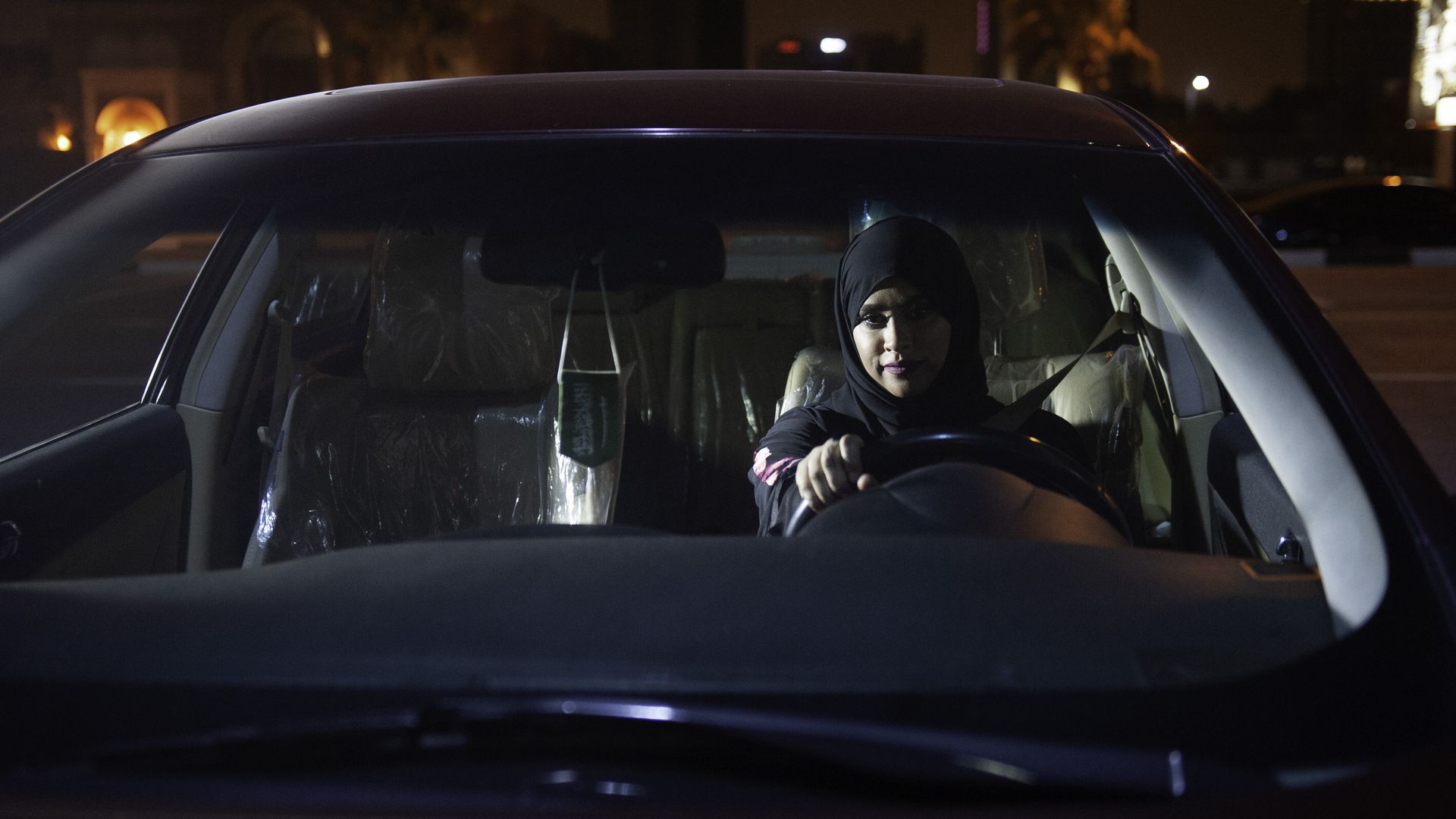 Since the ban of women drivers in Saudi Arabia was lifted in June, some female drivers have been targeted by men who disagree with the new law by setting their cars on fire, threatening them and harassing them in public.
The big picture: Ultraconservatives and Saudi authorities have been continuously going against the kingdom's efforts for top-down reforms as women become apprehensive of driving. Nabih Bulos tells the story of Saudi driver, Salma Barakati, in the Los Angeles Times on Thursday: "Despite months of an intensely orchestrated feel-good campaign by the government, the smoldering remains of Barakati's car offered the starkest illustration that not all are on board with women in the driver's seat."
What's happening
Men near Mecca gathered around Salma Barakati the first day she drove and hurled insults at her. Days later, her car caught on fire as shown in a tweet:
Two women's rights activists in Saudi Arabia , who have previously campaigned to allow women to drive, were targeted by authorities and were detained Wednesday, despite legally having the right to drive, per Wall Street Journal.
The other side: Clerics are insisting that driving privileges for women would "invite promiscuity," damage women's ovaries, and argue women cannot drive because they only have half a brain.
Saudi authorities said in June that more than 120,000 women have applied for licenses, but commentators have reported only a small number of women on the road. The LA Times reports it's due to fear, not lack of confidence.
Car companies and publicity agencies are making ads to appeal to the mixed feelings on the new law:
Nissan filmed women taking a driving lesson with a close male relative as the instructor.
International advertising company M&C Saatchi created an ad for Shell Middle East that depicted a group of men speaking to the camera as they come to terms with women from their family driving.
The bottom line: As the King Salman and his son, Crown Prince Mohammed bin Salman start to include women to improve the economy, the acceptance to women's rights has been slow to follow. But, Bulos reports driving will eventually become normalized.
Go deeper