Go deeper: How Trump's EPA will roll back Obama-era methane rules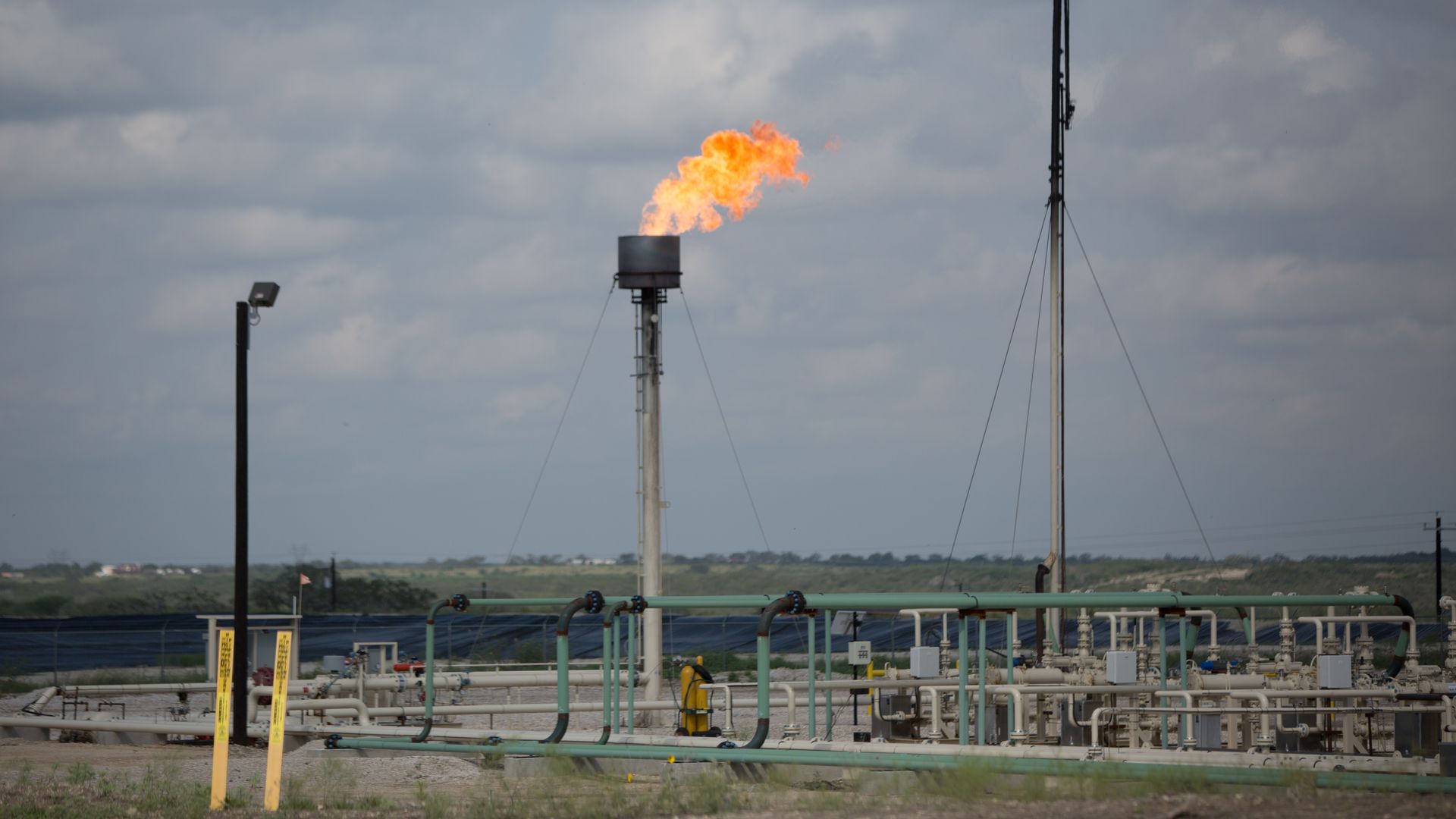 The Trump administration is preparing to take a two-pronged approach to rolling back regulations cutting methane emissions from oil and gas wells, Axios has learned.
Why it matters: Methane is a potent greenhouse gas that's also the primary component of natural gas. It's sometimes purposefully or inadvertently leaked in the production and transport of the fuel. The Environmental Protection Agency has been slow in its approach rolling back Obama-era rules addressing methane.
The details: The plans, as articulated by an administration official and corroborated by others tracking the issue closely, signal the EPA is inclined to pursue a more aggressive rollback instead of a replacement approach.
The EPA is planning to soon issue a smaller, more technical rule-making that environmentalists say will weaken the Obama-era rule currently on the books, which affects new oil and gas wells only.
The agency is set to later propose a broader draft rule that includes a range of regulatory options but likely contains a preference for wholly rolling back direct rules on methane and instead relying on a separate air-pollution rule issued in 2012. That rule inadvertently cuts methane emissions as it targets other air pollutants, according to Obama's EPA at the time.
One level deeper: In addition to those indirect cuts from the 2012 rule, an administration official also said the oil and gas industry has increased its voluntary efforts in this space, indicating a direct regulation may not be necessary.
For the record: An EPA spokesman confirmed the broad parameters of the plan but declined to comment further on the agency's inclination to roll back the direct methane rule entirely. "We will engage in a two-step approach to methane: proposed tech fixes that provide regulatory certainty to covered entities; and a proposed policy package to determine what is the best path towards effectively and efficiently controlling methane," an EPA spokesman said in an email to Axios.
The other side: Environmentalists have two big concerns.
Pointing to new data showing methane emissions are 60% higher than EPA estimates, they argue voluntary efforts are not enough to address the problem.
Big oil and gas companies have invested more in natural gas, which burns 50% less carbon than coal, as a way to help address climate change. A wholesale regulatory rollbacks calls into question whether gas should be considered a cleaner fuel, according to Matt Watson, an associate vice president at the Environmental Defense Fund.
"If they're going to stand by and let methane rules get wiped from the books, that's one heck of a risky bet."
— Watson
The big picture: EPA's moves in this space reflect a broader push across the administration to move aggressively rolling back, and not replacing, a range of environmental regulations. The EPA is also gearing up to soon propose freezing fuel-efficiency standards and revoking a waiver California has to issue tougher fuel standards. These moves are coming even as many in affected industries would prefer more scaled-back regulations, instead of none at all.
Be smart: These deregulatory moves are still in the drafting stages, and they all involve public-comment periods. Final products may be more moderate than the proposals.
Go deeper