Trump's turbulent diplomacy and trade policy rattling global gas market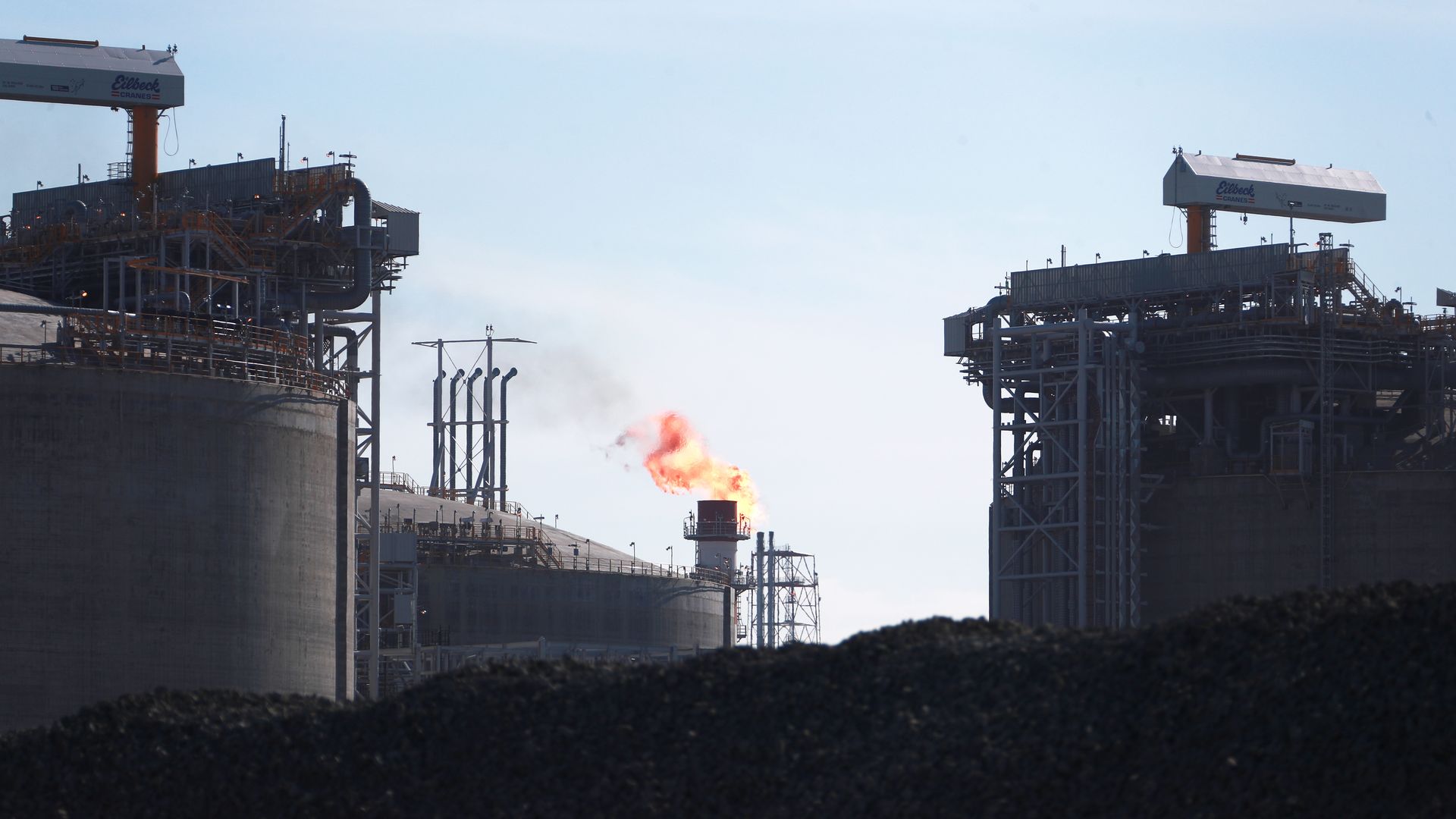 Gas has loomed large in President Trump's recent diplomatic dealings: In his meeting with NATO heads of state in Brussels, Trump called Germany "captive" to Russian gas, and in his Helsinki summit with Vladimir Putin, he made the unusual move of fielding regulatory proposals from the Russian president to prevent plummeting prices in the international gas markets.
Why it matters: For better or worse, U.S. foreign policy is contributing to uncertainty among the three countries with the largest gas reserves — Iran, Russia and Qatar — raising alarm among major Asian and European gas importers looking for secure supply sources.
Following the U.S. withdrawal from the Iran nuclear deal, the Trump administration has promised to reimpose energy-sector sanctions on Iran, effectively freezing investment on new developments in the market with the world's largest gas reserves. A third gas giant, Qatar, waits in vain for a U.S.–brokered end to its economic blockade by neighboring Saudi Arabia and UAE.
The Trump administration's trade policy has added to the unease in global gas markets. American liquefied natural gas (LNG) could be subject to 25% tariffs from Beijing in the next round of tit-for-tat escalation. That would create a strong headwind for U.S. LNG exporters keen to profit from the world's fastest-growing LNG importer.
As it is, U.S. LNG developers are already alarmed by the Section 232 tariffs on imported steel and aluminum, which have increased the cost of new domestic LNG projects. Delays in NAFTA talks have also raised questions around cross-border gas pipeline projects, at a time when U.S. producers are desperate to move surging supplies to fast-growing markets south of the border.
Meanwhile, Wednesday's U.S.–EU trade agreement reportedly includes provisions for Europe to import what Trump claims will be "massive" amounts of U.S. liquified natural gas (LNG).
The bottom line: The U.S. has long been seen as a low-risk source of LNG in the global market, especially since its exports are in the hands of the private sector and somewhat shielded from political interference — a key difference from several rival exporters. Nonetheless, the turbulent foreign policy and trade dealings in Washington could prevent the sector from reaching its full potential, as politics edges further into dynamics that have traditionally been market-led.
Robert Johnston is CEO of Eurasia Group and a senior fellow at the Atlantic Council Global Energy Center.
Go deeper