What oil and power CEOs really make
The energy sector is bucking a corporate trend. Across all major industries, CEOs running S&P 500 companies cumulatively made $10 billion in 2017 — 44% higher than what is usually reported — when you factor in their gains from the stock market, according to an Axios analysis of Securities and Exchange Commission filings.
Yes, but: Many energy stocks did pretty poorly last year. So energy CEOs overall made less than what is normally reported because their stock grant values were higher than the amount of stock they actually cashed out.
Check out the chart below, which shows the energy sector CEO pay data for energy companies in the S&P 500 based on whether it's higher or lower than what's usually reported.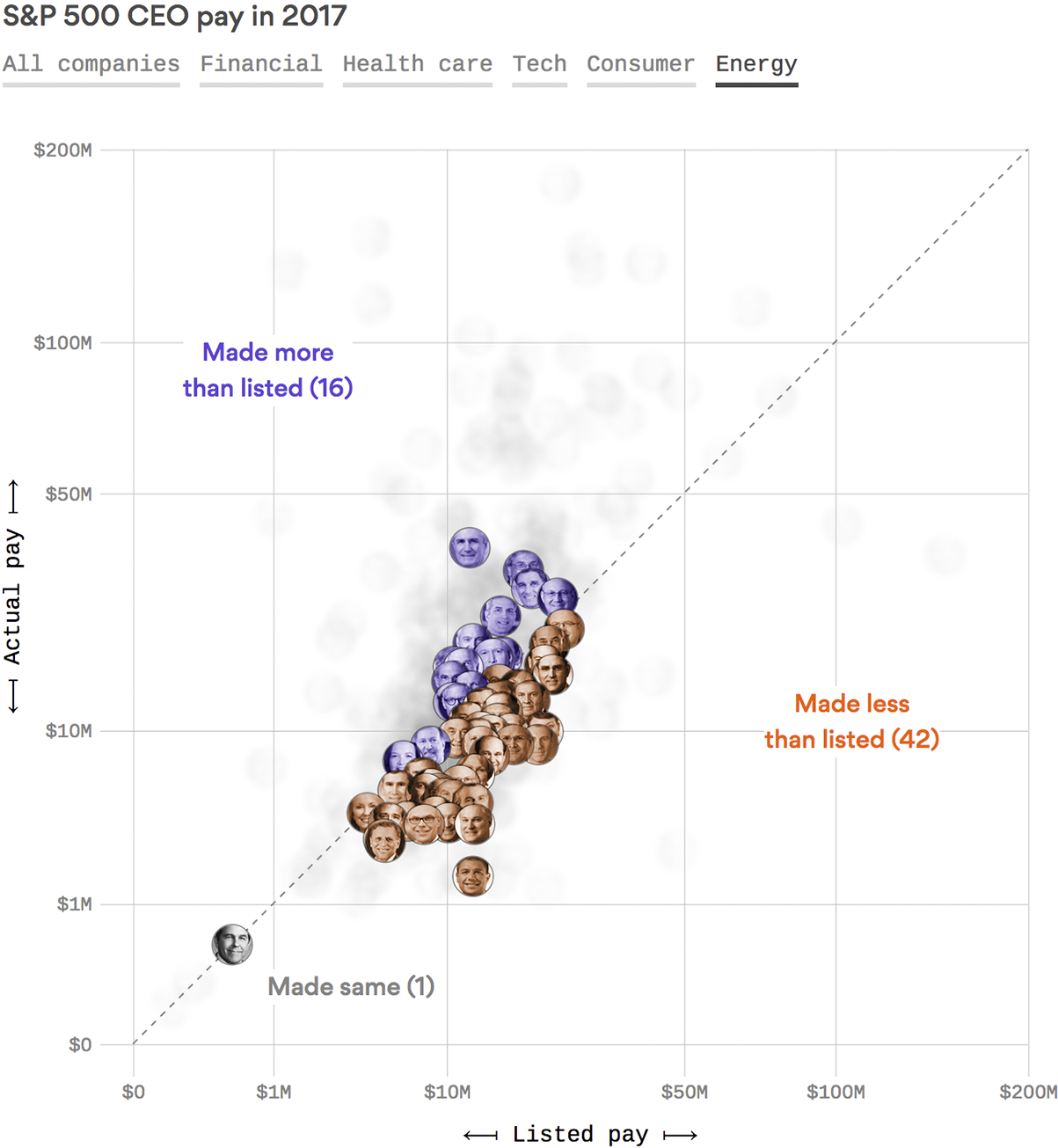 By the numbers: Within the total compensation, Axios' Bob Herman calculated what's known as the actual realized gains (ARG) of CEOs' stock options and awards — shares that were actually exercised and taxed — versus the estimated fair value (EFV) of their stock that predicts future stock value and is prominently featured in the summary compensation tables of SEC filings.
Overall, 59 energy and utility CEOs made $668 million based on our calculations — 13% lower than the $769 million that is normally shown in the traditional EFV format. The median energy/utility CEO pay package was $9.6 million.
In contrast, CEOs in the tech, finance and health care industries often made a lot more in real dollars than what was normally reported.
The details: For some CEOs, to be sure, the ARG was a lot higher than the more commonly reported EFV. But for a substantial number of execs, it was lower. A few snapshots of both:
Higher: Tim Leach, CEO of the oil-and-gas company Concho Resources, saw over $37 million in compensation based on ARG, compared to roughly $12.3 million listed in the SEC's summary table.
Higher: Jim Robo, CEO of electricity giant NextEra Energy, had a total 2017 compensation based on ARG of $32.6 million, compared to $18.8 million in the summary.
Lower: Al Walker, CEO of the oil-and-gas company Anadarko, had 2017 compensation based on ARG of $9.7 million, compared to nearly $17 million in the summary table of their filing.
Lower: Leo Denault, CEO of the big power company Entergy, had $9.3 million in compensation based on ARG, compared to $13.2 million in the summary table.
Lower: Paal Kibsgaard, CEO of oilfield services giant Schlumberger, had $8.8 million in compensation based on ARG, compared to $20.8 million in the summary table.
A spokesman for Anadarko responded to an inquiry by pointing to the summary page in the company's proxy statement that contains the higher figure. The other companies listed above did not respond to questions about their CEO's compensation.
Go deeper: Bob and the Axios visuals team have a much wider — and interactive — look at the state of CEO pay.
Go deeper