Election season boosts businesses in cash-strapped Zimbabwe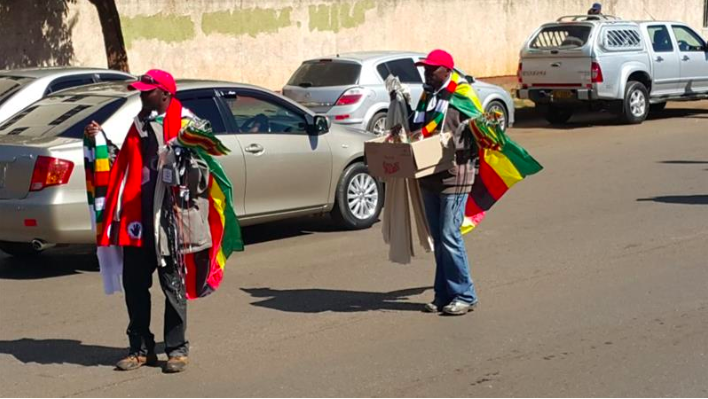 HARARE — Election season is providing a much-needed economic boost in Zimbabwe, where a cash shortage has been strangling already hard-pressed businesses.
What's happening: Hotels have seen a surge in customers amid growing international interest in the landmark election following last year's resignation of decades-long President Robert Mugabe in the wake of a military intervention. The car rental industry is also among the beneficiaries ahead of the July 30 vote, as are entrepreneurs selling election paraphernalia.
Shine Shapure has replaced his usual offerings of matchsticks, keyholders, stickers and water with memorabilia of the ruling ZANU-PF and the main opposition MDC parties. "ZANU-PF supporters have more money than MDC's. They are willing to pay anything. That is why I charge them more," he says with a smile.
Lovemore Mapiro runs a printing business in the Zimbabwean capital, and has been travelling up and down the country delivering orders and taking in new ones from candidates and parties. "MDC people usually buy plenty of stuff at times like this," says the 34-year-old. "They are used to the party being in the bush (political wilderness), so they know they must support their party so it wins."
At Impala Car rental, one of the largest car hire companies in the country, demand is so high they have run out of vehicles to rent. "We get a lot of car hires from different NGOs and election observers," Tracy Ngoma, a manager at the company, told Al Jazeera.
Advertising revenue for newspapers and radio stations has also shot up as candidates compete to get their message out to voters.
The bottom line: "The election has been a time for some businesses to make money - there's lots of money being spent on campaigning and on consumption," says economist Vince Musewe. However, "the money circulating now in the system is not sustainable beyond elections. We have to face the liquidity crisis head-on - whoever wins the election will have to do this to get the country back on track."
Go deeper: Read the full report on Al Jazeera.
Go deeper