Behind Congress's cave on penalizing ZTE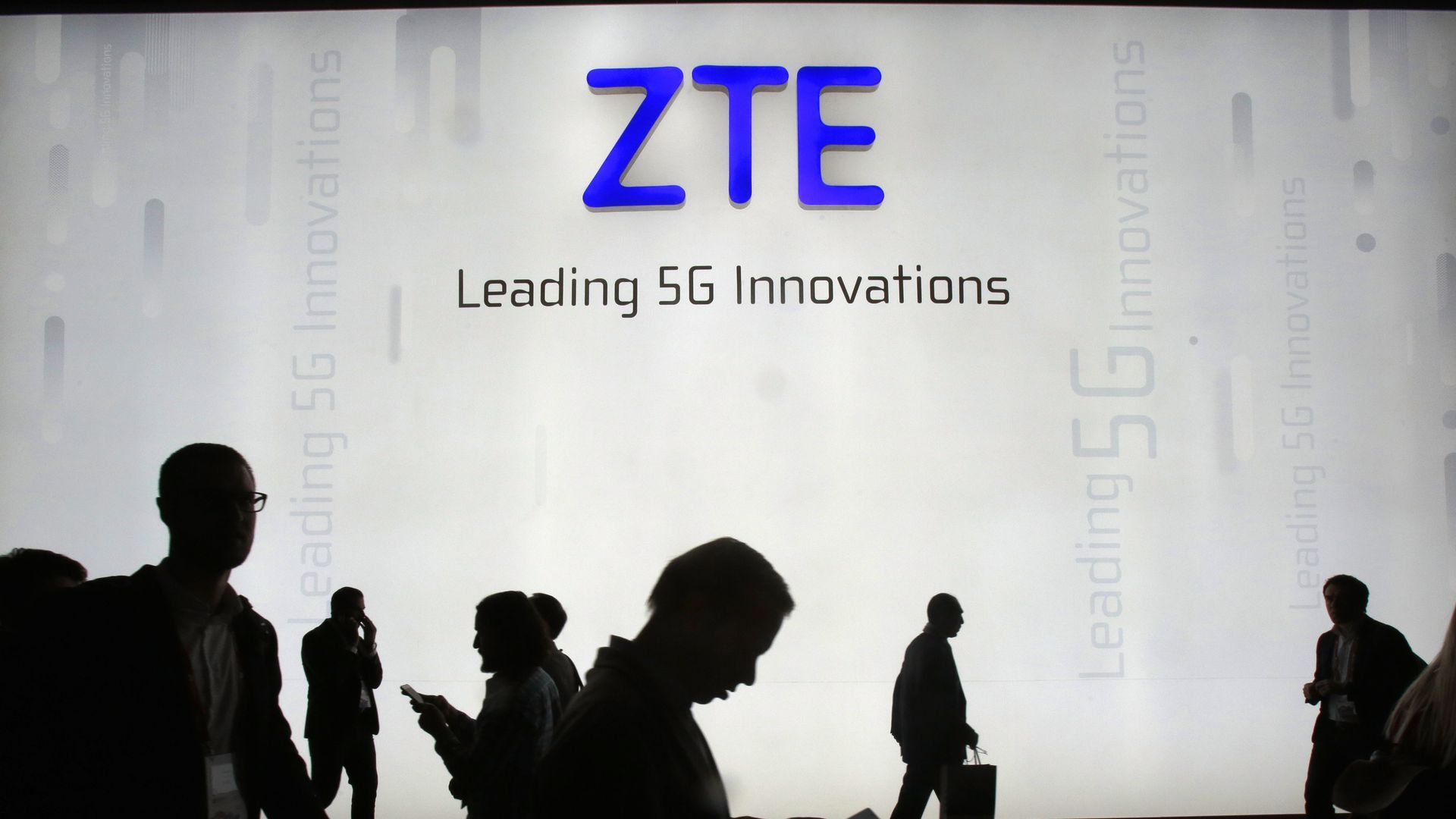 Congress has jettisoned language in the must-pass National Defense Authorization Act to restore harsh penalties against Chinese telecom manufacturer ZTE. The change, first reported last week, is part of the final text of the bill, released on Monday.
Why it matters: While the story was easily lost in a week of Russia news, the ZTE debacle will likely have longlasting effects on U.S. negotiating credibility.
The background: ZTE has twice been caught selling banned technology to Iran and North Korea. After the first incident, ZTE agreed if it was ever caught again, it would accept a 7-year ban on the U.S. technology it needs to make its wares. When that ban took effect, ZTE shut down major operations. The Trump administration, against the wishes of Congress, then cut a new deal with ZTE allowing the firm to stay in business.
ZTE's trading with sanctioned nations wasn't the only national security issue. The U.S. suspects the company of sabotaging the equipment it sells to the U.S. to enable Chinese spying on domestic communications.
The Senate version of the defense funding bill included a provision to reverse the Trump ZTE deal. The House version did not. The ZTE-related amendment did not survive the merger of the two bills.
The bottom line: Trump's deal with ZTE sets an unusual precedent for the White House: a president's willingness to treat national security concerns as a bargaining chip.Giving the president that transactional freedom comes at a price.
Senate lawmakers and outside experts had been concerned that beyond the hit to national security, tearing up in-place agreements would harm:
The government's ability to deal...: "It makes it more difficult for lawyers like me to know if we enter into a settlement with the government, will it be blown up on Twitter," Brian Fleming, a lawyer for Miller & Chevalier specializing in trade-based regulatory issues and former counsel at the Department of Justice, told Codebook in June.
...and regulator's ability to threaten companies: Why abide by rules if penalties are negotiable?
But House Republicans and other Trump defenders put aside penalizing ZTE to avoid sandbagging Trump amid his broader trade negotiations with China.
Sen. Marco Rubio described the resulting bill as a "cave."
All quid no quo: If ZTE could have been used as a bargaining chip with China, Trump appears to have squandered the chance. "It's all quid but no quo," said James Lewis, senior vice president at the Center for Strategic and International Studies and a former Commerce Department lead for high-tech trade with China.
"The big flaw is that the US failed to get anything in return," said Lewis. There was no concession by the Chinese in return for reducing ZTE's penalty.
There were, however, some obvious things to ask for in return, said Lewis — most notably, Chinese approval of Qualcomm's merger with Chinese firm NXP, a deal that was held up by bureaucracy at the time of Trump's ZTE bargain and is now at risk of sputtering out due to the burgeoning trade war.
Go deeper