What we're reading: JD.com is leapfrogging rural China into online shopping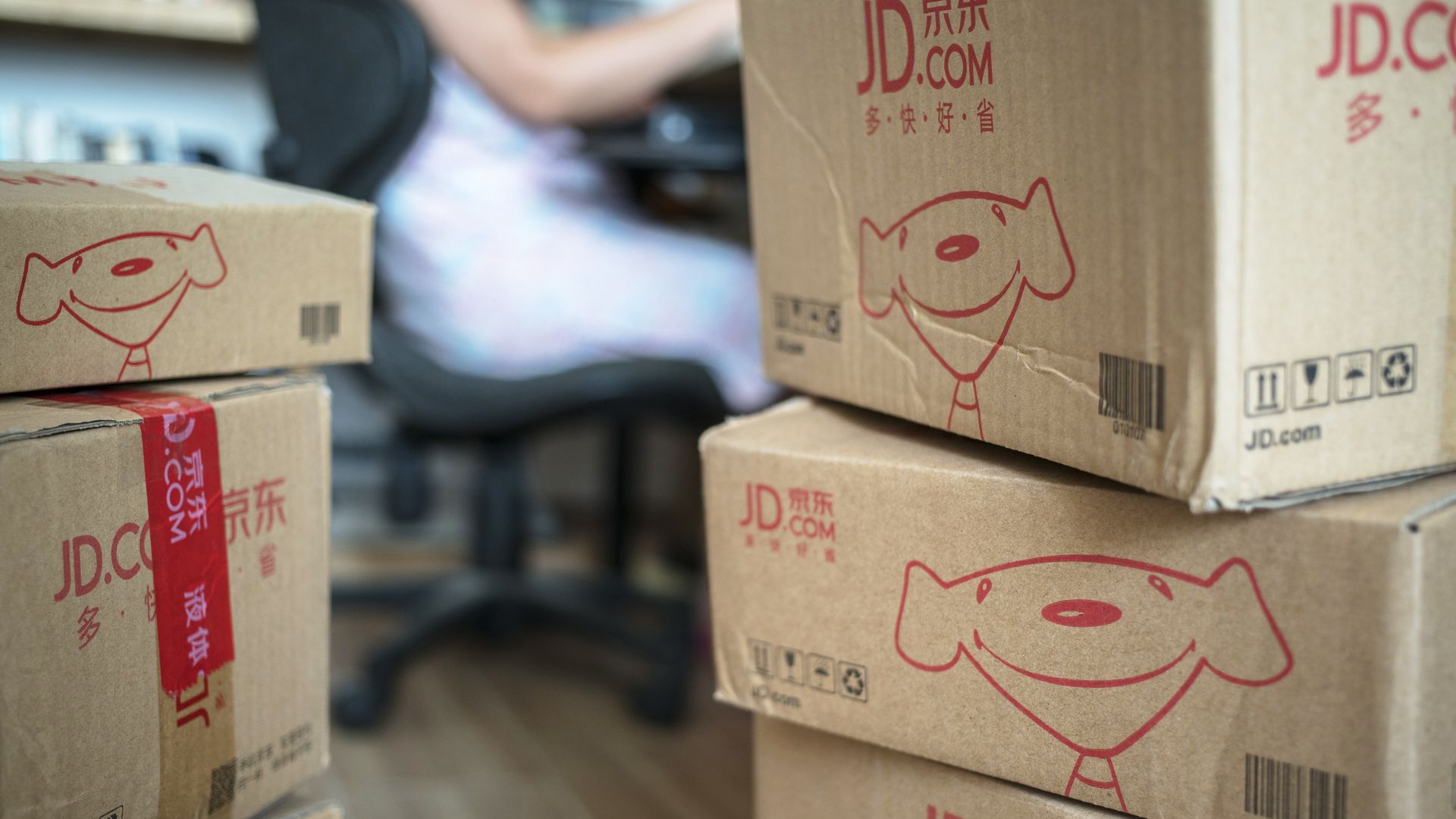 JD.com, the third-largest tech company in the world behind Amazon and Google's parent company Alphabet, is focusing on hundreds of isolated villages in rural China as it has hired 85,000 delivery personnel, and focusing on locals to do its bidding in ramping up online shopping, a relatively new concept for the region, according to The New Yorker's Jiayang Fan.
Our thought bubble: Axios Future Editor Steve LeVine explains, Chinese big tech is responding to its gargantuan economic and societal impact very differently from its American counterparts. Against government pressure not to disrupt social order, JD.com, Alibaba and others are working to build market power within the existing structure, rather than bulling their way forward regardless of the consequences.
The backdrop
China has the most internet users and the largest e-commerce market in the world, but hundreds of millions of Chinese in rural areas are still not online.
Unlike Amazon in the U.S., JD.com still has regions in China it can penetrate. Because of China's recent wealth accumulation, Chinese went straight to mobile instead of from PC to mobile.
The Chinese accounted for 32% of luxury items globally and JD.com partners with different brands exclusively.

"Because habits of consumption are less ingrained—no one's granny shopped at Bergdorf's—people have been notably willing to buy, say, twenty-thousand-dollar watches with a mere tap on a phone," writes Fan.

"Analysts predict that China's online retail market will double in size in the next two years."
What JD.com is doing
In isolated regions, JD.com is creating on-the-ground jobs by setting up Wi-Fi and testing out drone delivery.
The income of JD.com employees is affected by the number of packages from the region they oversee, and promotion of the company.
The impact: Leaving friends and family for Chinese coastal cities no longer has to be an option for rural residents.
Locals trust JD.com representatives because they are usually from that region, which is a win for free promotion of the company and expansion, Fan reports.
Go deeper:
Go deeper