Inside Justice's new plan to share info on foreign meddling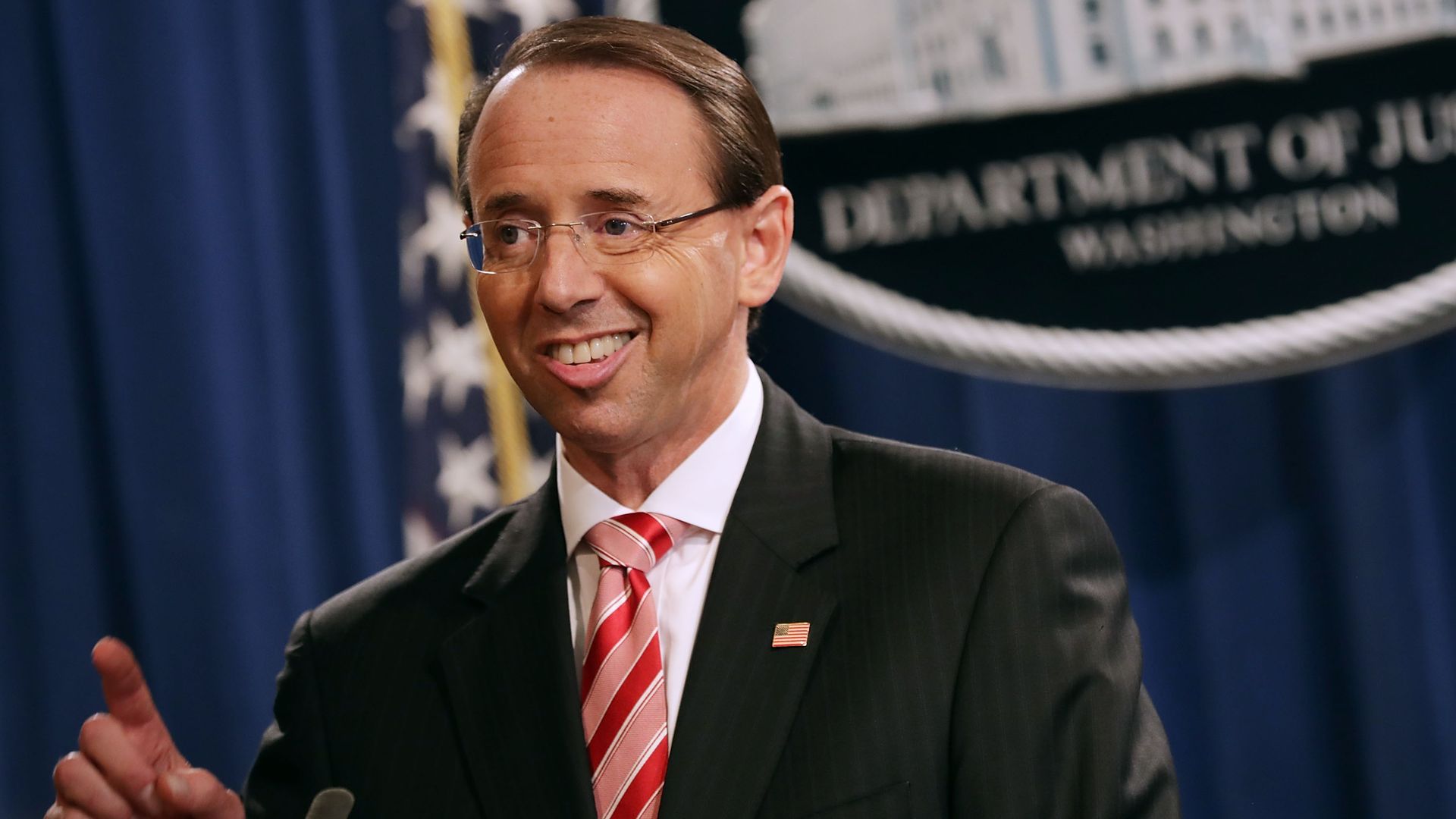 Deputy attorney general Rod Rosenstein announced at the Aspen Security Forum Thursday evening that the Justice Department plans to notify the public, American companies, and private organizations when foreign entities are targeting the U.S. political process.
Why it matters: We're two years removed from the last massive election tampering campaign, less than a week removed from a suspected Russian operative being arrested for trying to infiltrate and influence conservative circles, and three months away from the next election.
How it works: The notification policy will apply to four groups of victims, all of which are now pretty familiar. Had the policy been in place in 2016, it could have been used to notify:
Facebook, that a foreign actor was using its business to distribute propaganda.
The Democratic National Committee, that a foreign hacker was trying to hack its systems.
The Trump campaign, that Russia was trying to aid its cause.
Or the general public, if "federal or national interests…outweigh any countervailing considerations."
Will it make a difference? Well, even before this policy was in place, the FBI actually notified many of those groups of exactly what was happening, ranging from the pre-election public announcement that Russia was behind the hacking campaign to trying to contact the DNC (that one, admittedly, with questionable resolve).
On the other hand, the AP has reported that the FBI was aware of Russian hacking group Fancy Bear's attempts to break into Gmail accounts in 2015, but opted not to tell most potential victims.
The catch: The DOJ will consider a number of factors in notifying people, including:
whether sources and methods are at risk
whether the attribution is as certain as possible
whether the announcement would abide "with longstanding policies regarding the timing of charges or taking overt investigative steps" if it took place during an election.
That last one might be a doozy. Influence campaigns don't have to be focused on an election, but the most impactful ones we know about are. The DOJ has an unwritten rule not to impact an election with any announcements.
In 2016 FBI director James Comey's decision to tell Congress about the reopening of the investigation of Hillary Clinton's personal email server was controversial, in part because it violated that policy. (This bullet has been corrected to say Comey told Congress not the public.)
Go deeper