What we're reading: The toxic culture at Papa John's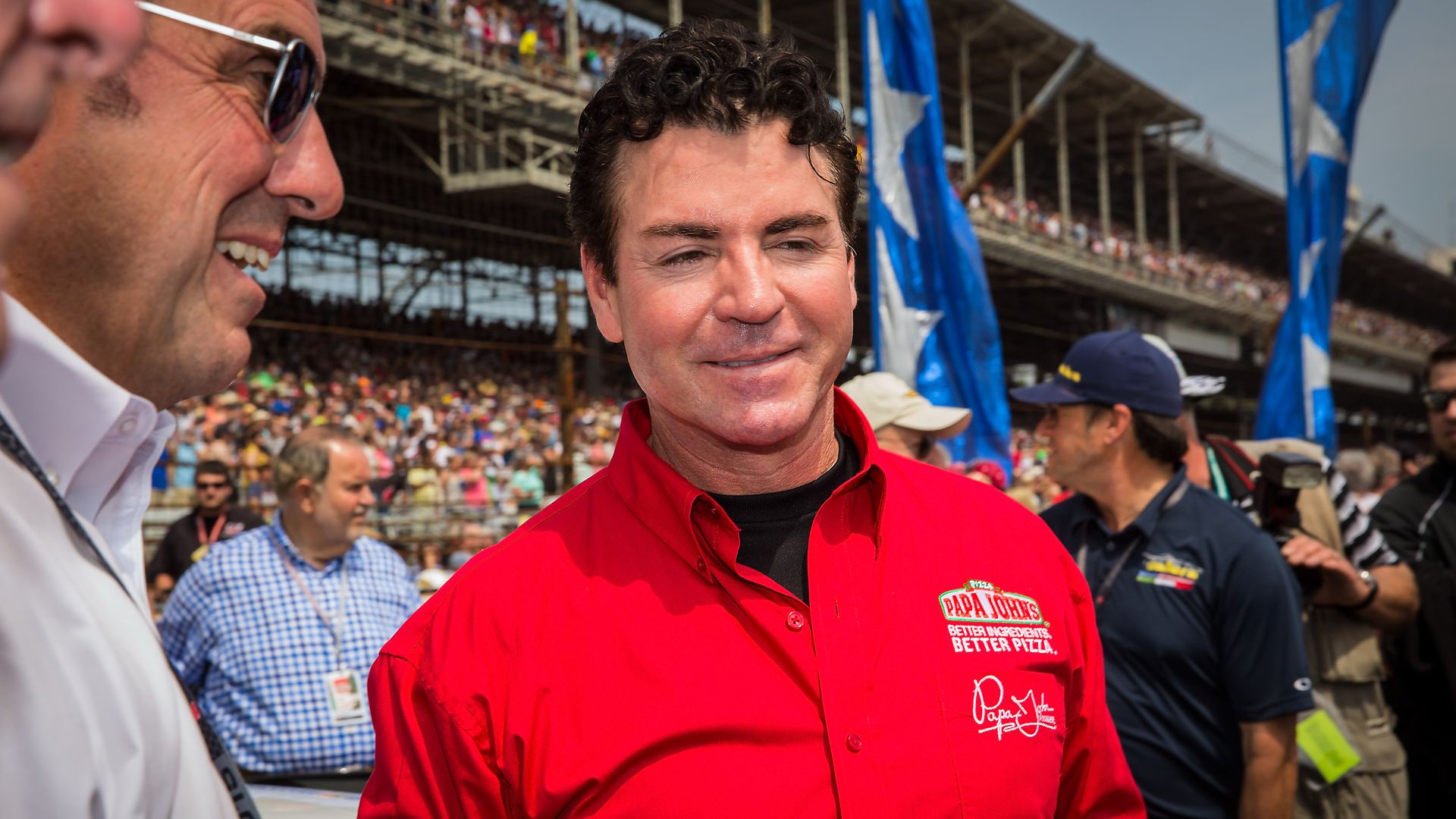 Papa John's founder John Schnatter's history of inappropriate behavior goes far past his use of the N-word earlier this year that led to his resignation, Forbes' Noah Kirsch reports.
The big picture: Kirsch writes that Schnatter's "alleged behavior ranges from spying on his workers to sexually inappropriate conduct, which has resulted in at least two confidential settlements." Forbes reports that Schnatter denied most of what the report states, and Papa John's did not respond to requests for comment.
The business
He started his business in 1984 in his father's tavern, and stepped down as CEO in 2005, "three years after failing profits," Kirsch reports, and was relocated 20 minutes from headquarters where he "fought for control" against his replacement, Nigel Travis.
He then began requesting that employees spy on their coworkers as he "read workers' emails," and occasionally did business "from disposable phones."
He returned as CEO in 2008 but later resigned again as CEO after his comments about NFL players kneeling during the national anthem.
He tapped men close to him for top positions, instilling a "bro" culture throughout the company.
Tim O'Hern, international president of the company was at one point asked to leave the company as vice president "for mistreating employees." He denies the allegations, but acknowledged to Forbes that an investigation into his behavior had taken place.
Jude Thompson was brought in as co-CEO in 2010, Forbes reports. Schnatter confirmed to Forbes that Thompson brought his mistress to the Super Bowl.
"The only people that are staying there are the people that can't get a good job elsewhere."
— A recently departed Papa Johns executive, to Forbes
The allegations
Current CEO Steve Ritchie "just laughed along" when execs made crude or inappropriate jokes and comments in meetings, a source told Forbes. He did not respond to a request for comment.
Women "were mocked and asked if they were menstruating." Operations leader Dustin Couts "discussed porn with a female junior employee," and asked a colleague "if she was on her period after she disagreed with him." He was named regional VP of Papa John's Asia/Pacific this spring, Forbes reports.
One female employee told Forbes that Schnatter "asked about her bra size" and "never let her pass in a hall without giving her a hug," which Schnatter denies.
Forbes reported two lawsuit settlements, though Kirsch writes that three other sources spoke of additional settlements for inappropriate conduct between women and Schnatter.
One woman, Lesli Workman, alleged in a 1999 lawsuit that Schnatter "groped her" after a meeting and "proceeded to stalk her." Schnatter alleged that Workman was extorting him and the company for $5 million. The charges were settled confidentially.
His second confidential settlement was after he returned as CEO in 2008, with a younger marketing employee.
What's happening now
Papa Johns' partnership with Major League Baseball has been "indefinitely suspended," per Forbes.
The company name is being removed from the University of Louisville's football stadium.
"Nearly everyone expects Papa John's to move on without [Schnatter]."
Yes, but: The day after he resigned because of the racial slur, Schnatter "showed up to work as usual." He still has 30% of shares in Papa John's, and "has Ritchie, O'Hern and the rest in command."
Go deeper