Taxes may not curb stubborn transportation emissions
Taxing U.S. carbon emissions with an escalating levy that starts as high as $73-per-ton would have a pretty small effect on carbon emissions from the transportation sector, a Rhodium Group analysis finds.
Why it matters: Transportation has overtaken electricity as the largest source of U.S. emissions. Wringing CO2 out of transportation is hard, in contrast to progress underway in electricity.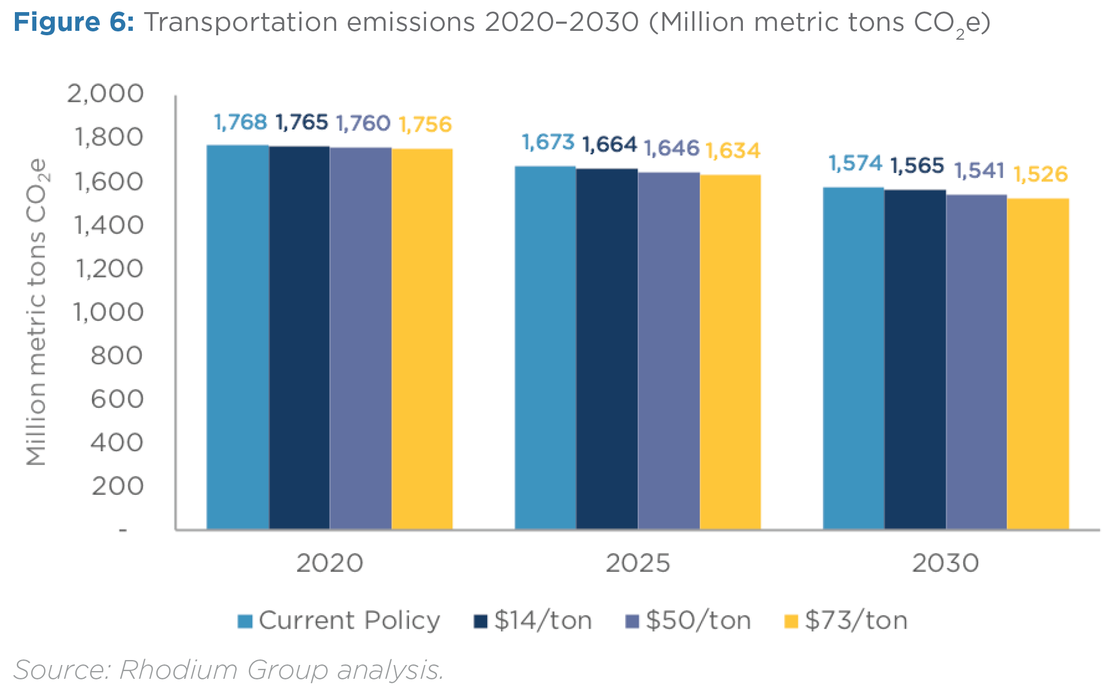 The details: The report shows that a $50-per-ton tax that climbs 2% annually would cut economy-wide CO2 emissions by 39% to 47% below 2005 levels by 2030. But the vast bulk of this occurs in power.
The report was among several released yesterday in conjunction with Columbia University's Center on Global Energy Policy.
Between the lines: It provides several reasons why transportation emissions are stubborn...
The relative lack of easy and low-carbon substitute fuels.
Cost has a limited effect on driving levels.
Fuel price increases from the taxes are within historic variability.
The vehicle fleet turns over slowly. People stick with what they've bought because purchase price far exceeds annual operating costs.
That's different from power, where generators compete on fuel costs.
The bottom line: "These results suggest that if achieving deep economy-wide GHG reductions is one of the policy goals for a carbon tax, then either a much higher carbon tax rate or policy interventions targeting transportation demand, vehicle technology, and decarbonization of fuels may be necessary."
Yes, but: Noah Kaufman, an economist with the Columbia group, says the "common perception" that CO2 taxes will do little to change drivers' behavior is questionable.
He said models assume that's the case because big gas price swings haven't historically had a big effect on driving.
"What you've seen out in real-world carbon pricing programs is something pretty different. If you look in British Columbia, the evidence suggests consumers are responding quite a bit more strongly than expected. ... The number you see from studies in BC and in Sweden, drivers are about three times more responsive to price changes when caused by carbon tax than by day-to-day price change."
— Kaufman
Stay tuned: Kaufman said he's soon releasing a short paper on vehicle emissions and carbon pricing.
Go deeper