Under Trump, energy influence groups ramp up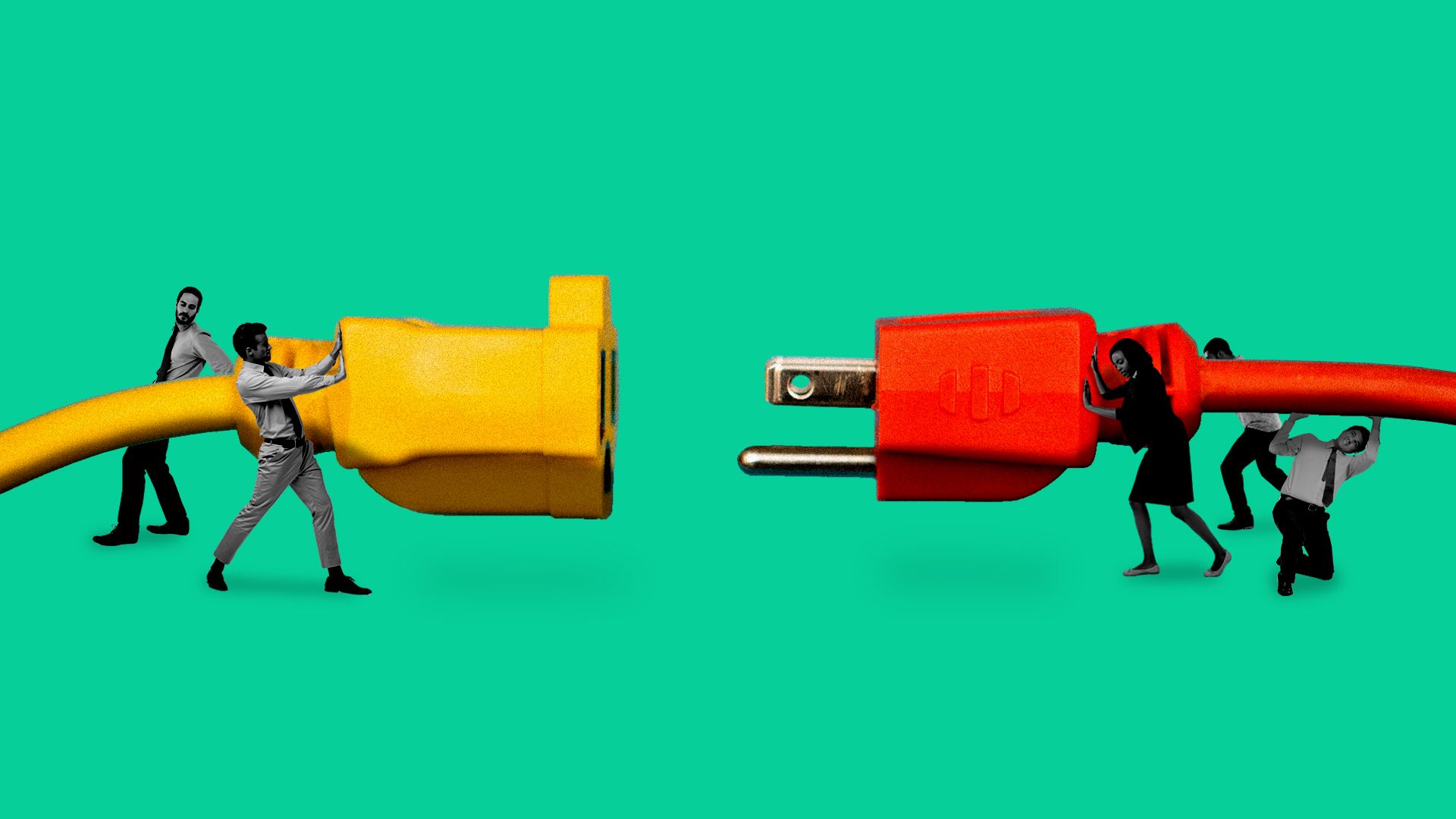 President Trump has scrambled traditional alliances in Washington across the policy spectrum, including energy. The capital's influence apparatus is responding in kind.
Driving the news: Informal coalitions are popping up under Trump more than they have in the past, according to veteran Washington consultants and newly compiled federal lobbying data. These groups are mostly separate from the familiar, entrenched trade groups that traditionally run Washington's lobbying and public relations machine.
"Over the past decade, we haven't seen a spike like we have over the past 18 months."
— Amos Snead, founding partner at S-3 Public Affairs
The details: Snead's firm is among numerous ones in Washington that have represented informal coalitions on energy and other policies. Here are two examples pulled from the table below, and another one in the climate and energy space is expected to be announced as soon as this week.
Snead's company represented U.S. Made Solar, a coalition of U.S.-based manufacturers that organized public-relations campaigns between September and January to oppose tariffs on imported solar panels. The coalition dissolved after Trump announced in late January that he was imposing tariffs.
Affordable Energy Coalition, created in 2017, is an ongoing nonprofit group whose diverse members include companies and associations opposed to the Energy Department's efforts to bolster coal and nuclear power plants. Hamilton Place Strategies runs their public relations work under the leadership of managing director Michael Steel, former spokesman for then-House Speaker John Boehner.
Other lobbying and public relations firms involved include FTI Consulting, Hunton Williams and Hill+Knowlton.
Here's a snapshot of the top energy-related coalitions. Most have been created since Trump took office, and all but two are outside of traditional trade groups.
By the numbers: Through the first quarter of this year, nearly 550 informal groups using the words "ad hoc," "coalition" or "alliance" disclosed lobbying in Washington, a figure poised to match or surpass last year, according to Center for Responsive Politics data compiled for Axios.
Last year's total, 643, was the highest in at least a decade. Most groups are formed at the beginning of each year, reflecting the first quarter's high number.
This is only part of an obscure picture because many other informal coalitions don't officially lobby or don't have those words in them, making them difficult to track, according to Daniel Auble, a senior researcher at the Center for Responsive Politics.
Informal coalitions have benefits over more permanent, official organizations in a number of ways, according to multiple people working in this space.
They're more flexible and can be temporary. The tariffs group only needed to exist while Trump was considering whether to impose them, for example.
They can work issues that split trade associations. That's happening more as traditional groups seek to grow and broaden their membership.
Industry-splitting issues, ranging from ethanol to trade, are also coming up more under Trump, whose policies and procedures are upending decades' worth of traditional Washington maneuvering.
For all of those reasons, they're a money-maker for PR and lobbying firms.
They can also obscure corporate funders, depending on whether or what kind of tax identification is present, whether the members opt to be public and whether they officially register to lobby Congress. This may be good for companies wanting to keep a low profile, but it's also a worrying sign for transparency, experts say.
"To the extent that these groups are less scrutinized and easier to hide behind we should be concerned. In order to hold the government and those trying to influence policy accountable, we need to know who the players are and how they are funded and this tactic makes that more difficult."
— Daniel Auble, senior researcher, Center for Responsive Politics
Go deeper